You may get 0x8007007A error message when you try to send emails with attachment image using Windows Live Mail. Windows Live Mail is a free email client that allows you to send or receive emails directly from windows 10. You may get following error messages:
An unknown error has occurred.

Server: 'smtp.cox.net'
Windows Live Mail Error ID: 0x8007007A
Protocol: SMTP
Port: 465
Secure(SSL): Yes
In this article, I will tell you some awesome ways that guaranteed fix this error.
Why 0x8007007A occurs?
The main reason behind this error is One Drive. When One Drive is discontinued, disconnected or misconfigured and you try to upload a picture using one drive, you may get Windows Live Mail Error Code 0x8007007A. Most of the time, this error is not related to Windows Live Mail and occurs due to One Drive. In exceptional cases, this error may also appear due to a broken registry file, missing DLL files, damages because of virus or malware attack etc.
How to Fix Windows Live Mail Error 0x8007007A
Method 1: Fix using Advanced System Repair Tool
As I mentioned above that in many cases, this error belongs to corrupted registry entries, missing or damaged DLL files, ocx files, sys files and inf files, system damaged because of virus/malware attack etc. You need to repair Windows Live Mail apps in your PC using Advanced System Repair tool. This tool easily scans all the errors and fixes in one click.
Download and Install Advanced System Repair Tool and scan your PC. It has the large database with 25 million files. It will find all the damaged or deleted system files and reinstall them with the fresh one. After, optimizing with Advanced System Repair Tool, try to install windows update again.
Method 2: Clean Outbox in Windows Live Mail
When you send any messages, it goes to outbox until it successfully sent to the recipient. There must be messages stuck in outbox that is preventing the further message from being sent. Clean Outbox and delete all the messages from this folder. If messages are important then move messages to draft folder. Once you finish cleaning outbox, send a text message to yourself. You will notice that the error 0x8007007A has been resolved.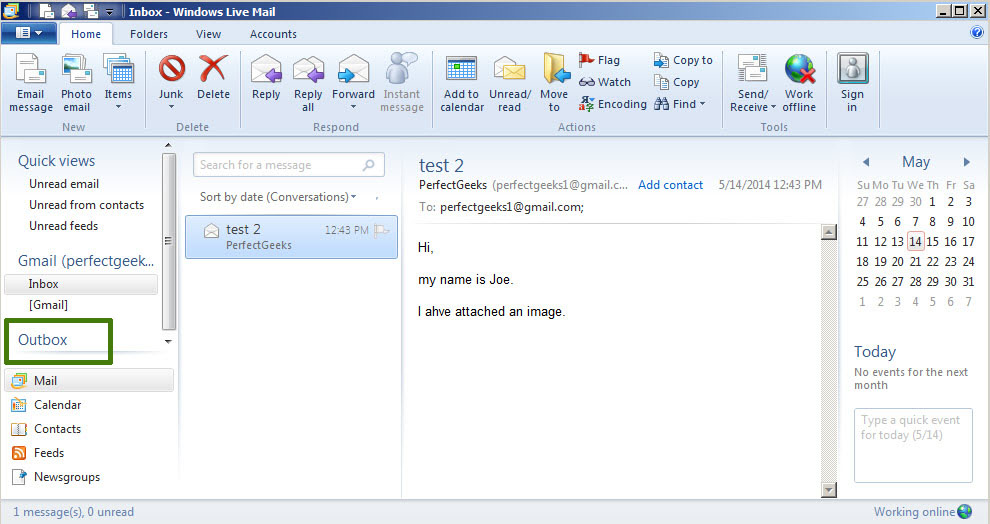 Method 3: Send images as Attachments
If you are trying to send images as an album then stop and try sending images as an attachment. By doing this you may certainly avoid error message 0x8007007A.
Method 4: Reconfigure Windows Live Mail Account
After applying above methods, if you are still getting the same error then reconfigure account in Windows Live Mail. Before doing any deletion you must export all the emails and other data. Now setup new account in windows live mail and delete the old account. After that import all the data and enjoy.
Summary
This article covers how to fix Windows Live Mail Error 0x8007007A in Windows 10. If you are also getting the same error then this article might help you a lot.