Are you tired of inserting activation key in MS Office but MS Office repeatedly asks you for entering license key? Are you getting following error message again and again when start any of the Office Components like MS Word, Outlook, Excel, Powerpoint, Access etc?
This copy of Microsoft Office is not activated.
You have x days left to activate. Ensure you are connected to your corporate network to enable automatic activation. Your system administrator can help.
(Error Code: 0x4004F00C)
Access Denied to Installation Source
Sorry, We ran into a problem accessing a required file. Please check that the installation source has the correct permissions, then try again. Error Code: 0x4004f00C
How can I Fix Microsoft Office Activation Error 0x4004F00C?
There may be various reasons which are causing the MS Office Activation Error 0x4004F00C. Here, in this article, I have tried to explain most suitable method to remove this problem.
Method 1: Fix using Outbyte PC Repair Tool
Outbyte PC Repair Tool is an awesome utility for Windows Users. It scans the whole PC for problems and within a moment, it returns the list of trouble that your PC has. By fixing these troubles you will be able to use Office without having any issues. As you know that most of the time, License error or activation error comes from the corrupted registry key. This utility not only repair damaged or corrupted registry key but also updates the outdated system driver, software, and missing system files.
Method 2: Activate Licence through Admin Command Prompt
If license is not getting activated through the licence window then you can try activating licence key using the administrative command prompt. Here, are the steps, how can you do it effectively.
Step 1.
Open Command Prompt as Administrator.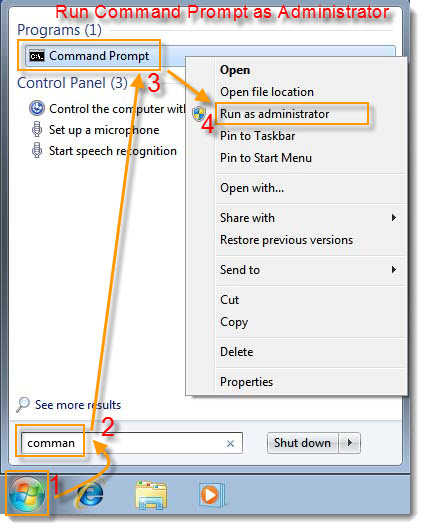 Step 2.
Paste the following script to activate MS Office 2010 Professional Plus or MS Office 2013 or any other version of office.
%ProgramFiles%\Microsoft Office\Office15\ospp.vbs" /inpkey:<enter your product key>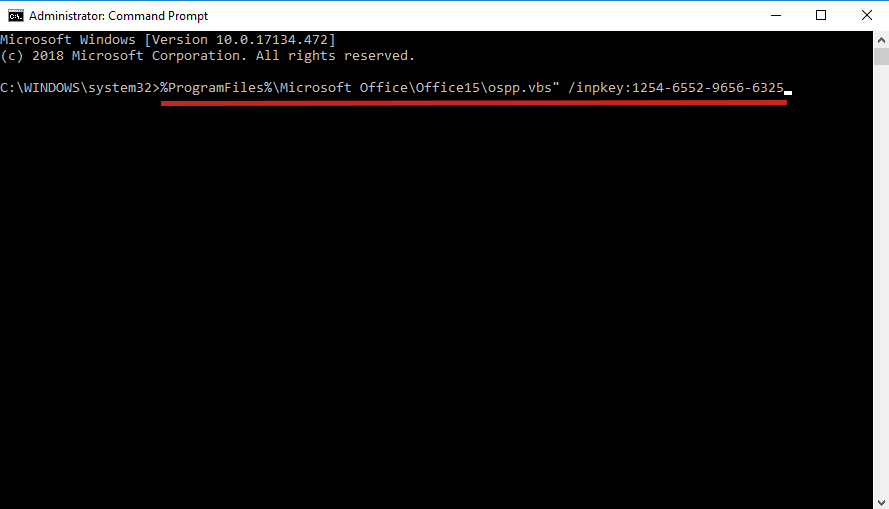 Step 3.
Step 3. Now, start MS Office and check whether your error has fixed or not.
Method 3: Uninstall and Install Office
If above method doesn't work for you then try to install office again after removing previous office installation completely. Here, is the steps how can you uninstall or remove MS Office 2010/2013/2016/2019 or Office 365 completely from Windows Operating System.
Step 1.
Step 1: Go to the following link and download Microsoft Easy Fix tool to uninstall Office completely.
https://support.office.com/en-us/article/uninstall-office-from-a-pc-9dd49b83-264a-477a-8fcc-2fdf5dbf61d8?ui=en-US&rs=en-US&ad=US
Step 2.
Double click on the
o15-ctrremove.diagcab
tool to launch software. Click
Next
button to uninstall Microsoft Office completely from PC.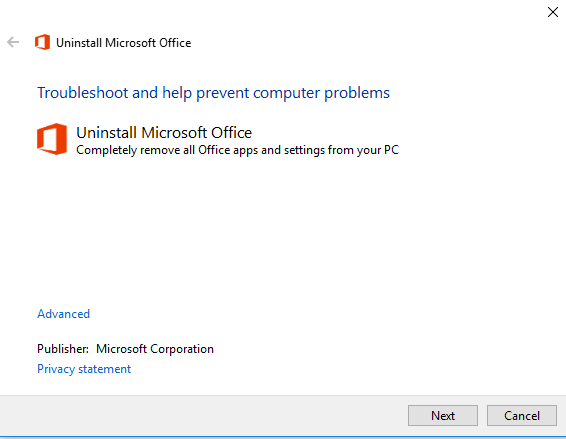 Summary
This article describes how can you remove Microsoft Office Activation Error 0x4004F00C from Windows 7 or Windows 10 PC.