Nothing is more annoying than getting an Installation error. You might be already upset with your previous windows OS and When you try to install a fresh copy of Windows 8, 10, or 11, you are getting the new Windows Installation error code 0x80300002 for some reason.
Error message:
We couldn't install Windows in the location you chose.
Please check your media drive.
Here's more info about what what happened: 0x80300002

In this troubleshooting guide, I will try to tell you the reasons and solutions behind this error. I hope, by following the proposed methods, you will be able to resolve this issue.
Why does error 0x80300002 occur?
Windows OS is a giant software, that contains thousands of files, and runs on a computer with the perfect combination of hardware and software. For some reason, if any of the combinations get mismatched and stopped working, you may likely to get the error code 0x80300002 when installing Windows.
How do I fix Windows installation error 0x80300002?
Corrupted windows installation media, wrong partition, disk failure, faulty RAM, etc, might be the main culprit of this problem. As you are not sure, what is causing the problem, you should follow each method thoroughly.
Method 1: Install and Run Advanced System Repair Tool
If you can boot your PC, then you must install Advanced System Repair Tool to fix and optimize Windows operating system. You don't need to install windows again and again as it fixes a lot more errors and optimizes windows for faster and smooth performance.
Method 2: Remake the Bootable Windows Drive
It seems that the installation source is corrupted, damaged, or not correctly configured according to your computer. There are mainly two partition types GPT and MBR. I will not dive into the complex technical term. I will try to make you understand in simple words.
GPT is the latest technology, and it is used in a modern computer, running on an i-Series processor.
MBR is used in the older computer which is still running on a Pentium processor.
You must be sure which type of partition style is used in your computer and then make a bootable stick according to your PC, that matches your partition style.
How do I check which partition style is used on my computer?
You can check the partition style as follows:
Step 1: Open the Disk Management tool. Right-click on the Start menu ➜ Select Disk Management. Alternatively, open the RUN dialog box and type "compmgmt.msc" and click OK to open it.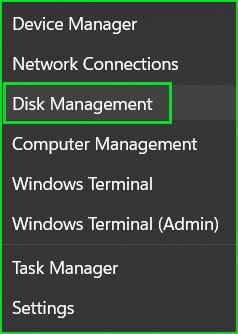 Step 2: Right-click on your Disk (Usually Disk 0) and select Properties.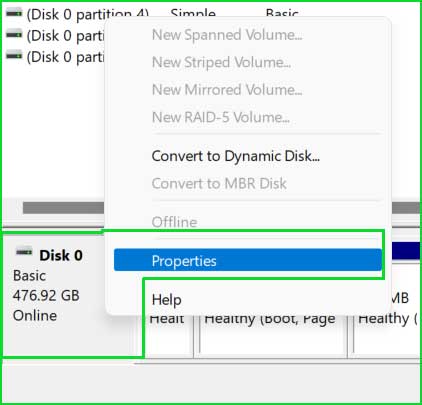 Step 3: Go to the Volume tab and you can see the partition style.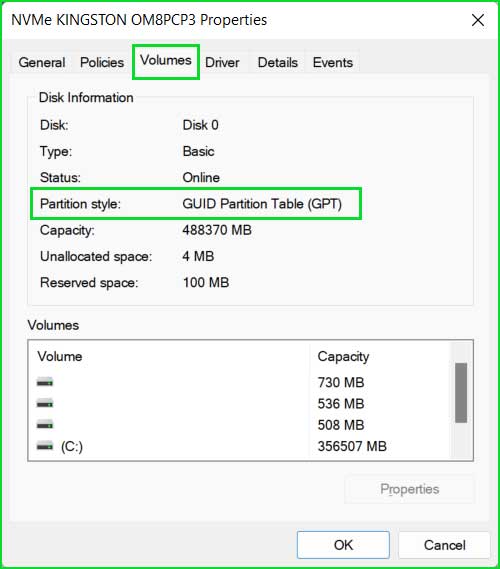 Build a fresh version of Bootable Windows USB Drive
Now, you know the partition style of your DISK, so make a fresh bootable USB drive by selecting accurate partition conditions that should match your system.
1. Using Rufus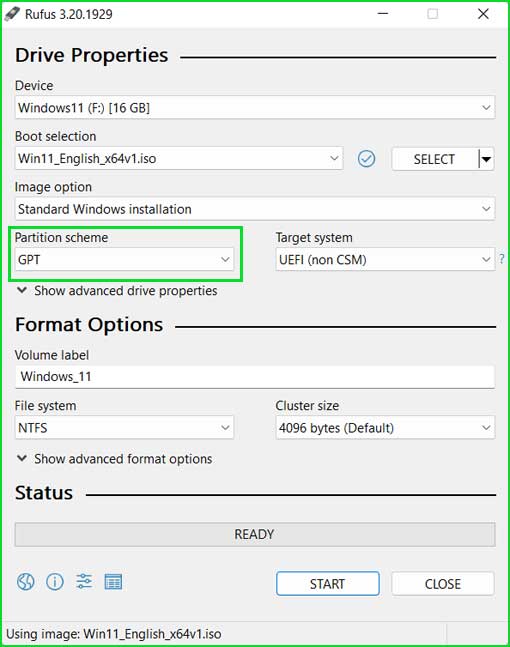 2. Using Media Creation Tool
When you create a Windows USB Installation drive using Media Creation Tool, it selects the best and optimum values for your installation automatically.
Step 1: Go to the Microsoft Windows installation page, or visit the following URL.
https://www.microsoft.com/software-download/windows11
Step 2: Under the Create Windows 11 Installation Media, click on Download Now button to Download Media Creation Tool.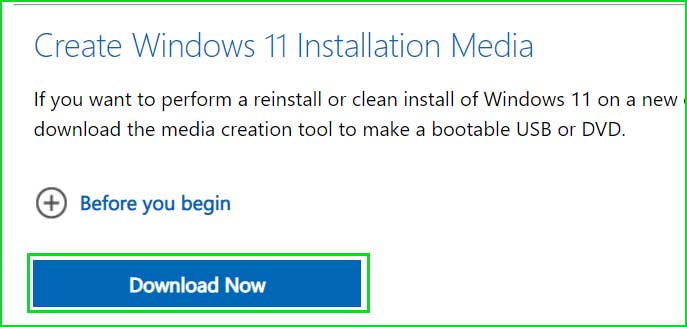 Step 3: Launch the Media Creation Tool and it will start analyzing your PC so that it could apply the best settings to create Windows Installation Media.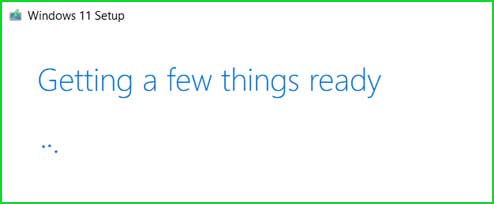 Step 4: Accept notices and license terms and click Next.
Step 5: You must enable the "Use the recommended options for this PC" option and click Next. Follow the onscreen steps to create Windows Installation Media.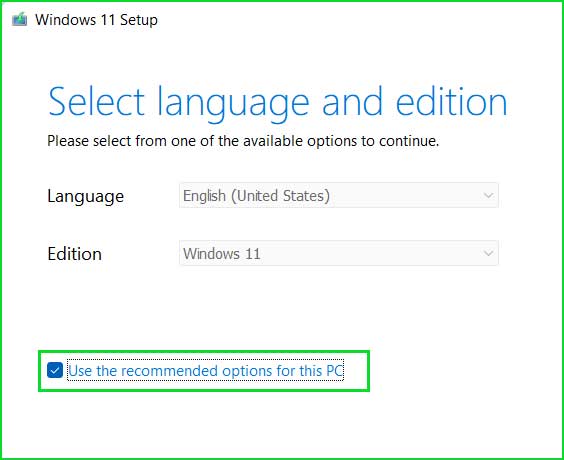 Method 3: Complete System Formatting and Create New Partition
Sometimes you need to format the whole DISK instead of Windows drive only. This is because, if there is a problem in the file system of another drive it may raise Windows Installation Error 0x80300002.
When a PC keeps running for a long period of time and you used to format and recreate Windows drive only, the other partition gets faulty over time. It is a good idea to recreate all the partitions again for a faster and smoother Windows experience.
You must keep a complete data backup of your PC to another external drive.
Boot your PC using the Windows Installation drive and start processing the installation. When you reach the following windows, delete all the partitions, and re-create them again.
Step 1: Select the drive and then click on the delete button.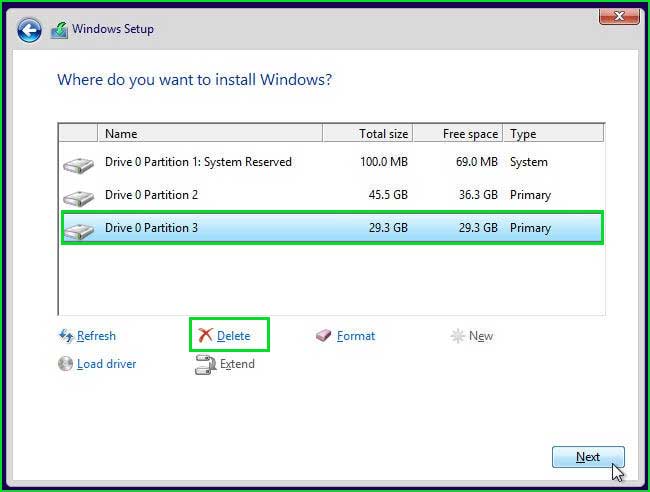 Step 2: Delete all the partitions one by one.
Step 3: Create a new partition by clicking on the New button. Enter the size of the partition in MB and click Apply.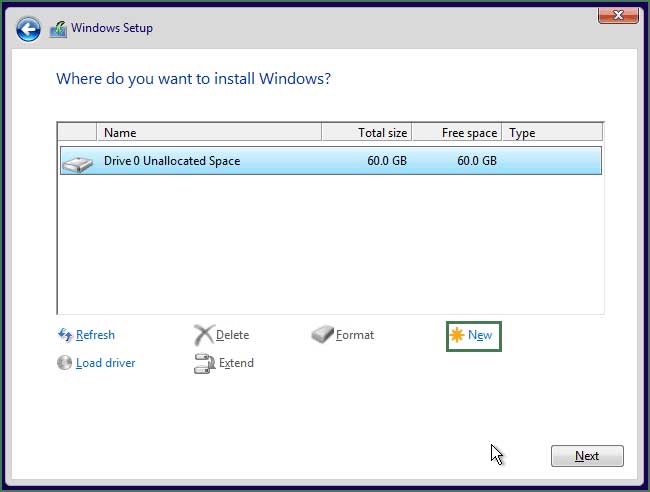 Method 4: Re-insert RAM, HDD, and other hardware.
You must disconnect all the external hardware. Open the cabinet of your computer and remove RAM and HDD/SSD cable. Re-insert this hardware again to your PC and then try to install windows again.
Method 5: Use another PC
This might be the last choice if you can't fix Windows Installation error code 0x80300002.
Just remove the HDD/SSD from your PC and attach it to another PC.
Format the drive completely and then creates a new partition.
Install Windows.
Remove the HDD/SSD and attach to your PC.
You will see the Windows 10, 11 operating system is installed without getting any kind of installation error.
Summary
Several times, you may feel helpless when installing windows due to the Installation error 0x80300002. This article contains information about how you can fix this installation error easily.