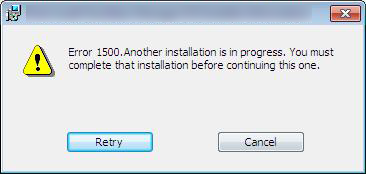 When downloading or installing a software (mostly Java) in Windows 10 or Windows 8/7/Vista PC, you may receive following error message meanwhile the installation process.
Error 1500 "Another Installation is in Progress you must complete the installation before continuing this one".
This installation error breaks the current installation process and always appears when you try to install Java as well as other software. Error 1500 is an MSI Installer Error and resulting failure of installing current software.

Cause
When two instances of the same software are being installed then Microsoft installer breaks the operation because it not allowed to install the same software twice. Due to some uncertain reasons, the previous installation gets freeze in the background and when you again try to install software, it conflicts with previous one and resulting throw Error 1500 on screen.
Another reason behind this error is a corrupted registry file. Registry file may keep the value of the previous installation so when you try to install the fresh copy, your PC understand that the software is already installed. No matter, how many times you restart your PC, you will get the same error.

How to Fix Error 1500 – Another Installation is in Progress
First, you need to repair the corrupted registry file. If you have a backup of registry file then restore it or restore your PC. On the other hand, you can use Advance System Repair Tool to repair registry file.
Method 1: Fix using Advanced System Repair Tool
The most of the common reason behind windows installer error is corrupted or damaged system files like DLL files, EXE files, sys files etc. There are thousands of tiny system files are there that work specific task. If one of the files gets replaced, deleted or damaged then you may get windows installer error 1500.

Download and Install Advanced System Repair Tool and scan your PC. It has the large database with 25 million files. It will find all the damaged or deleted system files and reinstall them with the fresh one. After, optimizing with Advanced System Repair Tool, try to install the software again.
Method 2: Try Installing Software in Clean Boot Mode
This might be the best option when you are getting Installer Error 1500. Clean Boot mode allows your PC to start without loading any third party software and driver. This prevents conflicting problems when installing software. Here, is step by step guide to starting PC in Clean Boot mode.
Method 3: Fix using Modifying Registry Value
You can fix installation error 1500 by modifying some registry values. However, editing registry file is risky but you can do it by safely following the steps.
1. Open Registry Editor. Press Windows Key + R to open Run Window and then type regedit.exe and Press Enter. It will ask you "Run as Administrator" and Press Enter.
2. Browse the following location:
HKEY_Local_Machine\Software\Microsoft\Windows\Installer\InProgress
3. If you find data inside value Default then double click on it and clean it.
4. Now open Windows Services. Open Run Window and then type services.msc and press Enter.
5. Find Windows Installer from the list and disable it. Then choose to apply and OK.
6. Now Restart your Computer.
7. Go to Services again and find Windows Installer. Right click on it and go to properties. Select startup type manual and then apply and ok.
8. Now, try to install the application again. More likely, your problem will get removed.
If the above method didn't help you in fixing of installation error 1500, then you must try to Advanced System Repair Tool to fix this problem automatically.