While installing update version 1703 in Windows 10, you may encounter the update failed issue repeatedly. Here, in this article I will tell you how to fix Windows 10 Version 1703 Failed problem.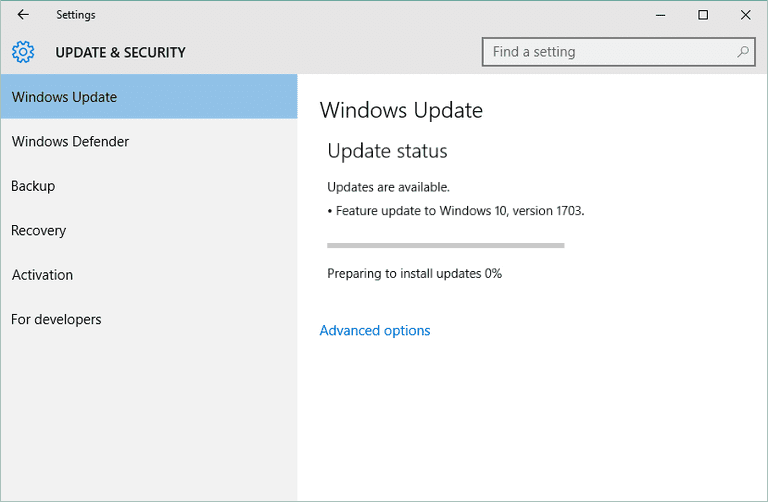 Why Version 1703 gets failed to install?
There are too many reasons that may stops version 1703 from installing into your PC. Some of the most nearby reasons are as follows:
Your PC is not compatible with update version 1703
Windows Update Components might be corrupted or damaged.
Missing, Corrupted or Damaged System Files like dll file, exe file, sys file etc.
Registry File Corruption.
Incorrect or Invalid configuration settings.
Antivirus, Windows Defender or Firewall is blocking the connections
Conflicting with other drivers, etc.
These are the most prominent reasons that is responsible for causing the Windows Creator Update Fails v1703 error. Due to this reasons Versions 1703 always gets stuck meanwhile the updating process.

How to Fix Version 1703 Creator Update Failed or Stuck Issue?
Here, I am listing out some tested and useful solutions to fix this issue. You can apply them one by one in order to fix this problem.
Method 1: Fix using Advanced System Repair Tool
As I mentioned above that this error mostly appears because of corrupted or damaged system files, corrupted registry entries, outdated system drivers and operating systems,s and due to viruses or trojans. So, in order to fix these problems you need to install Advanced System Repair Tool. This tool scans PC and fix all the problems including update error 1703.
Method 2: Run Windows Update Troubleshooter
Windows Update troubleshooter is one of the best first-aid treatments for windows update issues. This tool diagnoses and fix minor update problem and allows your PC to download and install updates easily. You can run Windows Update Troubleshooter as follows:
Step 1: Go to Start Menu > Settings > Update & Security
Step 2: Click Troubleshoot in the left menu and then click on Windows Update > Run the troubleshooter.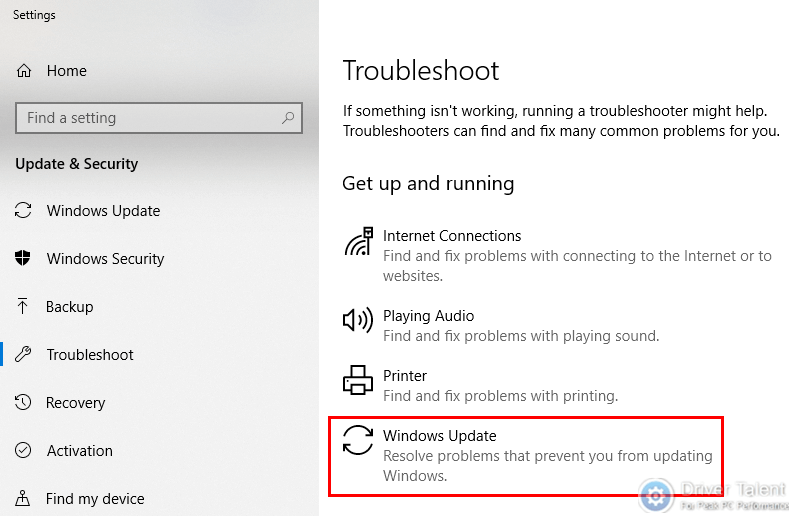 Step 3: It will start detecting problems and soon it will show you the exact problem along with a fix button.
If you are not getting Troubleshoot option in your version of Windows 10, then you may download the troubleshooter from Microsoft.
How to Open and Use Windows Update Troubleshooter in Windows 10/8/7/Vista/XP
Method 3: Check Compatibility
You must check compatibility if you are getting problems installing update version 1703. If your PC is not compatible with Windows Creator Update 1703, then surely it will stuck meanwhile the process. You can check the compatibility of your PC in the following link.
https://answers.microsoft.com/en-us/windows/forum/windows_10-windows_install/check-this-list-to-determine-if-your-computer-is/5152bb37-f95d-48a6-b7b2-ad0d5c738923
Method 4: Download ISO file for Windows Creator Update 1703
If you are getting trouble installing Windows Creator Update 1703 via the Windows Update panel then you can download an offline ISO file for this update and install it independently. You can download this media file from the following link.
https://answers.microsoft.com/en-us/windows/forum/windows_10-windows_install-winpc/how-to-download-official-windows-10-iso-files/35cde7ec-5b6f-481c-a02d-dadf465df326
Method 5: Install update in Clean Boot Mode
When you start your PC in clean boot mode, your PC gets started with only the necessary driver and resources. So, if there is any third-party driver which is conflicting with an update, will not create any problem and you will be able to bypass any error. You can start your PC in clean boot mode as follow:
Step 1: Go to Start Menu and search for msconfig. Select System Configuration from the search results.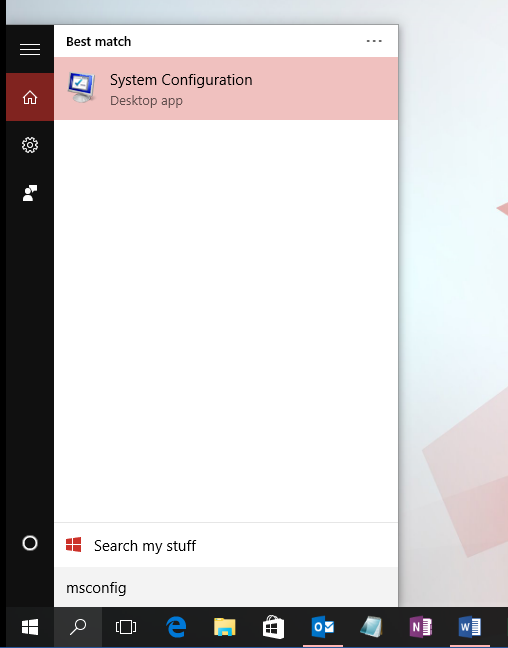 Step 2: Click on Service Tab and check the Hide all Microsoft services check box. Next click Disable All button.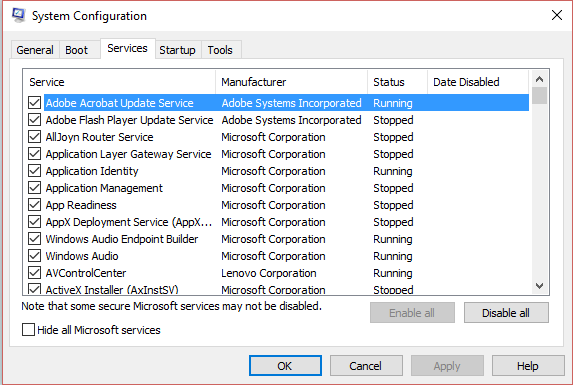 Step 3: Go to Startup Tab and click Open Task Manager link.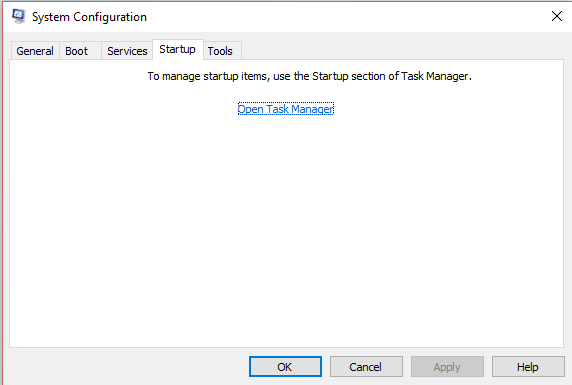 Step 4: Go to Startup Tab in the Task Manager and Disable all the Startup Item.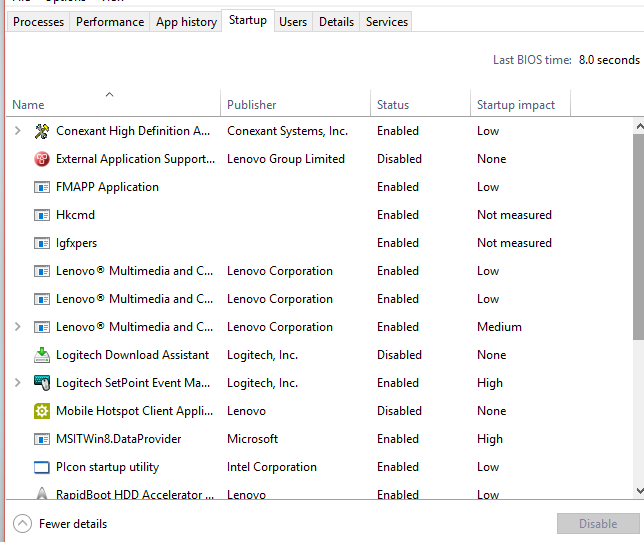 Step 5: Close the Task Manager and Click OK in System Configuration Dialog Box and then Restart your PC.
More Info: https://www.how2fixerror.com/clean-boot-startup-windows-7-8-10-step-step/
Summary
In this article, I have tried to explain how can you fix Windows Creator Update 1703 Fails issue in Windows 10/8/7. There are 5 effective methods are explained that will help you in resolving the update problem.