Windows 11 is the latest version of the operating system that comes with plenty of features, eye-catching UI, and highly responsive and easy-to-use features. If you are using Windows 10 and you meet the minimum system requirements of installing Windows 11, then you can easily upgrade your OS to Windows 11.
Bugs and Windows are related since the beginning and it still exists with Windows 11. As you know windows is a graphical-rich OS, it gets hung, frozen, and stuck sometimes. In this tutorial, we will know how to overcome the following situation.

Windows Explorer has stopped working
Windows Explorer not loading on Startup.
File Explorer not responding.
Taskbar and Start menu not working
Desktop hangs or freeze.
Awaking PC doesn't load the taskbar icon, etc.
The above situation is very common among computer user who uses the Windows-based operating system, and in this tutorial, we are going to fix it.
Why does Windows Explorer, Taskbar, start menu, and Desktop stop responding?
There may be dozens of reasons behind the "Windows Explorer has stopped working" issue but some of them are very common and cause the above issue most of the time.
Graphics card driver is outdated, corrupted, or not working properly.
Windows core files are damaged or corrupted. These files may be dll file, sys file, inf file, exe file, etc.
Virus/Trojan/Malware issue. Your computer may be infected with a virus or malware and causing windows explorer to stop working.
Third-party apps or services may interrupt windows explorer to load properly.
Corrupted registry file is one of the most common reasons behind file explorer failure.
Small size of RAM also cause the desktop freezing issue.
Something is using 100% processor resources and causing an explorer hanging issue.
High I/O usage is one of the most common reasons behind the Windows Explorer not responding issue.
How to make Windows Explorer to work again
As you know the reason why it freezes, it is the time to fix these problems. There are some effective techniques are described below that will surely give you a complete solution.
Quick Help 1:
Start Explorer Using Task Manager
If your windows explorer is not starting, you can start it as follows:
Step 1: Using the Task Manager. Press Ctrl + Shift + Esc to open Task Manager. Click on File > New Task.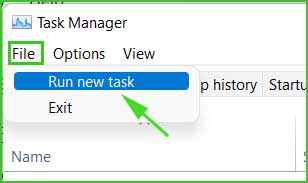 Step 2: Write explorer.exe in the open box and click OK.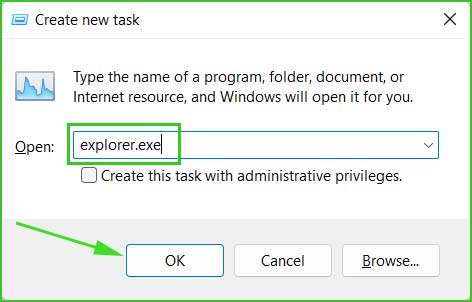 Step 3: It will start explorer immediately.
Quick Help 2:
Restart Explorer.exe using Task Manager
If Explorer is loading but not working properly, you should restart it using the Task Manager.
Step 1: Open Task Manager. Right-click on the Start menu and select Task Manager or press Ctrl + Shift + Esc to open Task Manager.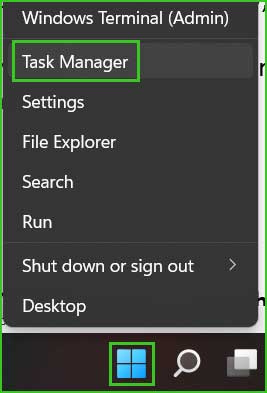 Step 2: Find Windows Explorer, right-click on it, and select Restart.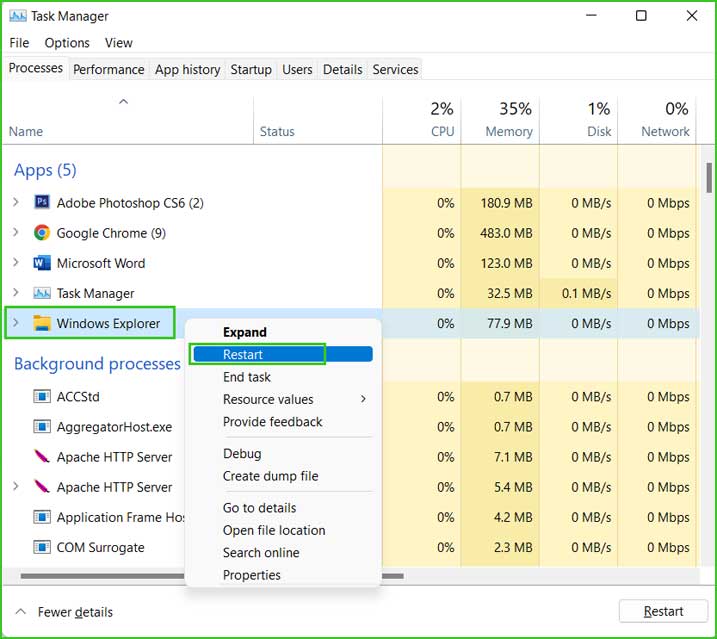 Quick Help 3:
Restart the Graphics driver using shortcuts
.
Press Windows + Ctrl + Shift + B simultaneously to restart the video driver. You will notice the screen flickering but don't worry, it is normal.
Method 1: Fix using Advanced System Repair Tool
Finding and fixing the exact reason behind Windows Explorer/Taskbar/Start/Desktop freezing issue might be time consuming and lengthy process. As you know there might be dozens of reasons behind this issue and examining all these issues manually may be a headache for you. Instead of fixing yourself, just trust the professionals and let Advanced System Repair Tool fix problems. It is one of the best PC optimizer tools that does lots of work in the background to provide you with error-free, smooth, and fast computer environments to work.
Method 2: Start Windows in Safe Mode
Start Windows in Safe Mode and examine the problem in safe mode. If windows explorer is working in safe mode properly it means the graphics card driver is damaged, corrupted, or outdated. You must update the video driver to resolve the explorer not loading issue.
3 Ways to Start Windows 10 in Safe Mode
Method 3: Update Video Driver or Graphics Driver using Device Manager
An outdated video driver is the most obvious reason behind the explorer's failure. You must check for the video driver and if it is outdated, immediately update it. If there is a dedicated graphics card is installed, then also update the driver for that device. Here, are some tips on how you can easily update your current driver.
Device Manager allows you to manage all your devices, hardware, and drivers from one place. You can install and uninstall, update, stop, start, restart, and disable a device, hardware, and all its driver in one place. Let's see here how you can update the video driver from the device manager.
Step 1: Open Device Manager. Right-click on the Start menu and select Device Manager.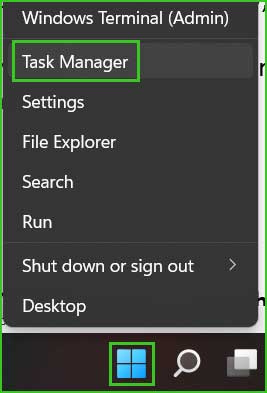 Step 2: Expand Display adapters and you will see all the installed video drivers. Right-click on each video driver and select the Update driver option.

Search Automatically for Drivers
Step 3: Here, you will get 2 options to choose from. On the first attempt, try the automatic option. Click on the "Search automatically for drivers".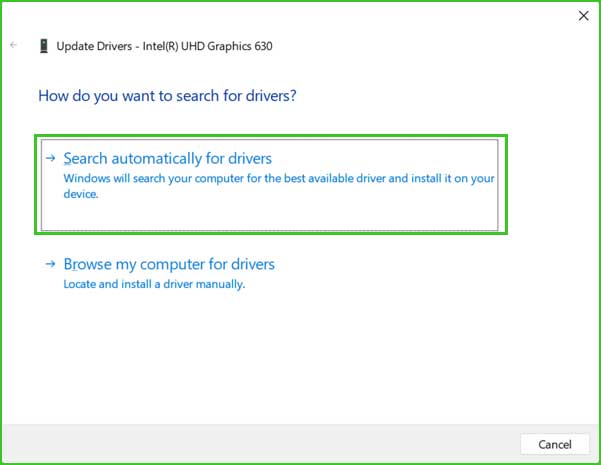 Step 4: It will scan the installed driver and update it if the newer version is found. If it is unable to find the driver, then you can select the option "Search for updated drivers on Windows Update"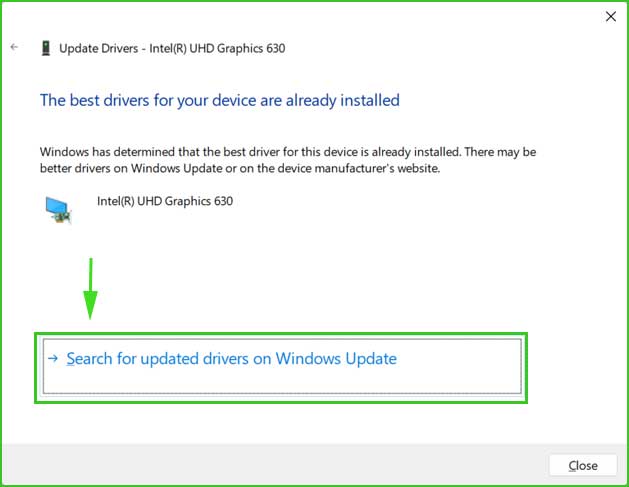 Step 5: It will open the Windows Update setting page. Click here to "check for updates" and install updates.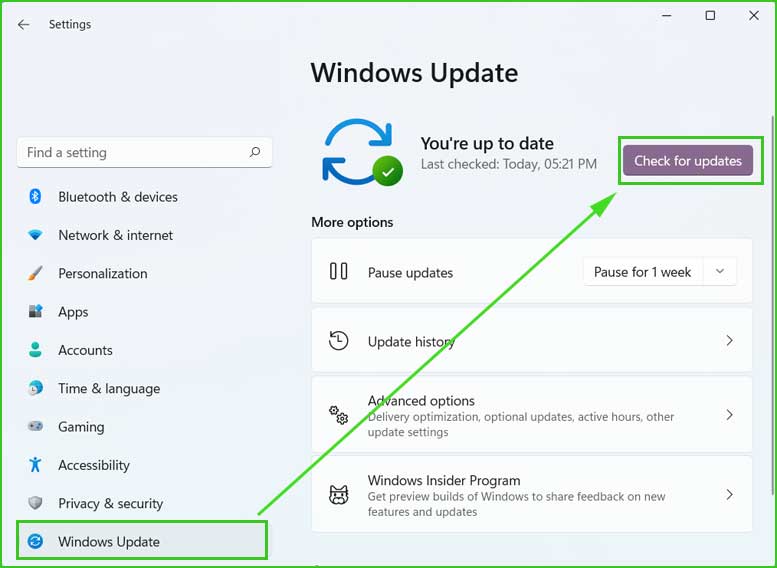 Search Manually for Drivers
Step 6: Select "Browse my computer for drivers".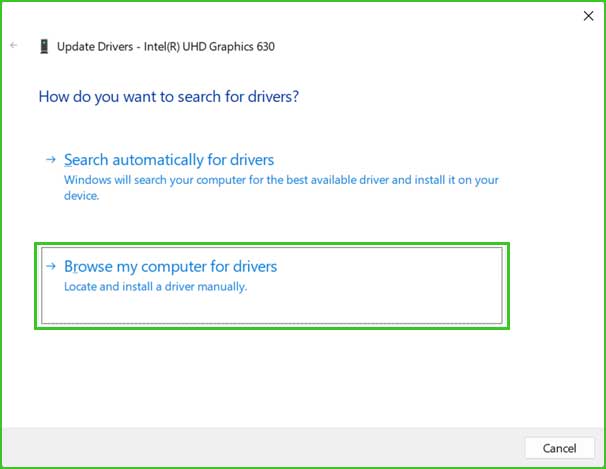 Step 7: Select "Let me pick from a list of available drivers on my computer".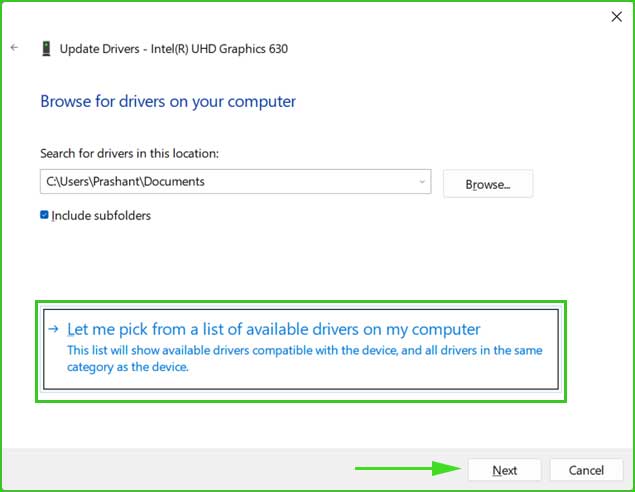 Step 8: Here, you will see a list of compatible hardware. Select the graphics hardware and then click on the Next button.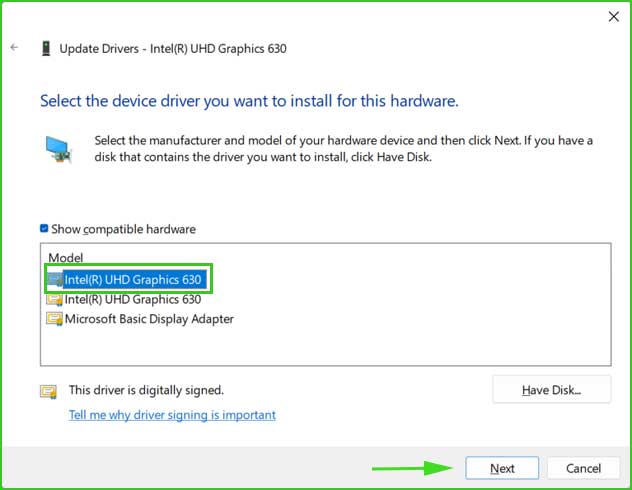 Step 9: It will start installing the driver and you will see a Windows Explorer to restart or flicking. After that, you will see a message "Windows has successfully updated your drivers". Click close then exit from the settings.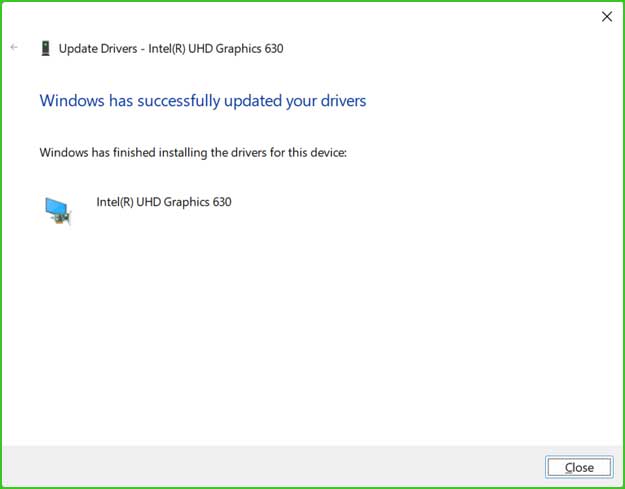 After updating the driver, just reboot your PC and most probably you won't get the windows explorer not loading or freezing issue.
Method 4: Download the Update directly from the Manufacturer's website
Find the name and version number and all other information for your video driver and directly download them from the manufacturer's website. It is one of the best-proven methods to fix explorer not responding issues by updating the video graphics card.
Step 1: Collect information for your video graphics card driver. Open Device Manager and Expand the Display Adapter.
Step 2: Right-click on your driver and select the properties.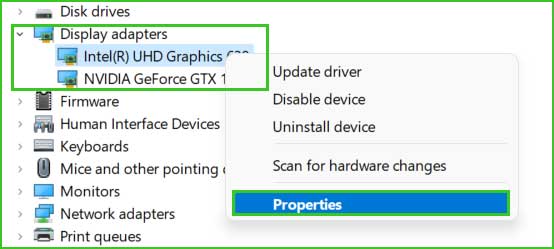 Step 3: Select the Driver tab and write down all the necessary information from here, like provider name, driver version, release date, etc. For example, Inetl® UHD Graphics 630 is installed on my PC, and the driver version is 27.20.100.8280.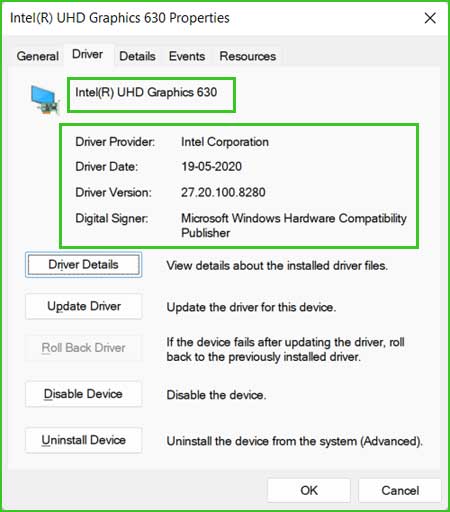 Step 4: Search on the google with driver's name and open the Microsoft Official site.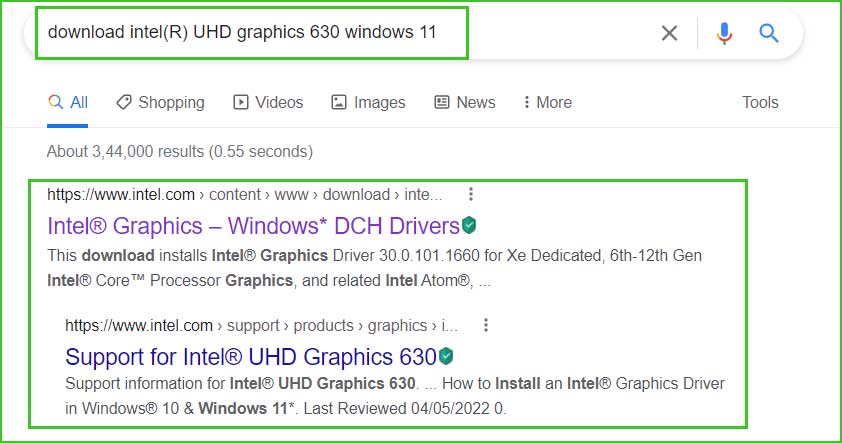 Step 5: Expand the version drop-down list and you can see that an outdated video driver is installed on your PC. Read the instructions carefully before downloading the software and if it is compatible with your operating system, OS version number, OS build number, and your processor type then go download it.
Step 6: Click on the download button to download it.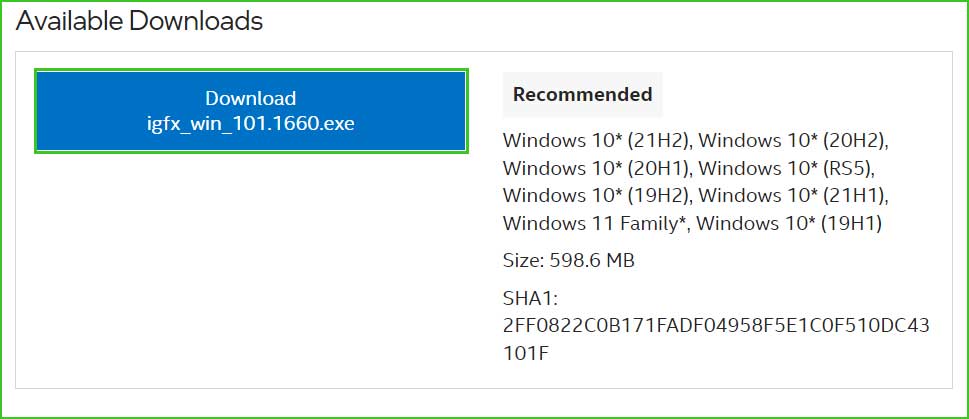 Step 7: Click on the downloaded file to run it. It will ask for administrative permission, click Yes. Intel Graphics Driver Installation wizard will appear. Click on the Begin Installation to install this driver.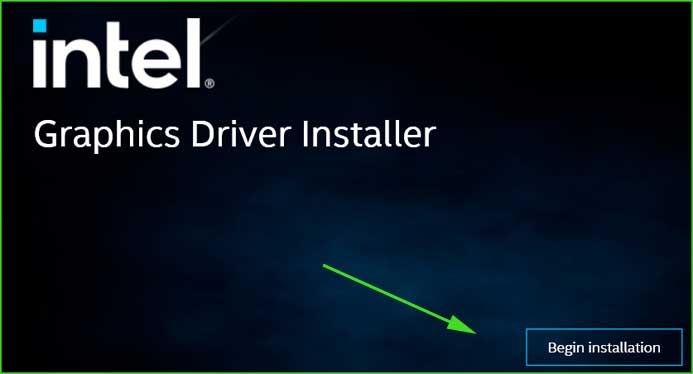 Step 8: Accept terms & conditions and go with the wizard. It will start installing the latest video driver to your system.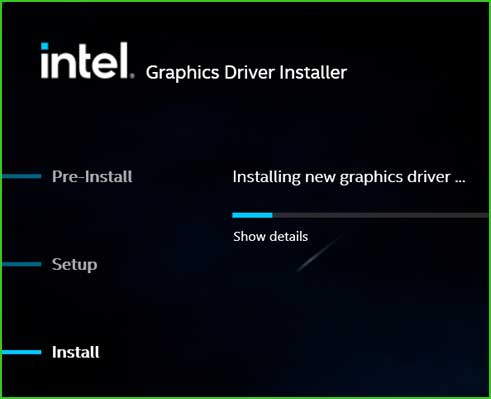 Step 9: Upon completion of the installation process, you will see the message "Installation complete!". Task has not done yet. You need to apply this driver against the hardware to take effect.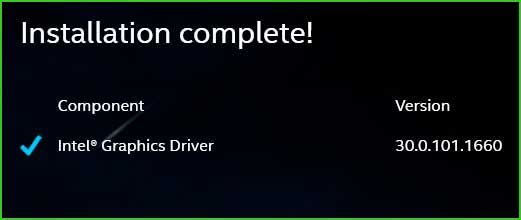 Step 10: Open Device Manager > Expand Display adapter > Right click on the Driver > Select Update driver.

Step 11: Select Browse my computer for drivers.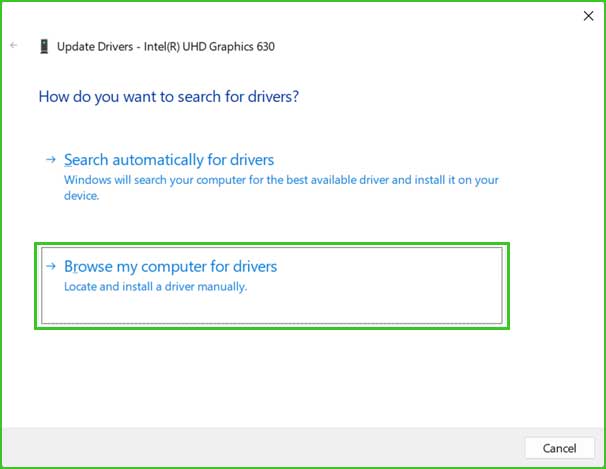 Step 12: Select "Let me pick from a list of available drivers on my computer".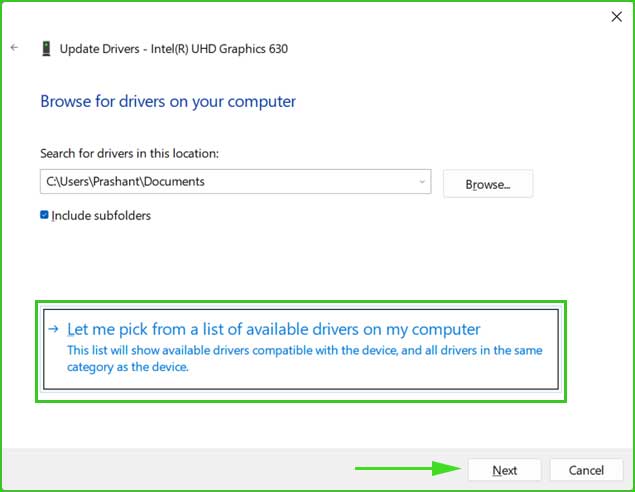 Step 13: Select the latest installed driver from the list and click Next to apply. It will apply the latest installed driver against the hardware.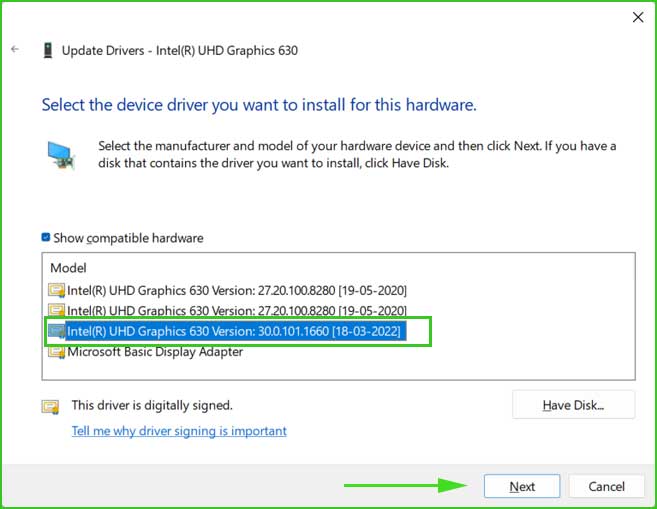 Step 14: You can now check the driver version in driver properties.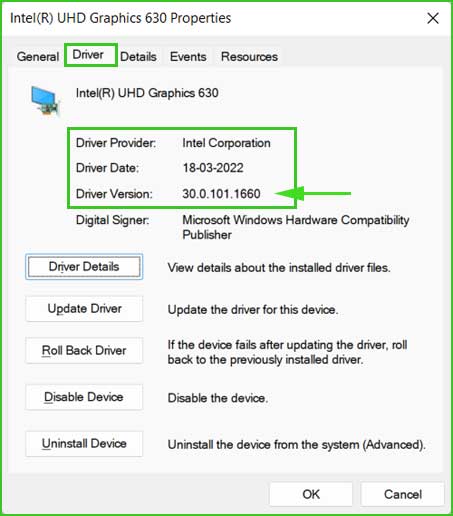 In this way, you can update your video driver graphics card and resolve desktop freeze or windows explorer not working issue.