If your computer is displaying a boot failure error message such as 'Disk Boot Failure, Insert System Disk and Press Enter' in Windows 11 and 10, you can resolve it using the following solutions.
Disk boot failure is a frustrating and frightening error message that can leave computer users feeling helpless and uncertain about the state of their system. This error typically occurs during the computer's startup process when it attempts to load the operating system from the hard disk or SSD but encounters a problem that prevents it from doing so. In this article, we will explore the common causes of disk boot failure, potential solutions to fix the issue, and proactive steps to prevent it from happening in the future.
Important Notice:
Before attempting any critical fixes on your Windows OS, it's crucial to
recover and store your data
in a safe place.
EaseUS Data Recovery Wizard
comes to the rescue for
recovering data from a crashed PC.
No matter if you're facing the dreaded
blue screen of death, startup failures, or boot problems
, this tool enables you to boot up your PC and recover your precious data effortlessly. So, be sure to use EaseUS Data Recovery Wizard to safeguard your files before proceeding with any fixes!
Note:
Free Version allows you to recover upto 2GB Data.
Cause of Disk Boot Failure Windows 11 and 10/8/7
You may be wondering why the boot failure error has occurred out of the blue, especially when everything appeared to be working fine until the last shutdown. There are too many reasons that can trigger this problem.
Corrupted OS Files – An operating system can crash due to improper shut down, sudden power outage during updates installation, master boot record crashes, missing system files, malware infection, driver crashed, etc.
Hardware problems – A faulty connecting cables, malfunctioning hard drive or ssd, damaged power supply or SMPS can cause the boot failure windows 10.
Incorrect boot order – When the boot order is incorrect in the BIOS or UEFI firmware, Windows faces difficulty in determining which storage device to use for loading the operating system. As a result, the system encounters problems during the boot process.
Corrupted MBR or Boot file – This is one of the popular causes behind the boot failure issue in Windows 11 and 10. The Master Boot Record or Boot Sector contains essential information about the hard drive's partitions and how to load the operating system. Corruption of these areas can lead to boot problems.
Other reason – In addition to the above reasons, there are other factors that can cause boot errors, such as malware infections, incompatible driver installations, issues with software and games, installation of unsuitable update files, missing DLL files, and registry file corruption. These various elements can also contribute to the occurrence of boot errors.
How to Fix Disk Boot Failure Insert System Disk Error on Windows 11 and 10
We have covered a lot about what the boot failure error is and why it occurs. Now, let's focus on the list of solutions for disk boot failure that will assist you in successfully booting your PC.
Solution 1: Verify Boot Order in BIOS or UEFI Firmware
The most common reason for boot failure errors in Windows 11 is an incorrect boot order. To resolve this issue, you need to verify the boot sequence in the BIOS settings and make the necessary corrections. Follow these steps to do so:
Select Boot device in BIOS/UEFI

Step 1: Open BIOS Settings. To access the BIOS settings, restart your PC and continuously press the F2/F8/Del/Esc button when you see the manufacturer's logo during startup. Keep in mind that different manufacturers may have different methods to access the BIOS settings. It is recommended to refer to the manufacturer's guidelines to determine the specific key or key combination to enter the BIOS.

Step 2: Locate the Boot option settings. The menu style in the BIOS may vary depending on the manufacturer, so look for the Boot option menu and modify the boot order to prioritize your primary hard drive where Windows is installed. Ensure that the primary hard drive is listed as the first boot device.
Solution 2: Try to boot in Safe Mode.
Safe Mode is a diagnostic startup mode in Windows-based operating systems that is used for repairing misconfigurations in the OS. When your computer is in Safe Mode, it only loads essential drivers and software needed to boot the system, effectively preventing unnecessary startup items and third-party software from running. This minimal configuration helps isolate and troubleshoot issues, making it easier to resolve problems that may be affecting normal operation.
Solution 3: Rebuild Corrupted MBR or Boot file.
Repair MBR using EaseUS
The MBR (Master Boot Record) is a critical component of the Windows operating system, playing a vital role in the startup process. It holds essential information that the computer uses to determine and load the OS correctly. Within the MBR, you'll find startup codes, the partition table, disk signature, and other crucial startup details.
If this file gets corrupted or damaged, the computer will struggle to determine what to do during startup. To resolve the boot failure issue, you need to repair or rebuild the Master Boot Record file. Here's how you can do it:
Step 1: Download EaseUS Partition Master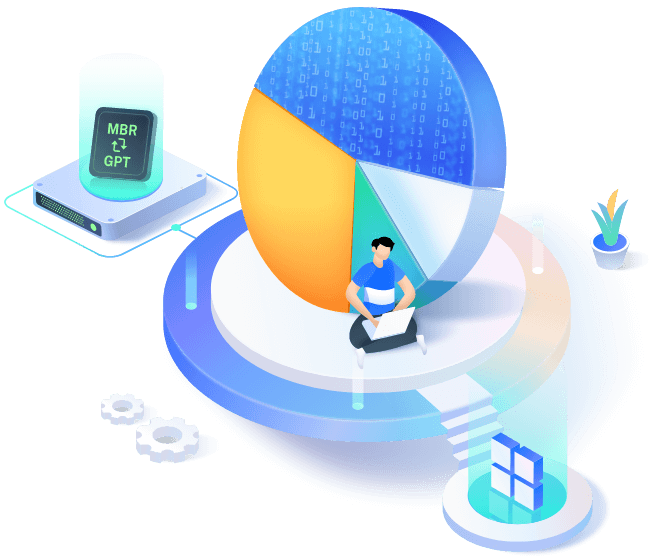 Copy OS and data to another HDD/SSD
Convert MBR to GPT for Windows 11 upgrade.
Rebuild MBR and fixes Windows boot issues.
Convert to NTFS/FAT32 Without formatting.
Create/Resize/Merge Partition
Delete/Move/Format Partition



99.7% Recovery Rate

72 Million Users




Manual MBR Repairing
You can manually repair Master Boot Record file as follows:
Manually Repair MBR file - Step by Step

Step 2: Select Repair your computer.

Step 3: It will open the Advanced Startup Option or Windows Recovery Environment. Click on the Troubleshoot.

Step 4: Select Command Prompt.

Step 5: Type the following command and press Enter to execute it.

bootrec /fixmbr
bootrec /fixboot
bootrec /RebuildBcd

Step 6: Now restart your computer, and you will not see the boot time error message Bootmgr is missing.
Solution 4: Repair disk errors and system files using SFC, CHKDSK, and DISM command.
SFC – System File Checker
SFC or System File Checker is used to scan and verify the integrity of essential system files. Its primary purpose is to check for corrupted or missing system files and replace them with cached copies stored in the Windows component store if available.
CHKDSK – Check Disk
You also have the power to run a disk checking utility to verify and fix any disk-related issues. If there is a bad sector in the Master Boot Record (MBR), your computer may refuse to read those areas, leading to the error message "Disk Boot Failure, Insert System Disk and Press Enter."
DISM – Deployment Image Servicing and Management
DISM (Deployment Image Servicing and Management) is a command-line tool that allows users to perform system maintenance, deployment, and recovery.
Run SFC, CHKDSK, DISM command

Step 1: Boot your PC using the Windows Installation media. It will open Windows Installation Wizard. Click Next.

Step 2: Select Repair your computer.

Step 3: It will open the Advanced Startup Option or Windows Recovery Environment. Click on the Troubleshoot.

Step 4: Select Command Prompt.

Step 5: Now run the following commands one by one.

i. System File Checker tool

sfc /scannow

ii. Run Dism command

Dism /Online /Cleanup-Image /CheckHealth
Dism /Online /Cleanup-Image /ScanHealth
Dism /Online /Cleanup-Image /RestoreHealth

iii. Run Disk checking utility.

chkdsk C: / f / x / r
Solution 5: Use System Restore
System Restore is a feature in Microsoft Windows operating systems that allows users to revert their computer's state to a previous point in time.
System Restore - Steps by Steps

Step 1:

Open the

Advanced Startup Option

or

Windows Recovery Environment

. Go to the

Troubleshoot ➜ Advanced options ➜ System Restore

.

Step 2: Click Next and then Select Date.

Step 3: Click on Finish to start Restoring process.
Solution 6: Replace Faulty HDD or SSD
If you suspect that your hard drive or SSD is failing, it is crucial to replace it with a new one as soon as possible. Additionally, if you have backups of your data, restoring it to the new drive is highly recommended. This proactive approach will help prevent data loss and ensure the continued functionality of your computer.
If your hard drive or SSD is dead, then still you can recover all your data by using the EaseUS Data Recovery Wizard Software.
Summary
To fix Disk Boot Failure Insert System Disk and Press Enter error in Windows 11/10, verify the boot order sequence in BIOS, Repair MBR, run disk checking utility, restore Windows, and replace faulty HDD or SSD.
Have you ever encountered the error message "Disk Boot Failure Insert System Disk and Press Enter" on your computer? If so, what steps did you take to diagnose and resolve the issue? What do you think are the most common causes of this error, and what preventative measures can be taken to minimize the risk of experiencing disk boot failure in the future?

Please leave your opinion on comment section.