You may receive one of the famous update error 0x800f0831 when trying to install updates in Windows 8, 8.1, 10, Windows 11 and Windows server. Mostly this error occurs when you try to install cumulative updates. In this article, I will explain some of the tested methods to fix this error.
Error message:
FATAL: CBS called Error with 0x800F0831
Or,
CBS_E_STORE_CORRUPTION – 0x800F0831
You may find more details about this error when you see the cbs.log file.
Method 1: Fix using the Advanced System Repair Tool
Windows update mostly occurs when there are missing dll files, outdated drivers installed, corrupted registry files, virus/trojan attacks etc. If there are glitches in a system configuration file or system settings, you may receive update-related issues.
It is recommended to use the Advanced System Repair tool to scan and fix update errors on Windows-based computers. This tool fixes the bugs, removes malware, optimizes system performance, and gives you a hassle-free environment to work on the computer.
Method 2: Repair the Manifest of the previous update package.
This error mainly occurs when the updates that you are trying to install can't access the manifest of the previously updated package. You can resolve this issue by running the DISM command.
Step 1: Open the Administrative command prompt.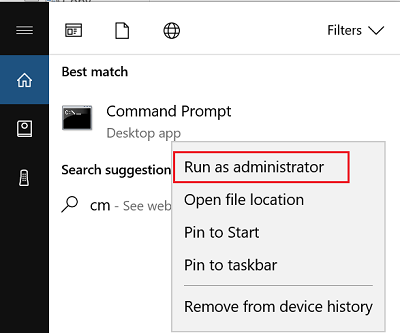 Step 2: Run the following commands respectively.
DISM /ONLINE /CLEANUP-IMAGE /SCANHEALTH
DISM /ONLINE /CLEANUP-IMAGE /CHECKHEALTH
DISM /ONLINE /CLEANUP-IMAGE /RESTOREHEALTH
Step 3: After successfully running the above command, run the SFC command.
Sfc /Scannow
Method 3: Manually install the windows update component.
Copy the name of the updated components raising the update error 0x800f0831 and find it on the Microsoft Catalog page. Follow the steps to download the specific updates component package.
Step 1: Copy the name of failed update component.
Step 3: Search the updated component respective to your OS version.
Step 4: Download the package and install it.
Method 4: Try Windows update troubleshooter.
I am not a big fan of Update troubleshooter because this does not work when you need it most. Although you may give try to update the troubleshooter and fix the error 0x800f0831.
https://www.how2fixerror.com/windows-update-failed-to-install-19-ways-to-fix-it/#method12
Method 5: Reset the Windows update component (Recommended)
This is one of the best methods to fix Windows update-related issues and it works most of the time. Just reset the Windows update component and start installing windows updates and more likely you will not get the FATAL: CBS called Error with 0x800F0831.
https://www.how2fixerror.com/manually-reset-windows-update-components/
Summary
In this article, I explained 5 useful methods to fix the FATAL: CBS called Error with 0x800F0831 error on your computer. If a windows update is stuck due to this problem, you can easily fix it by following the guidelines given in this article.