Update errors are frustrating, and no one wants to see them on the computer screen. If you are one of them who is getting it while updating Windows 8, Windows 10, or Windows 11 and feeling helpless to resolve it, you are at the right place. In this troubleshooting article, we will try to cover everything from the beginning ex:- why you are seeing this error, the reasons, cause, and how to fix Windows 10/11 Update error easily. You will also know the various ways to download and install updates in Windows 10 & 11 without facing trouble.

So, let's begin
Most commonly the windows update error occurs due to insufficient storage space, corrupted update files, corrupted system files, incorrect registry files, misconfigured system settings, missing system files, outdated drivers, etc. It is recommended to use the Advanced System Repair Tool to fix all the above conditions in one click. This tool does fix the issues and manages the system integrity and security efficiently thus giving you an error-free, fast, and smooth working environment on your PC.
Basic Troubleshooting
Advanced Troubleshooting
BASIC TROUBLESHOOTING
Method 1: Give a Simple Restart to your PC
"Restart" is a great technique for all kinds of electronic devices that resolves the issues mostly. In Windows update failure, restarts also work excellently and help the windows operating system to download updates easily. Few applications run and get updated in the background and require a restart. So, if a pending restart is there, the next update may refuse to get downloaded and installed and may show you a few common update errors. In this situation, a simple restart may fix all kinds of troubles easily and let your PC download and install fresh windows updates again.
Step 1: Click on the Start Menu > Power > Restart.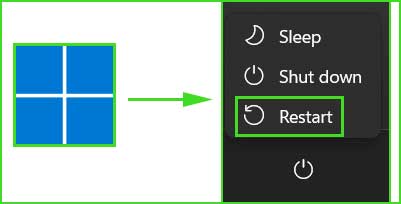 Or,
Step 2: Close all the opened applications and programs, go to the Desktop then press Alt + F4. Select Restarts from the drop-down list and click OK.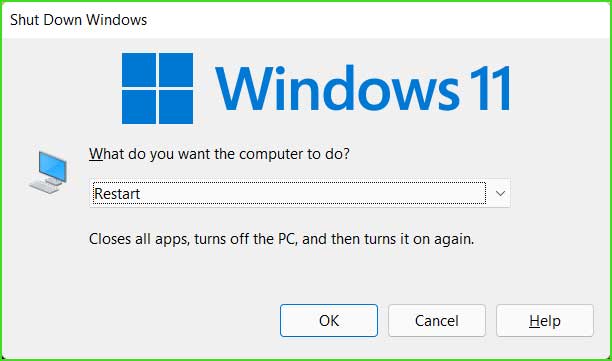 Method 2: Reliable Internet Connection is needed
You must check your internet connection because while downloading updates, a reliable internet connection is needed. If you have an interrupted internet connection, you might get difficulty downloading windows updates. You can check internet connection reliability as follows:
Check logs using Event Viewer
Step 1: Click on the Start Menu and Search for Event Viewer and click to open it.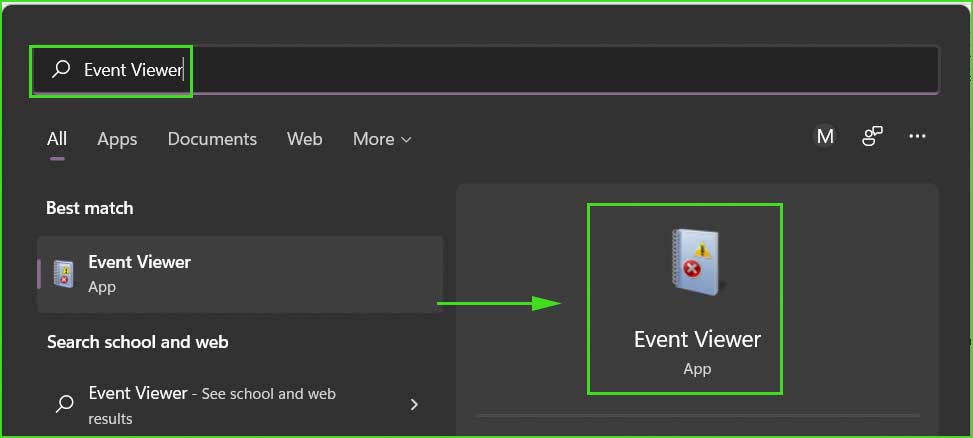 Step 2: Navigate to the Following location
Applications and Services Logs > Microsoft > Windows > UniversalTelemetryClient > Operational.
Click on the Event ID on the title to sort it and search all the events with Event with ID: 55 and filter it with your date so that you can check the internet connectivity logs for a particular day.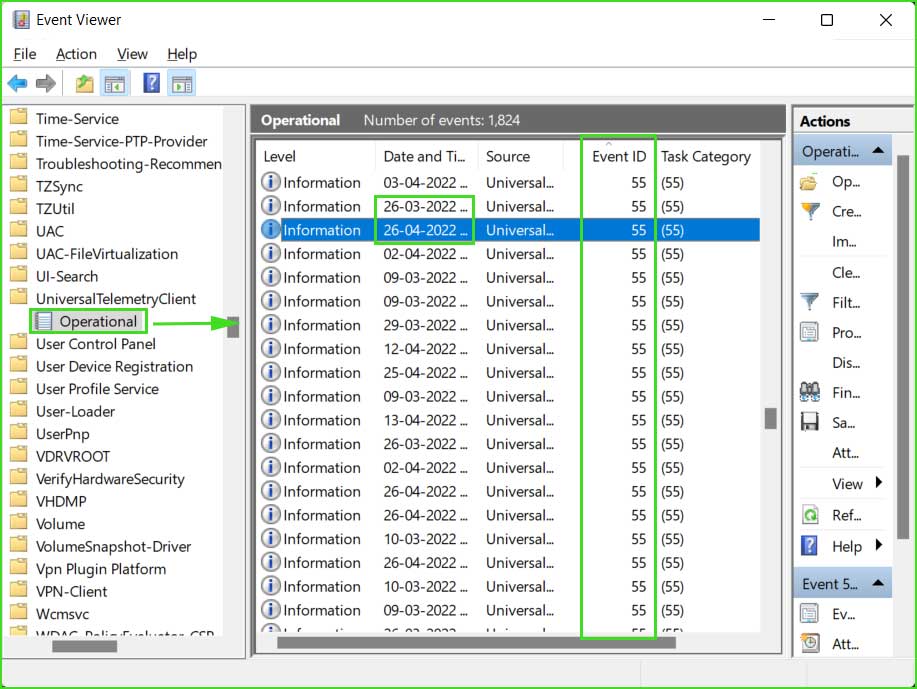 Step 3: Now double click on each event (Event ID: 55) for that day and check when the internet connectivity is lost and resumed.
If "Is the internet available: false" is shown, it means your PC has lost internet connection at that time.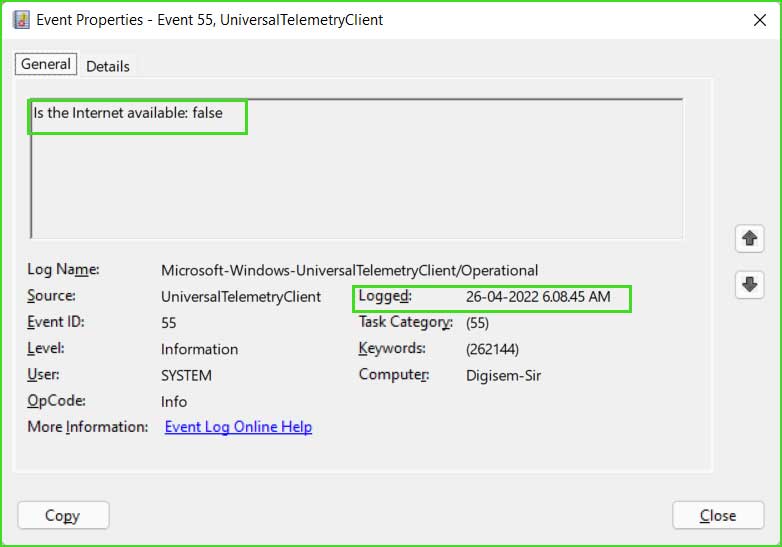 Step 4: You can also check your internet speed online at speedtest.net or fast.com.
You can learn more about How to fix internet connection issues on Windows 10 & Windows 11 PC.
Method 3: Turn off metered connection
When you turn metered connection On for your Wi-Fi, your PC starts data saving by stopping various background services including downloading and installing the Windows Update. If your update doesn't start or gets stuck or fails to download with an error code, you must turn off the metered connection and again try to download and install updates.
Step 1: Go to Start Menu > Settings > Network & Internet.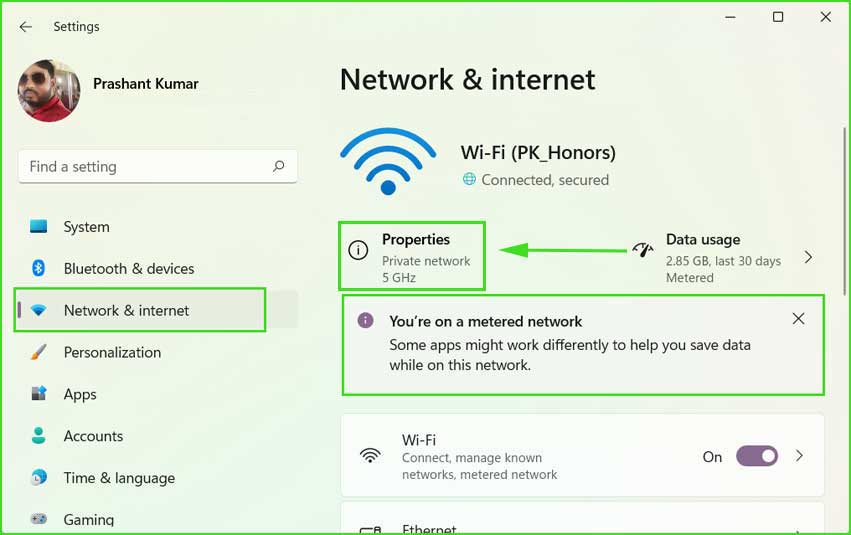 Step 2: Click on the Properties and select Turn off Metered connection.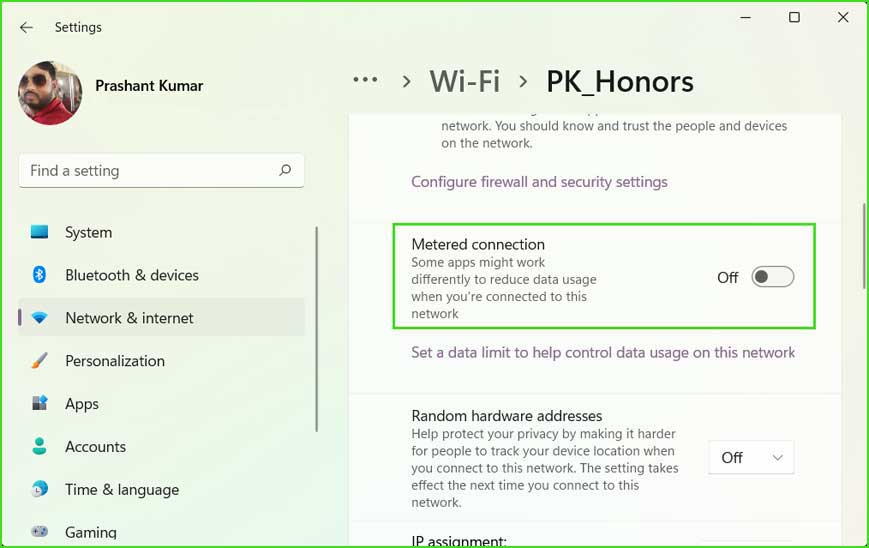 Step 3: Go to Windows Update settings and then try to download the update again. Most probably, you won't get the error again.
Method 4: Restarts Windows Update Services
Sometimes Windows refuses to start downloading and installing updates because the update service did not start in Windows Service Manager. There could be several reasons why the Windows Update service did not start, but we will focus on restarting the update service again.
Step 1: Open Service Dialog Box. Press Win Keys + R to open the Run box and type services.msc and click Ok to open Service Dialog Box.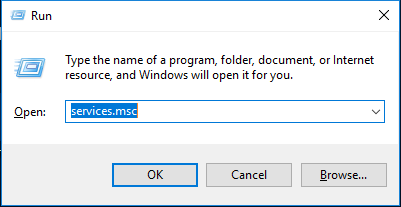 Step 2: Find the Windows Update in the service list. Right-click on it and select Restart.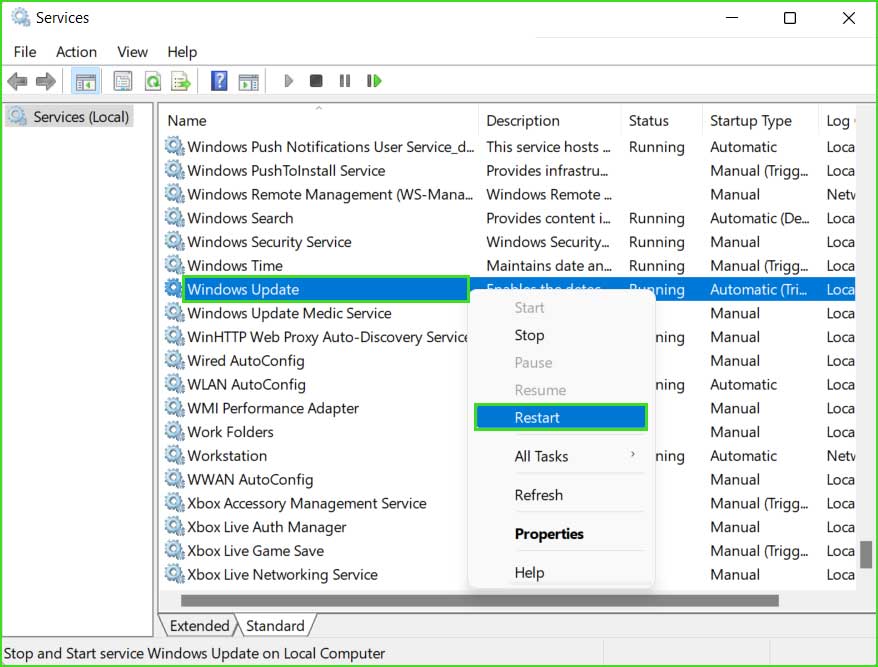 Step 3: You will see a progress bar telling you that windows is trying to restart the services.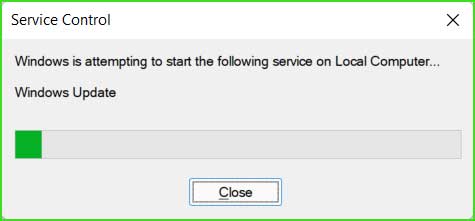 Method 5: Turn off paused updates
If you have paused the updates for a week or more, then windows will not be able to download the latest updates until resume. In this condition, check for the pause update settings and if it is paused, then resume the update service again.
Step 1: Go to Start > Settings > Windows Update
Step 2: If you see a message like "Updates paused until 31-05-2022" or something like that, then click on the Resume updates button next to the message.

Method 6: Free up some hard drive spaces
Since the invention of SSDs, a wide range of PCs offer 256GB or 512GB storage spaces. These spaces get consumed over time, and your PC starts showing the insufficient storage spaces message frequently. In this situation, when you try to upgrade your PC, it requires at least 20GB of free spaces available on your hard disk and as you know that there are no sufficient free spaces available thus windows will be unable to download and install updates. In order to fix this issue, simply free up some spaces by deleting unwanted files, backing up files on external drives, etc.
Step 1: Open the Disk Cleanup tool. Click on the Start Menu and Search for the Disk Cleanup and open the first result.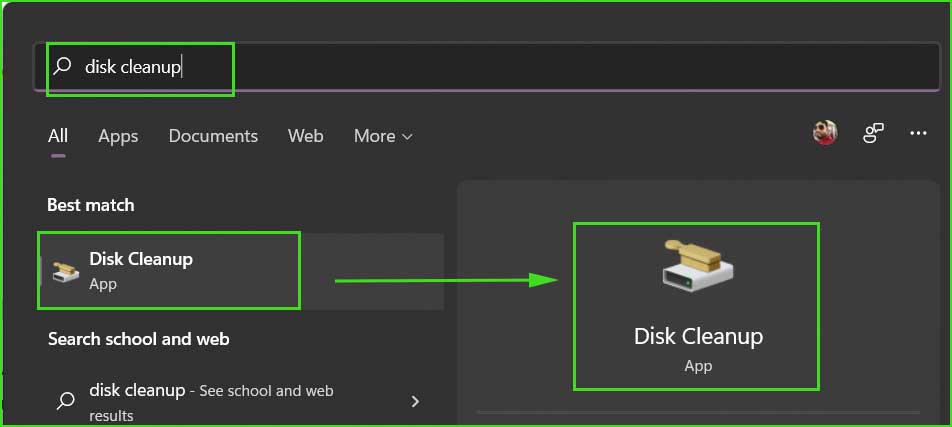 Step 2: Select Drive Letter C: and click OK.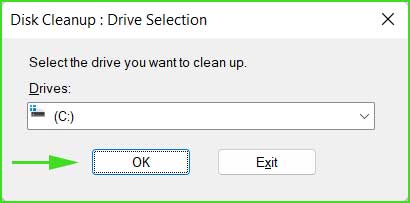 Step 3: Click on the Cleanup system files button.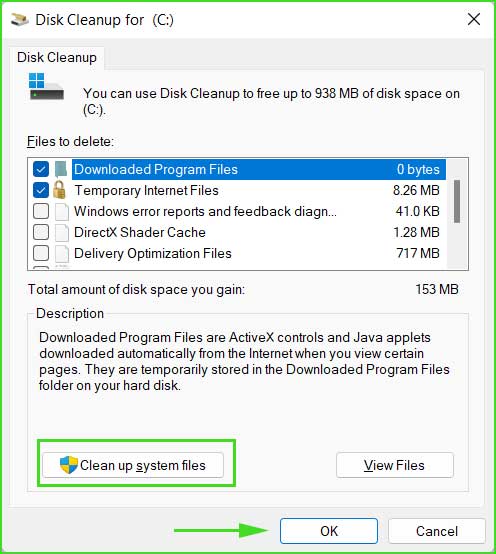 Step 4: Again, select the driver letter C: and click OK.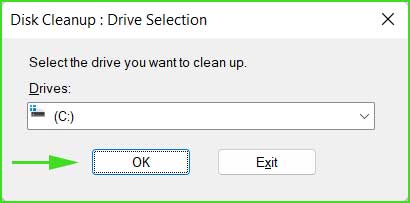 Step 5: Select all the checkboxes and click OK to remove the unnecessary file.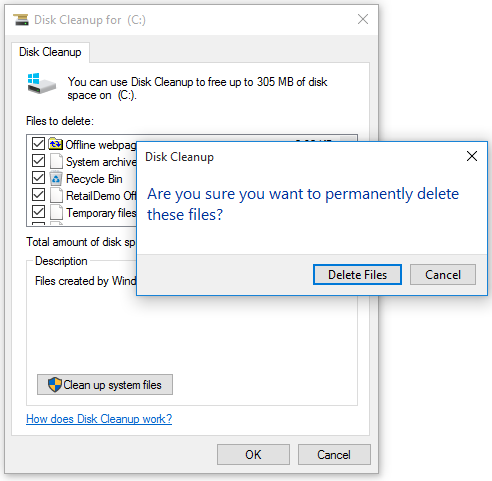 Step 6: By using this way, you will be able to free up some spaces up to 8 to 10 GB.

Method 7: Disconnect External Drives
Remove all the unnecessary external devices from the computer like external storage, USB drive, and other hardware, and then try to run an update on your computer. Sometimes external peripheral devices create a problem with windows updates and stop pc to install the latest updates. Removing these devices may fix the update problem sometimes.
Method 8: Try Clean Boot Mode to install updates
When you start your computer in clean boot mode, it skips the loading of all the third-party services and only starts your PC with the necessary services and drivers. By using this way, you cut the extra problematic services and drivers to load which may cause the problem in Windows Update.
Step 1: Open Microsoft configuration window. Type msconfig in the Run command (Windows Key + R) and press Ok or hit Enter to open the configuration window.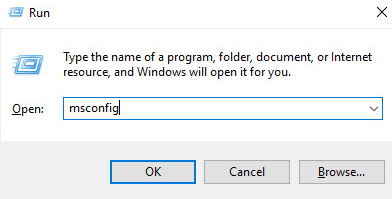 Step 2: Click on the Services tab and then select the Hide all Microsoft services check box at the bottom and then select all the items in the list and click on Disable all button.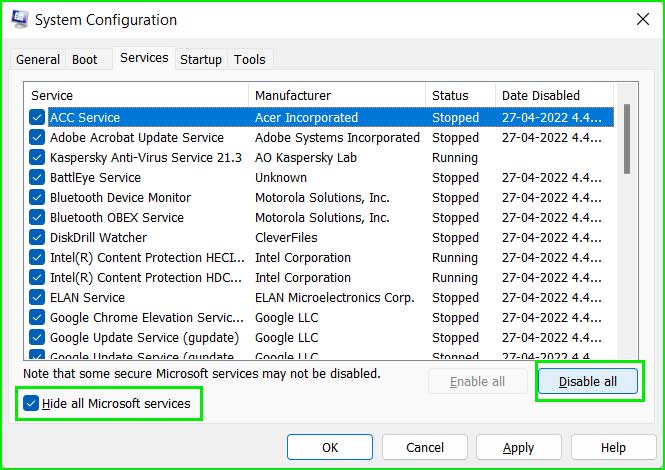 Step 3: Click on the Startup tab and then click the Open Task Manager link.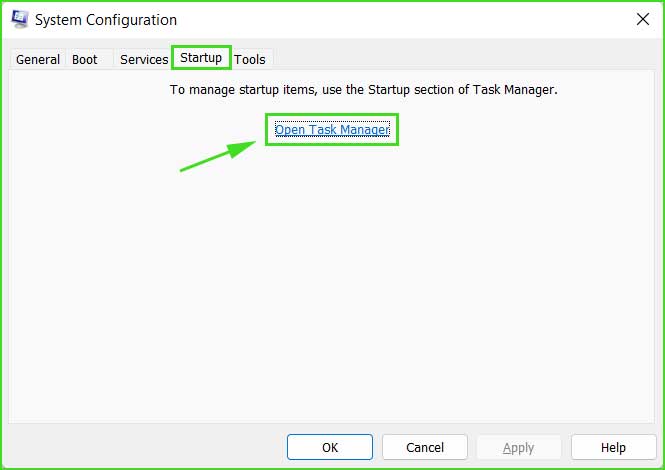 Step 4: Click on the Startup tab and then click on the Status column to sort by Enabled. Right-click on the Each enabled item and select Disable.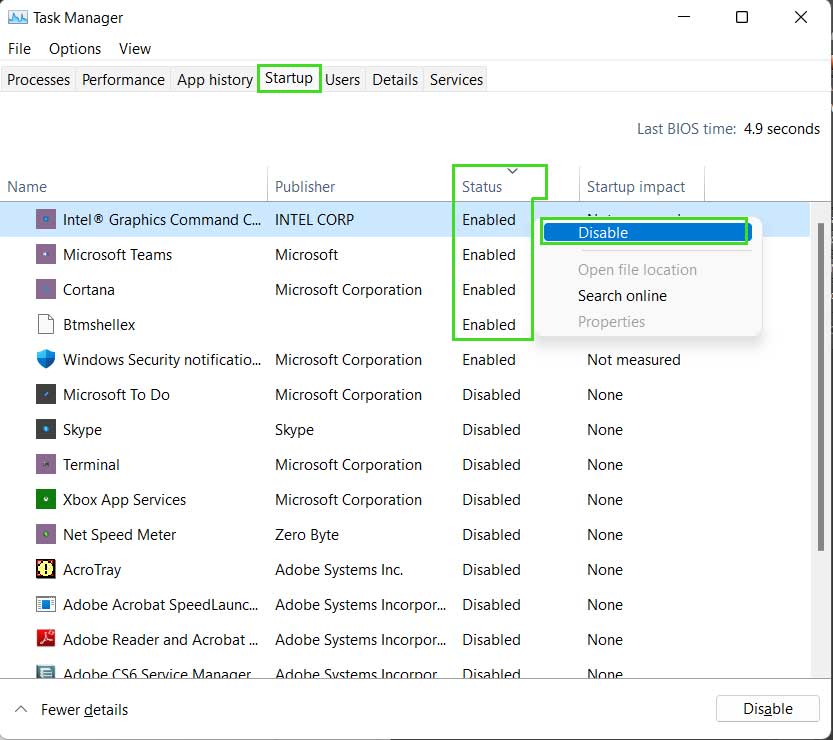 Step 5: Close the Task Manager. Click the Apply > Ok in the configuration window and reboot your PC to start it with Clean Boot State.
Step 6: When your PC gets started with a clean boot state, go to Settings > Windows Update and try again to download the update. If you are lucky, you will not get into any further trouble.
Method 9: Try Safe Mode to Install Updates on Windows 10 & 11
Did clean boot state not help you in fixing of update problem? Don't worry, you have one more powerful arrow in your quiver, Safe Mode. In Safe Mode, windows get started with only minimal drivers, settings, software, services, and graphics. There is no obstruction of third-party apps and drivers in the Safe Mode, so you can perform the update processes as well as other administrative tasks hassle-free. You can start your Windows in Safe Mode as follows:
Step 1: Go to Start > Settings > Windows Update > Advanced options > Recovery > Advanced startup and click on the Restart now button.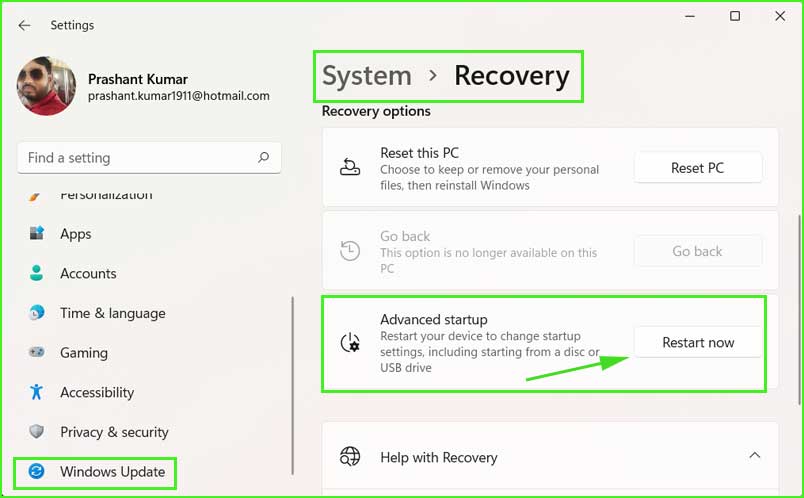 Step 2: Upon computer startup choose the Troubleshoot > Advanced Options > Startup Settings > Restart.
Step 3: After the computer restarts, you will see a list with several options. Press 4 or F4 to select Enable Safe Mode. It will reboot your PC in Safe Mode.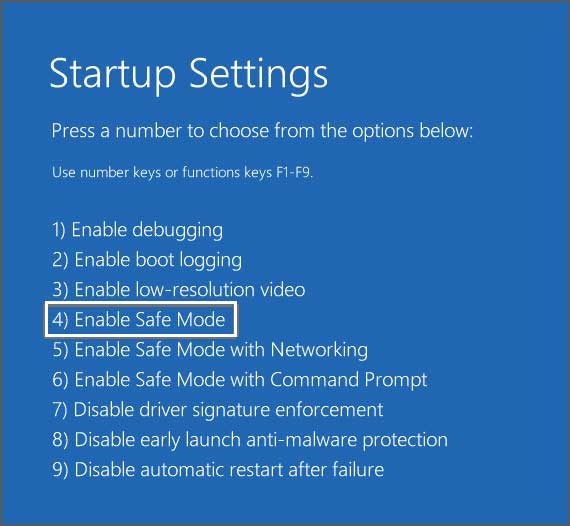 Step 4: In safe mode, Go to Settings > Windows Update and try to update windows and you won't get any error or Windows update fails issue.
Method 10: Update Third-party drivers and software
When you installed third-party apps and drivers, it writes valid entries in the system registry file, and therefore system accepts these programs. When you go for downloading and installing windows updates, your computer scans this software and their perspective driver to find updates on their official websites. This may lead windows update to stuck sometimes. If you are facing the same problem, then update this third-party software and drivers separately and then update windows 10 or windows 11.
Turn Off the "Receive updates for other Microsoft products" option
Step 1: Go to Start > Settings > Windows Update and click on Advanced options settings.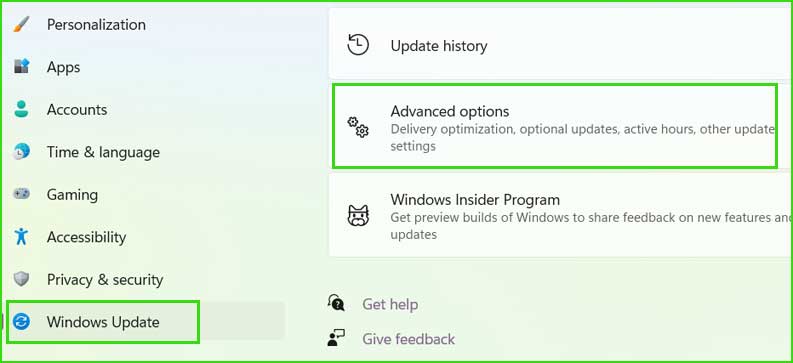 Step 2: In the Advanced options settings turn off the choice "Receive updates for other Microsoft products".


After turning off this menu, individually update all the third-party drivers and software and then again update your windows operating system. If you don't know how to find and update all the installed drivers on your system, you can use Advanced System Repair Tool to fix these issues for you. It automatically finds all the outdated drivers and updates them all just in one click.

3 Steps to Fix this Error
Method 11: Fix Device Manager Errors
You must find and fix errors on the device manager to fix the windows update fails issue. If there are errors in the device manager, your windows updates will stick forever when downloading updates. It is necessary to find and fix device manager errors automatically or manually.
Step 1: Open Device Manager. Right-click on the Start menu and select Device Manager.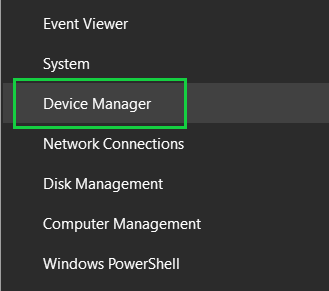 Step 2: Expand each device and look for the exclamation mark or question mark on the drivers.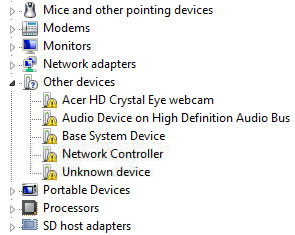 Step 3: Right-click on the faulty drivers and select Properties. You will see the message as below.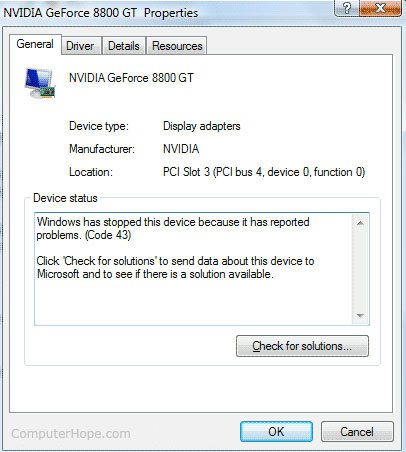 Step 4: Select the Driver tab and then click on the Update Driver button.
Step 6: It will find the latest driver for the devices and show you the message like this.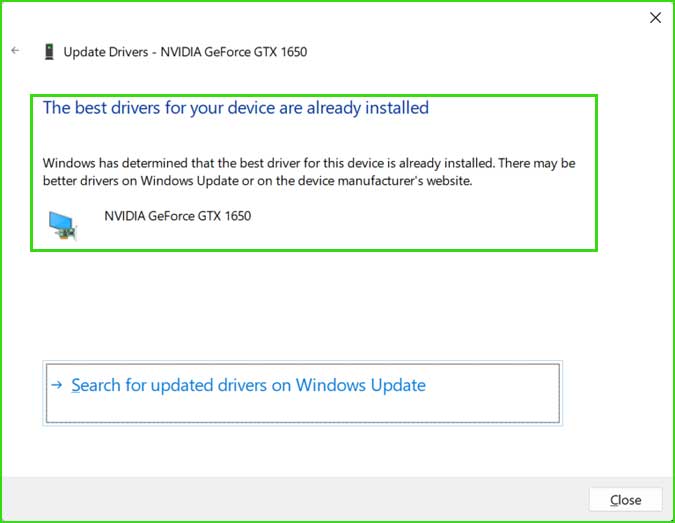 Step 7: If windows can't find the driver using the automatic method, you must download the driver file manually from the official site and install it in your PC.
Method 12: Run Windows Update Troubleshooter.
It is one of the most common and best methods to fix Update related issues. Just find and run this tool and everything will be fixed automatically related to the windows update. Here, is the complete walkthrough to run Windows Update Troubleshooter on your computer.
Step 1: Find Windows update troubleshooter in Windows 11 and 10. Click on the Start menu and search for Troubleshoot Settings. Open the first search result as below: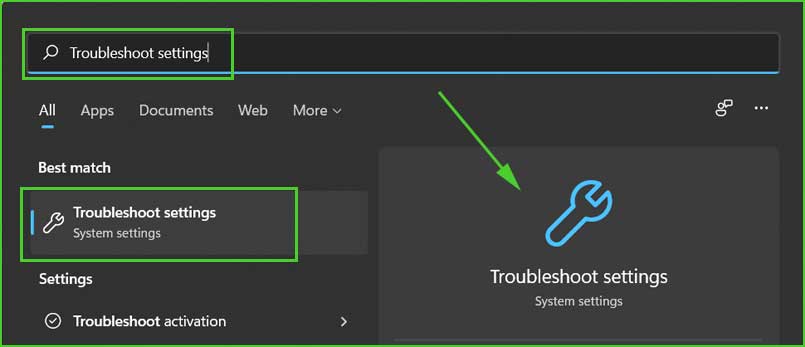 Step 2: Click on Other troubleshooters.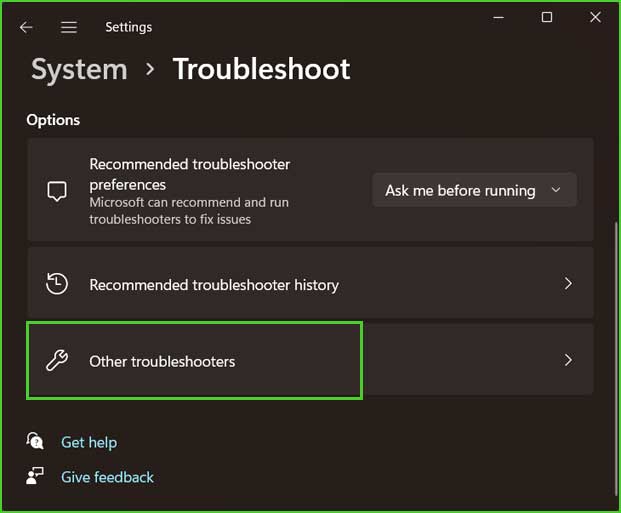 Step 3: Locate Windows update and click on the Run button to start the troubleshooting process.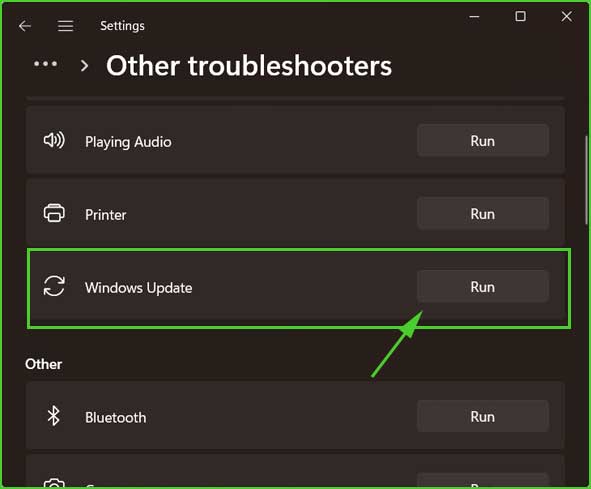 Step 4: It will take a few minutes to complete and show the result. If the troubleshooter couldn't fix your problem, then move to the next method.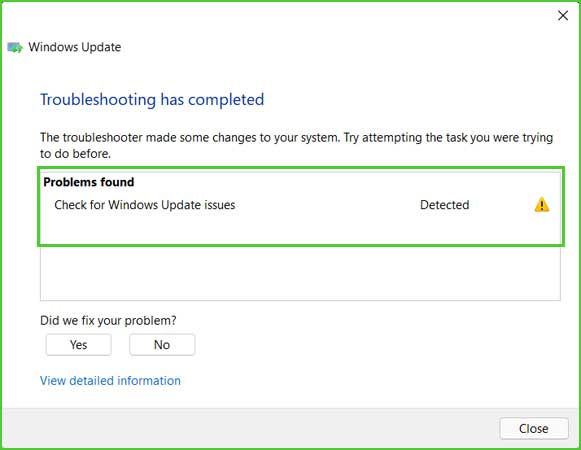 Method 13: Temporary disable Antivirus and Windows Defender Program.
Yes, you heard right! Sometimes, Antivirus and Windows Defender Program block connection to Microsoft server. It happens due to various unknown reasons or somehow, your computer security program finds these connections suspicious. Overcome this situation, disable antivirus and windows defender program temporarily and then run Windows update again. Don't forget to enable these services upon completion of the task.
Pause Antivirus
Step 1: Here, I am using Kaspersky antivirus so according to your antivirus, settings might be slightly changed. Click on the Notification icon in Taskbar > right click on the antivirus > select Pause protection.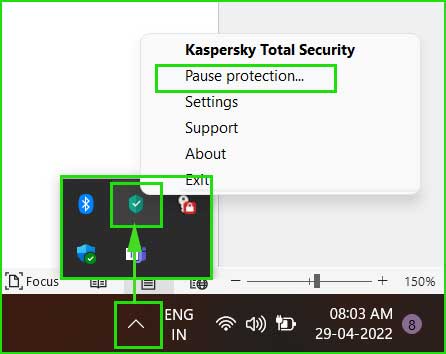 Step 2: It will ask you for how long time you want to keep this protection paused. Choose according to your need and click on Pause protection. It will ask for your confirmation, click yes.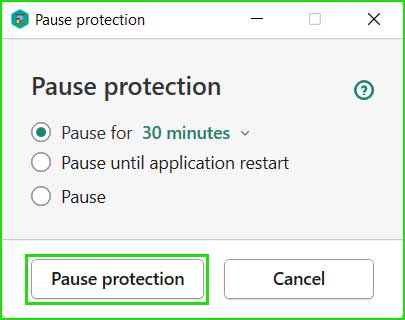 Pause Windows Defender
Step 1: Open Windows Defender Firewall. Click on the Start menu and search Windows Defender Firewall and open the first result.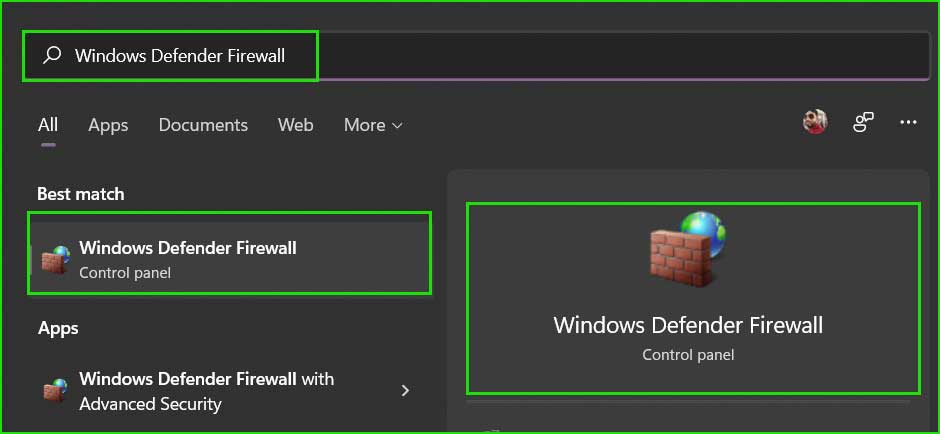 Step 2: Click on the link on the left side saying, "Turn Windows Defender Firewall on or off".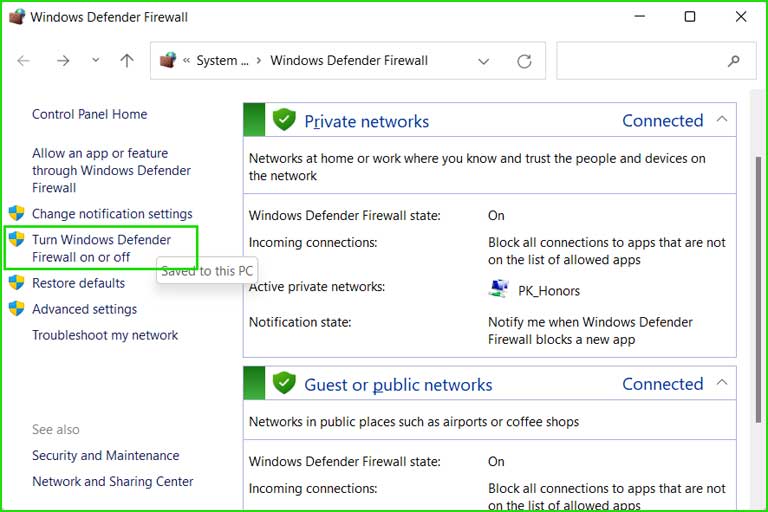 Step 3: Select "Turn off Windows Defender Firewall" for both Private and Public networks and click OK.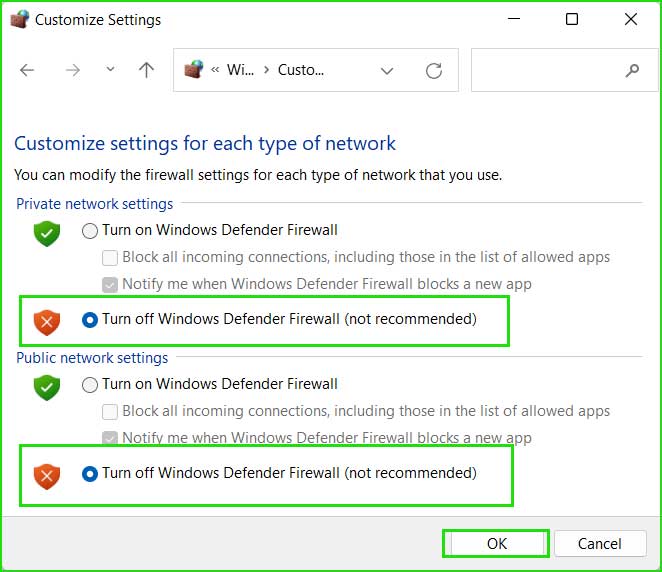 You must not forget to enable all these security programs as soon as your work completes. Remember, disabling these security programs, put your computer at risk and your system might be compromised. Only disable these services when you need it truly.
Advanced Troubleshooting
Advanced Troubleshooting requires additional knowledge of computers and if you are a newbie, don't go for these methods, instead call your friend to help you or use an automatic repair tool to fix all kinds of system errors. It is recommended that use Advanced System Repair Tool to repair and optimize your Windows PC.

3 Steps to Fix this Error
Method 1: Reset Software Distribution Folder.
The Software Distribution folder is a kind of home for windows updates where update files live. Windows update uses this folder to store update files, hotfixes, and patches before installing it. But for some reason, if this folder gets damaged or corrupted, then windows will not be able to store downloaded update files in this folder and also won't be able to install update files from this folder. In this situation resetting this folder will force the windows operating system to take it as a new Software Distribution folder, so this folder will be error-free and will work brilliantly with windows updates. Here is the complete walkthrough on how to rename the software distribution folder on Windows 10 & 11.

https://www.how2fixerror.com/software-distribution-folder-reset-rename-empty-boss/
Method 2: Run the System File checker Tool
The system file checker tool is one of the essential tools for windows that find and fixes missing, damaged, or corrupted system files. It scans the windows directory for finding the corrupted or damaged system files and fixes them automatically. This is a command-line utility and anyone can use it using an elevated command prompt. If you are facing difficulties with windows updates, there might be corrupted system files behind it. You must run the System File Checker tool (sfc.exe) to scan and fix the windows file system.

https://www.how2fixerror.com/run-system-file-checker-sfc-scannow-fix-windows-problems/
Method 3: Run the DISM command-line tool.
DISM is a very powerful and comprehensive utility that is used for servicing window images. DISM is a short name for Deployment Image Servicing and Management, and it is used for repairing corrupted windows image files. It is very useful when windows get corrupted, and you want to fix it without taking lots of burdens. Just run a few simple commands and it will repair your windows operating system easily. In the concerns of Windows Update, the DISM repairs all the windows components and allows smooth installation of windows updates.

How to Run DISM Command in Windows 7/8/10/Server
Method 4: Repair hard drive errors
A bad sector in the hard drive may stop the Windows to store files on disk space. However, you won't feel your hard drive has a bad sector because it would work perfectly but the storage area where the update file has to be stored is damaged. In this situation, you must repair the bad sector from the hard drive and then try again to install updates.
Using Drive Properties
Step 1: Open This PC and Right-click on your Primary drive (it's usually C:) and select Properties. In most of the systems, the drive letter is C: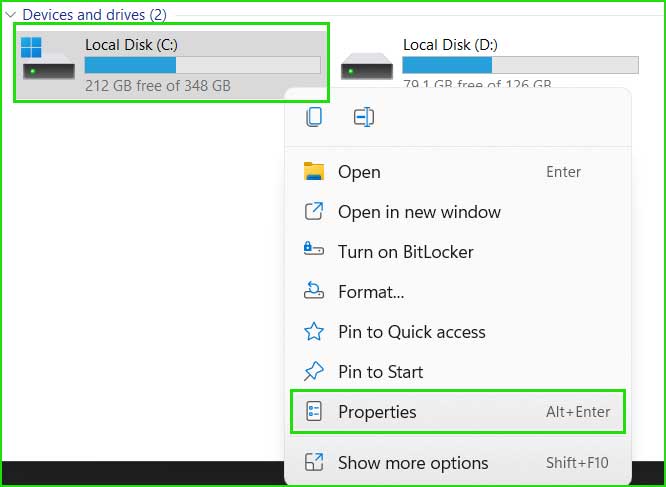 Step 2: Click on the Tool tab and then click on the Check button under the Error-checking block.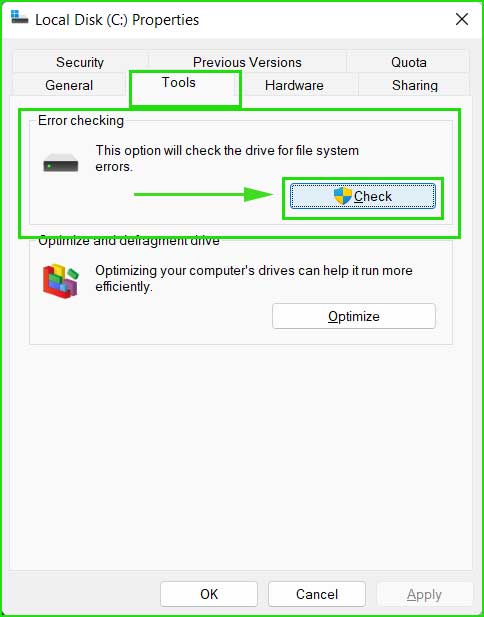 Step 3: It will give you a recommendation along with the Scan drive option. Click on the Scan drive option to start scanning.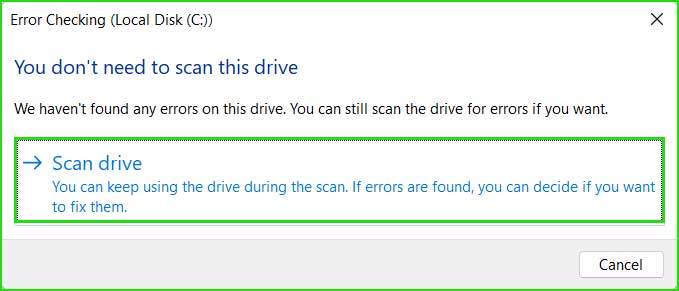 Using CHKDSK command
You can also start disk checking utility and repair bad sectors using the command line. Open the elevated command prompt and run the check disk command (chkdsk) with some parameters to scan and fix the drive automatically.
Step 1: Open Elevated Command Prompt. Search cmd in the Start menu, right-click on the command prompt and select Run as Administrator.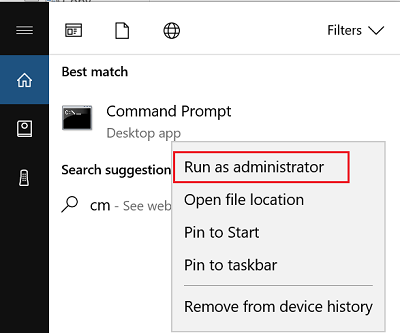 Step 2: Run the following command.
chkdsk /f /r
Step 3: As you are using this command in the current drive where windows is installed and running, so the chkdsk will give you an option to start scanning on the next restart.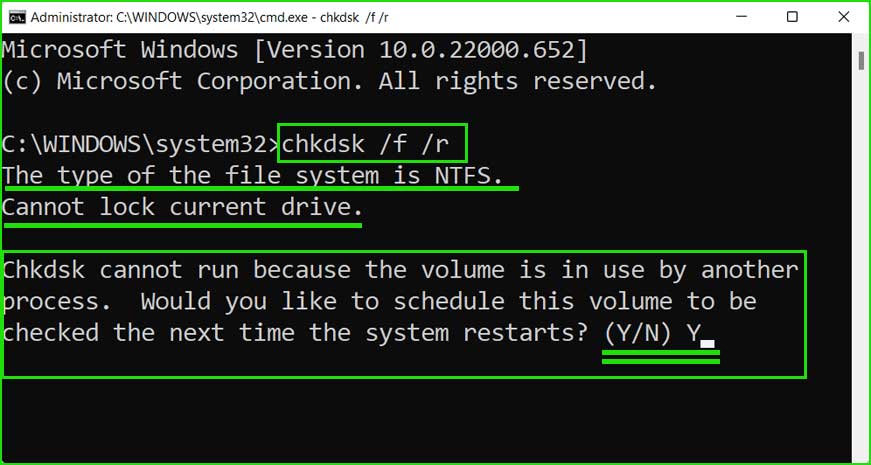 Method 5: Download Updates Manually
There is an option for downloading and installing updates manually. As Microsoft releases cumulative updates once a month and the latest cumulative update keeps all the previous updates inside a single package. You just need to find your OS build number, update the version, and search updates on the Microsoft catalog page.
How to Download and Install Windows Update Manually?
Method 6: Restore Windows using System Restore
Restore your system with the previous restore point and fix all kinds of trouble simply. Installing and uninstalling a software or driver stores lots of chunk files and changes various system settings. When you restore your PC, all these changes get removed automatically and you may download and install updates without having to get any error messages. Here is a complete walkthrough on how to Restore windows using System Restore Point.
https://www.how2fixerror.com/complete-guide-to-fix-dll-errors-on-windows-10-windows-11/#17
Summary
In this detailed article, I have covered almost all the methods by which anyone can fix their update-related problems in Windows 10 and Windows 11 machines. All the methods are well explained with screenshots so it is easy to apply.