You may get following error message when installing Office 2010/2013/2016 or 2019.
We're sorry, but we could not start your Office installation. Another installation is in progress, please try again later.
This error message also returns error code 0-1018. In this article, I will explain why this error occurs and how can you easily fix it.
What is Office Installation Error 0-1018 – Another Installation is in Progress
This error mostly occurs when you previously tried to install MS Office and it didn't get successful. In the second attempt when you try to install MS Office, you may get the above error.

How to Fix Error Code 0-1018
Method 1: Fix using Outbyte PC Repair Tool
Most of the time this error appears because of the registry file. When you first install Office, it adds some new registry keys in the registry file so, when you try to install office a second time, Windows also finds the registry key and returns you installation error code 0-1018. Outbyte PC Repair tool scans registry files and other system files and removes traces of invalid installation.
Method 2: Wipe Previous Office Installation and Re-Install Fresh Copy of MS Office
When you install office or any other software, it stores various entries in different folder and registry file. But, when you uninstall it using control panel, it didn't get completely removed and cause a problem when re-installing same application again. In this situation, you need to remove the previous installation of MS Office completely using the special office removal tool. You can download and use this tool freely to remove office completely.
Step 1:
Go to Following Page and Download Easy Fix tool.
Step 2:
Double click on the o15-ctrremove.diagcab tool to launch software. Click Next button to uninstall Microsoft Office completely from PC.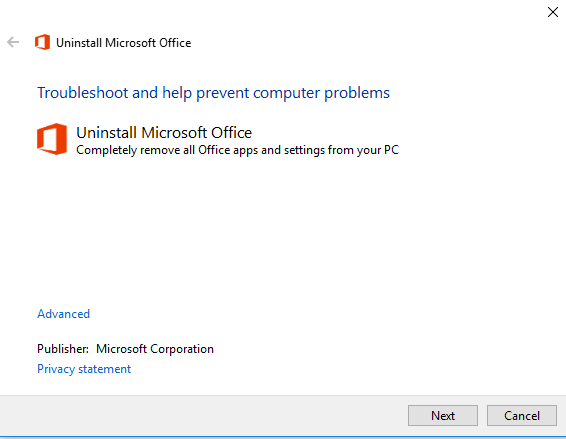 Step 3:
After uninstalling Office, try to install and activate office again. You won't get Office Installation Error 0-1018 again.
Method 3: Scan and Remove Malware and Viruses
You must also scan your whole PC against viruses and malware. There are high chances that some malicious applications are running behind your OS and using so many resources and causing installation problem.
Summary
This article explains how can you fix Microsoft Office Installation Error 0-1018 in Windows 7/8/10 PC. This is a most common error that usually occurs when you go for installing MS Office 2007/2010/2013/2016/2019 or Office 365.