Sometimes, when you try to install Windows updates through the Update & Security page, you may encounter the Windows Update Error 0x80244022. In this article, we will explain, why this problem occurs and how you can fix it efficiently.
It is necessary to keep your Windows OS updated in order to maintain security, scalability, and adding new functionality. Microsoft continuously release security updates, cumulative updates, features updates, and patches that helps Windows users to be secure and works smoothly.
The error 0x80244022 indicates that there is a problem with connecting to Microsoft update server.
Cause:
The Windows update error 0x80244022 can occur due to one of the following reasons:
The error 0x80244022 mostly occurs due to internet connection issue, incorrect proxy settings, or due to VPN connection.
Windows Update Service might be not working correctly.
Corruption in Windows update folder.
Corrupted or missing system files.
Disk error on HDD/SSD.
Incorrect Date & Time setting
How to Fix Windows 10/11 Update Error 0x80244022
Fixing the Windows update error 0x80244022 is not a complex job, and any one can fix it by themselves. Just go through the following steps and resolve this error yourself.
Method 1: Fix using the PC Repair Tool.
Many times, it has been observed that the Windows update failed issue occurs due to corrupted or missing system files, bad registry entries, outdated drivers, problems in the Windows update folder, or the presence of malware or trojans on your PC. It is advisable to use a reliable PC optimizer tool to maintain the good health of your Windows operating system.

Method 2: Check for Date & Time Settings.
If your PC has incorrect Date & Time settings, you may encounter countless error messages on your Windows PC. Just check for date & time setting, and if you found it incorrect, make it correct.
Step 1: Search for Date & Time settings in the Start menu and Open it.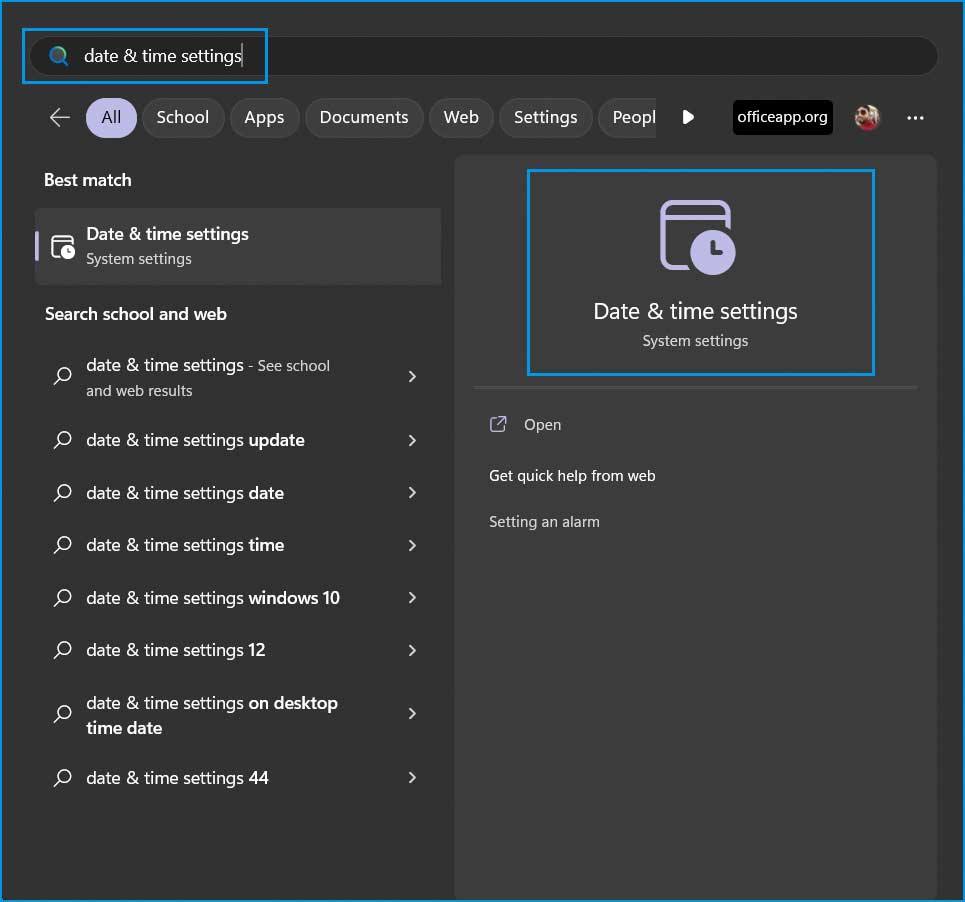 Step 2: Enable "Set the time automatically" and choose the correct Time zone according to your country.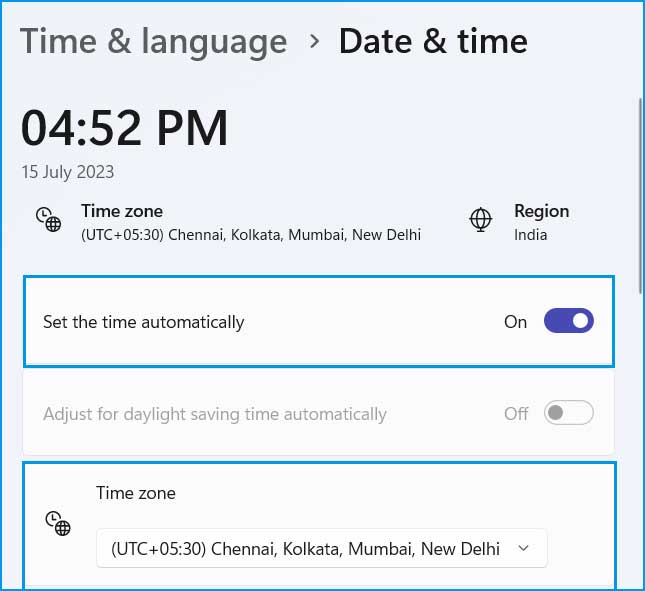 Method 3: Verify Internet connection, Proxy settings, and VPN connection.
Poor Internet Connection:
One common cause of this error is a poor or unstable internet connection. If your internet connection is intermittent or experiencing high latency, it can disrupt the communication between your computer and the Windows Update servers, triggering error 0x80244022.
Disable Proxy Settings:
If your computer is configured to use a proxy server for internet access, incorrect or misconfigured proxy settings can interfere with the Windows Update process, leading to the error code.
Step 1: Press Windows Key + R to open Run dialog box. Type inetcpl.cpl and press Enter to open Internet Properties.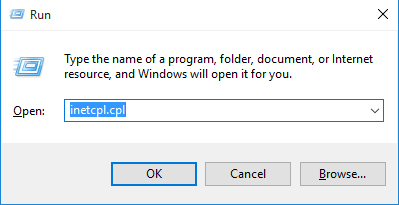 Step 2: Go to Connection Tab → Click on Lan button.
Step 3: Uncheck the box stating, "Use a proxy server for your LAN".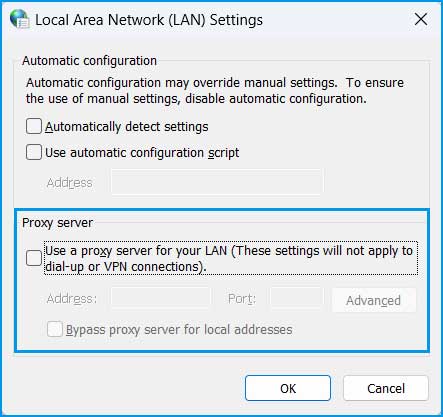 Disable VPN
If you are behind the VPN network, turn off VPN for a while and start installing the Windows update again.
Step 1: Press Windows Key + I to open Windows Settings. Go to Network & Internet and click on VPN.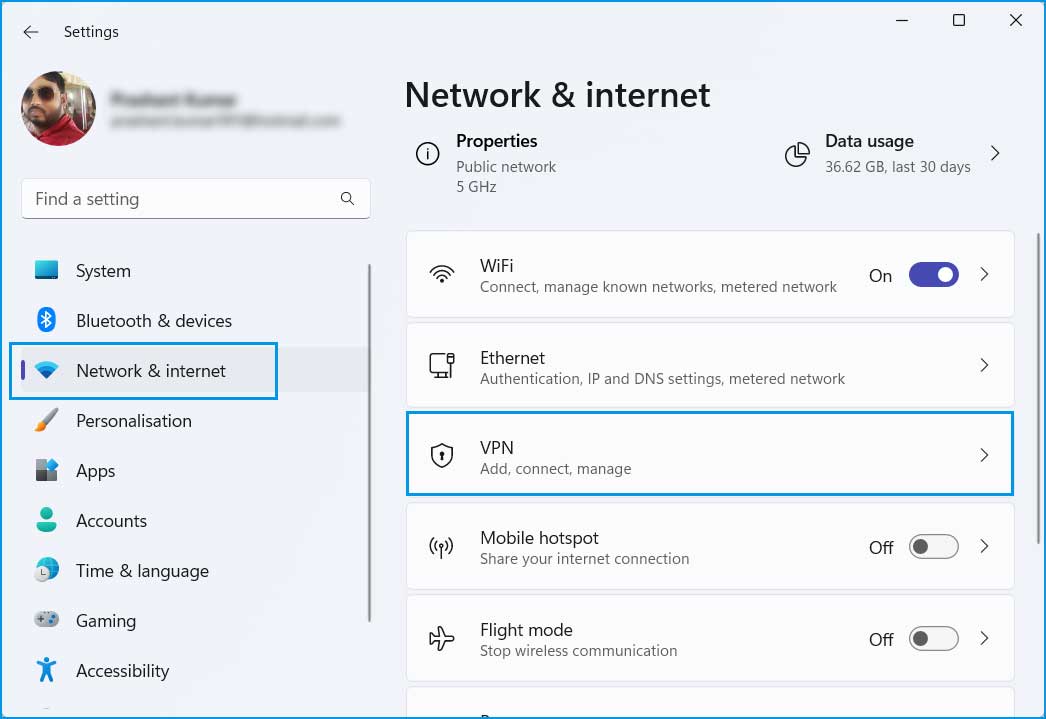 Step 2: If your computer is connected to a VPN service, disconnect from it.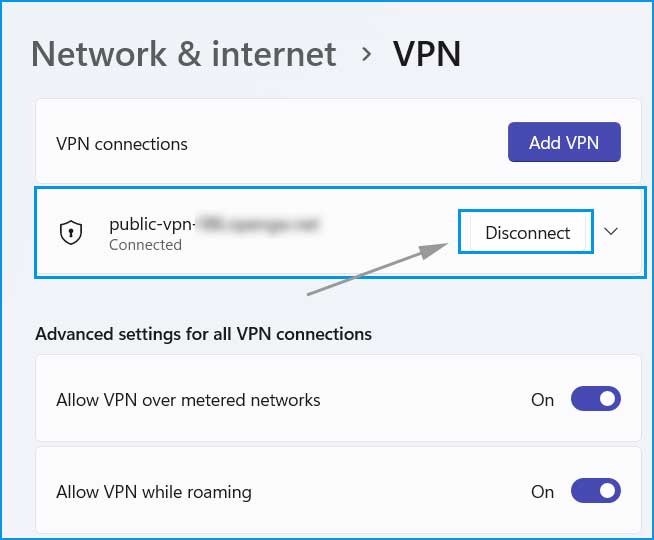 Method 4: Restart Windows Update Service.
Sometimes, restarting the Windows Update services can resolve update-related errors. Here's how to do it:
Step 1: Press the Windows Key + R to open the Run dialog box. Type services.msc and press Enter.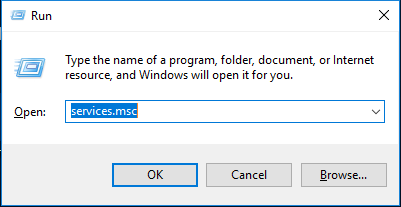 Step 2: In the Services window, locate the following services:
Background Intelligent Transfer Service (BITS), Cryptographic Services, and Windows Update.
Right-click on each service, select Properties, and ensure that their Startup Type is set to Automatic.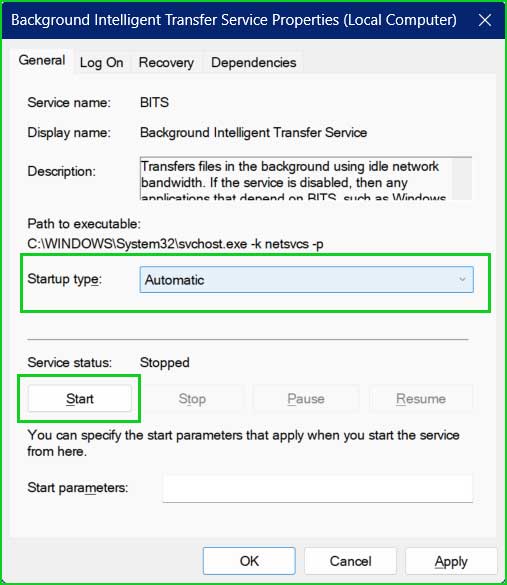 Step 3: If any of the services are not running, right-click on them and select Start.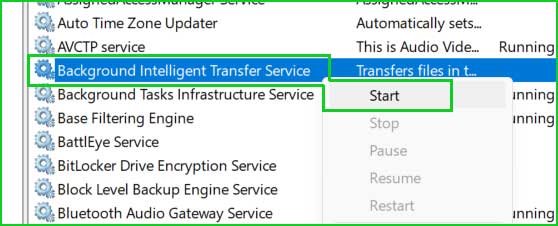 Step 4: Restart your computer and try running Windows Update again.
Method 5: Reset Windows update components.
Corrupted files in the Windows Update cache can cause update errors. Resetting Windows update components might resolve the issue. Follow these steps:
Step 1: Open elevated Command Prompt.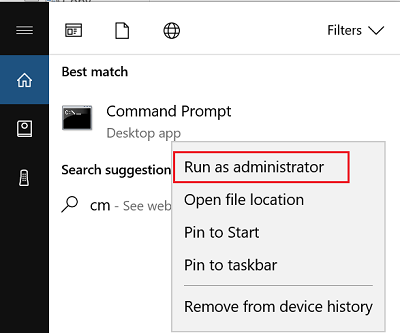 Step 2: In the Command Prompt, enter the following commands one by one, pressing Enter after each command:
net stop wuauserv
net stop cryptSvc
net stop bits
net stop msiserver
ren C:\Windows\SoftwareDistribution SoftwareDistribution.old
ren C:\Windows\System32\catroot2 catroot2.old
net start wuauserv
net start cryptSvc
net start bits
net start msiserver
Step 3: Close the Command Prompt and restart your computer.
After the restart, try updating Windows again.
Method 6: Run SFC, DISM, and CHKDSK tool to repair corrupted system files.
SFC (System File Checker), DISM (Deployment Image Servicing and Management), and CHKDSK (Check Disk) are all built-in Windows utilities that can help repair issues related to the file system. Each tool serves a specific purpose in diagnosing and fixing file system problems.
Step 1: Open Command Prompt as Administrator.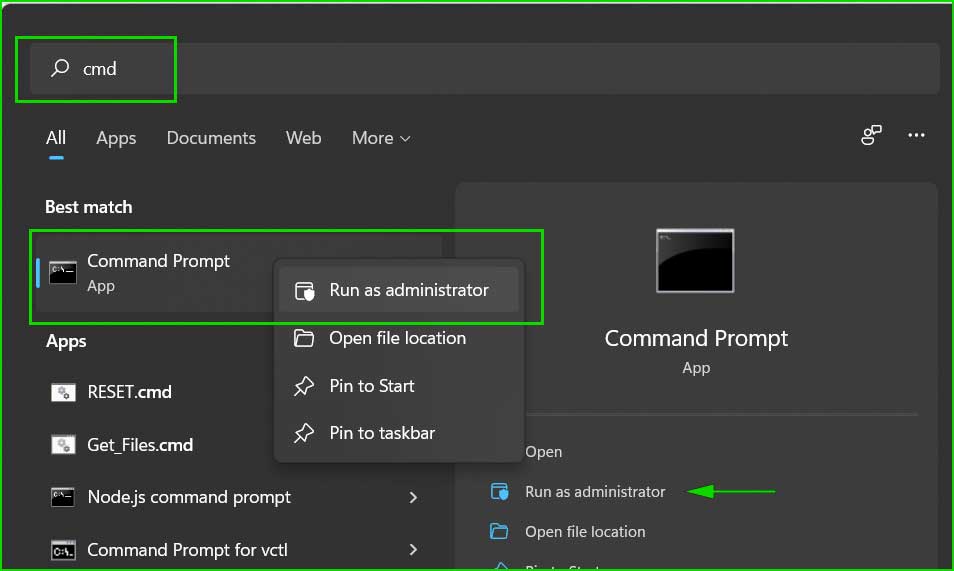 Step 2: Now run the following commands one by one.
i. System File Checker tool
sfc /scannow
ii. Run Dism command
Dism /Online /Cleanup-Image /CheckHealth
Dism /Online /Cleanup-Image /ScanHealth
Dism /Online /Cleanup-Image /RestoreHealth
iii. Run Disk checking utility.
chkdsk C: /f /x /r
It will ask you to schedule the disk checking at next Restart. Press Y and Reboot your computer.
Method 7: Run Windows Update Troubleshooter.
Step 1: Find Windows update troubleshooter in Windows 11 and 10. Click on the Start menu and search for Troubleshoot Settings. Open the first search result as below: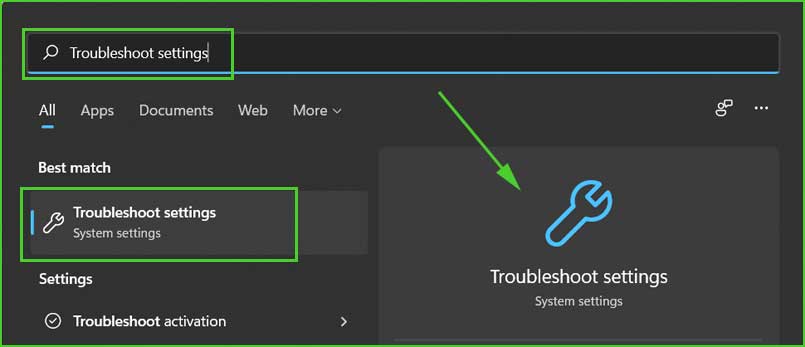 Step 2: Click on Other troubleshooters.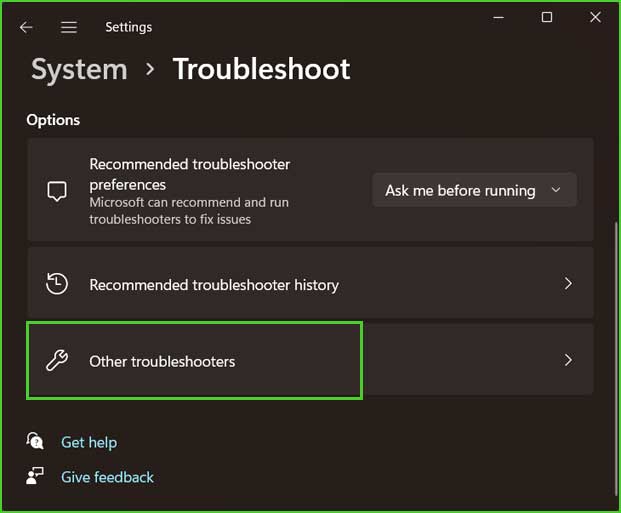 Step 3: Locate Windows update and click on the Run button to start the troubleshooting process.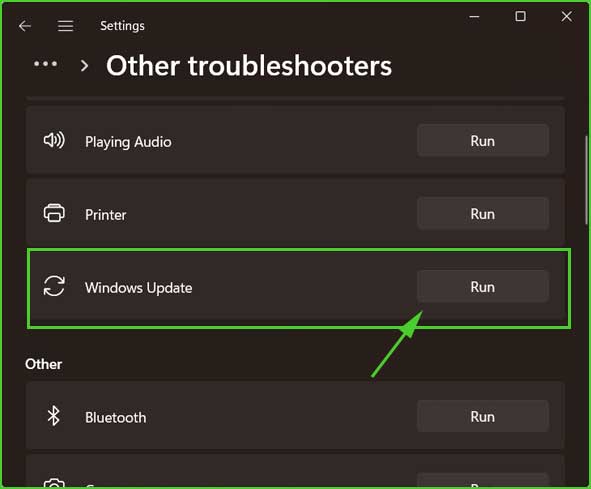 Step 4: It will take a few minutes to complete and show the result. If the troubleshooter couldn't fix your problem, then move to the next method.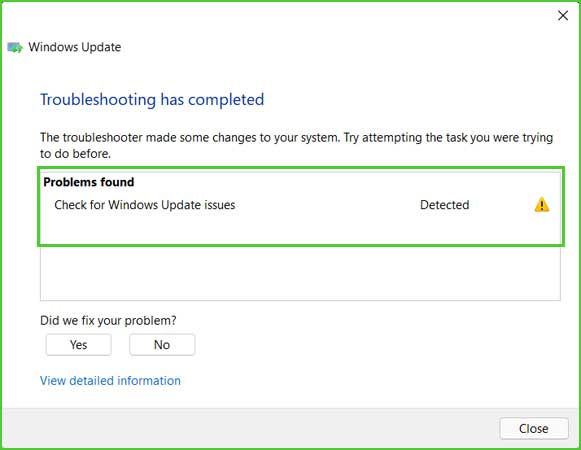 Allow the troubleshooter to scan for issues and apply the recommended fixes. Once the troubleshooter completes its process, restart your computer, and try updating Windows again.
Summary
It is necessary to resolve windows update error 0x80244022, to install newly launched Windows update files.
To fix windows update error 0x80244022, verify date & time settings, turn off proxy and vpn settings, correct poor internet connection, restart windows update service, reset windows update components etc.