Are you experiencing frustration due to the error message "Couldn't turn on the camera. Please sign in with your PIN" when attempting to use Facial Recognition with Windows Hello?
Windows Hello's Face Recognition feature provides a convenient and swift method for logging into your Windows account without the need for PIN entry or fingerprint authentication. Nevertheless, there are instances where trying to sign in via Windows Hello Face Recognition results in an error message like "Couldn't turn on the camera."
This issue can be particularly frustrating, but there are solutions available to address it and restore the functionality of your Windows Hello Face Recognition feature. In this guide, we will explore some effective troubleshooting steps to help you resolve the "Couldn't turn on the camera" error and regain seamless access to your Windows account using Face Recognition.
Cause:
Indeed, the "Couldn't turn on the camera" error with Windows Hello Face Recognition can stem from a variety of underlying causes. These potential triggers include:
Missing DLL Files: The absence or corruption of Dynamic Link Library (DLL) files essential for camera functionality can lead to this problem.
Corrupted System Files: Damage to critical system files related to camera operation can disrupt Windows Hello Face Recognition.
Incompatible Updates: Installing updates that are incompatible with your system's camera drivers or Windows itself can cause this issue.
Outdated or Non-functional Drivers: If your camera drivers are outdated, malfunctioning, or have stopped working, it can prevent Windows Hello from accessing the camera.
Camera Hardware Problems: Physical issues with your computer's camera hardware, such as cable connections or hardware failures, can result in the error.
Malware or Virus Infections: Malicious software can interfere with camera functionality and trigger this error, among other problems.
Identifying the specific cause of the error is crucial to implementing the correct solution. We'll now explore some troubleshooting steps to address each of these potential causes.
How to Fix Windows Hello sign error: Couldn't Turn on the Camera. Please sign in with your PIN
To address this problem, I've compiled a list of effective solutions that can help you resolve the camera sign-in issue on both Windows 11 and Windows 10.
Solution 1: Optimize Windows OS
To effectively resolve Windows errors, it's crucial to start by addressing system bugs and optimizing your Windows operating system. Manual optimization can be time-intensive and demands a deep understanding of computer systems. A more efficient approach is to employ a professional PC repair tool designed to rectify bugs and optimize your Windows 11 environment.
Solution 2: Restart your computer.
At times, this problem may be temporary and can often be resolved with a straightforward restart of your computer. Give it a try and see if the issue is resolved. If the problem persists or appears randomly, let's move on to the next solution.
Solution 3: Check the camera hardware.
To verify the functionality of your camera, open the Camera app on your Windows 11 PC and observe if the camera is operating correctly.
Solution 4: Update the Camera driver.
The Windows Hello face recognition sign-in issue may occur when your camera driver is outdated. To resolve this, update the camera driver and then restart your computer for the changes to take effect.
Step 1: Open Device Manager. Right-click on Start → Device Manager.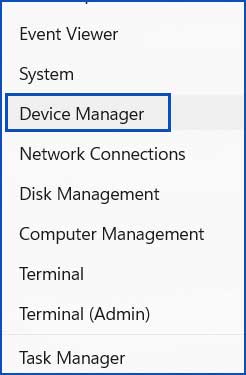 Step 2: Expand the Camera category. Right-click on driver → Update drive.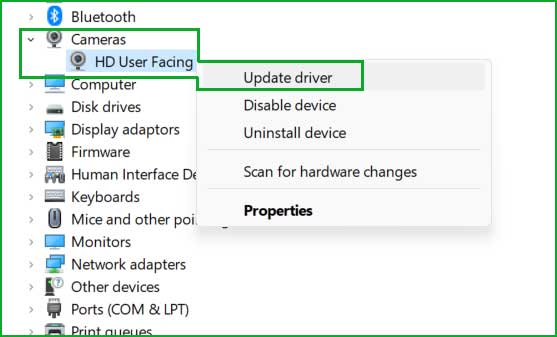 Step 3: follow the process.
Solution 5: Make full Windows updates.
Additionally, it's crucial to maintain your Windows system in its entirety, including installing all available Windows updates, keeping your apps up to date, ensuring your drivers are current, and applying any relevant firmware updates. This comprehensive approach helps to maintain system stability and security while addressing potential issues.
Complete Windows Updates - Step by Step

1. Windows Updates

Step 1: Right-click on Start → Settings.

Step 2: Scroll down to find Windows updates and then click on Check for updates.

---

2. App Update

To update the installed application on your computer, you can follow the following steps.

Step 1: Open Microsoft Store. Click on your profile picture at the top of the MS Store and select Settings.

Step 2: Turn On App Updates.

Step 3: Open Microsoft Store Library. To access your Microsoft Store Library, simply click on the library icon located on the left sidebar. Once there, you'll find a button labeled "Get updates." Click on this to initiate a scan for the latest updates available for the apps you have installed.

Step 4: For the third-party application, check for their updated version on their official site and install them.

---

3. Driver Update

Step 1: Open Device Manager. Right-click on the Start menu and select Device Manager.

Step 2: Expand all the drivers manually and look for the driver with a yellow exclamation mark. Right-click on it and select Update.
Solution 6: Reset Windows Hello Face Recognition
Occasionally, face recognition issues may arise due to malware or virus infections, or corruption in system files, which can lead to the corruption of face recognition data. In such cases, resetting Windows Hello Face Recognition can be an effective solution to resolve the problem.
Step 1. Go to Settings → Accounts → Sign-in options.
Step 2. Under "Windows Hello," click on "Remove" to remove your existing facial or fingerprint recognition.
Step 3. Set up Windows Hello again by following the on-screen instructions.
Solution 7: Download the latest camera driver from the Manufacturers' site.
Downloading the latest camera driver directly from the manufacturer's website is essential. Default camera drivers may not always support advanced features like Windows Hello face recognition. By obtaining the latest driver from the manufacturer, you ensure compatibility and optimal performance for features like Windows Hello.
Solution 8: Run the SFC command to repair corrupted files.
Corrupted system files indeed can be a significant cause of Windows Hello sign-in failures. Running the System File Checker (SFC) command is an essential step in diagnosing and repairing such corruption. Use the SFC command to scan and restore Windows system files, which can help resolve Windows Hello issues and improve overall system stability.
System File Checker Tool - Step by Step
Summary
Encountering the "Couldn't turn on the camera. Please sign in with your PIN" error while attempting to use the Windows Hello Face Recognition feature can indeed be frustrating. Thankfully, this article provides various solutions to help you resolve this issue and regain the functionality of Windows Hello Face Recognition.