Is your printer displaying itself in an error state when you send the printing job to the printer? In this article, we will research why this error happens and how can you resolve "printer in error state" problems in Windows 8, 10, Windows 11, and Windows server computers. No matter what types of printers you are using, whether it is HP, Canon, Xerox, Epson, Ricoh, or Brother, you may receive the same error.
Why printer shows the Error State problem?
There may be various reasons that can form the above error. Most commonly this error happens on the printer side but glitches in Windows OS may also be responsible for this problem. Here are some of the common reasons behind this error.
If, Printer is not connected properly.
If, Printer is Jam
If, Cartridge ink level is low.
If, the Printer driver is corrupted.
If, Misconfigured printer settings
If, the Spooler service is disabled.
If, Outdated Windows updates, software and drivers
If, Printer hardware malfunctioning, etc.
How to Fix the "Printer in Error State" problem?
You can give a primary treatment to your printer and computer to fix this problem. If still you found that the problem is not solved, it means that the printer has severe hardware problems so consult the printer technician for further help.
Method 1: Fix using the Advanced System Repair Tool
Most commonly this problem occurs due to the computer malfunctioning. If there are missing system files like DLL files, EXE files, SYS files, ocx files, etc, you may get several kinds of errors on your computer including printer errors. Apart from it, glitches in registry files, outdated drivers and software, outdated windows, viruses/trojans/malware, etc can also cause the Printer an Error State problem.
It is necessary to optimize and keep fit your computer so that it could work seamlessly. If you haven't installed any PC optimizer tool, install Advanced System Repair Pro to optimize and fix Windows problems.
Method 2: Check the Printer Connection with PC
This is the first step that you take to troubleshoot the printer problem. You must check your printer is properly connected to your computer and that your computer is able to read the printer status. If the printer status shows offline, make it enable/online as follows:
Wired Connection – If you have connected your printer through the cable, remove the cable (or change the cable) and re-insert it properly to both printer and computer.
Wi-Fi – If your printer is Wi-Fi enabled then remove the Wi-Fi connection and connect to the same Wi-Fi again.
LAN – If the printer is connected through the LAN cable, make sure that the printer is properly connected to your LAN network. You can ensure it as follows:
Step 1: Open Command Prompt.
Step 2: Type ping [Printer IP Address] and hit enter. For example:
ping 192.168.1.7
Step 3: If it shows the following output, it means your printer is properly connected to the network.

Reply from 192.168.1.7: bytes=32 time<1ms TTL=128
Reply from 192.168.1.7: bytes=32 time<1ms TTL=128
Reply from 192.168.1.7: bytes=32 time<1ms TTL=128
Reply from 192.168.1.7: bytes=32 time<1ms TTL=128

Ping statistics for 192.168.1.7:
    Packets: Sent = 4, Received = 4, Lost = 0 (0% loss),
Approximate round trip times in milli-seconds:
    Minimum = 0ms, Maximum = 0ms, Average = 0ms

Method 3: Hard Reset the Printer
Hard reset can fix the pending printing queue and other problems in the printer. Here, hard reset refers to completely turning off and turning on the printer. Unplug all the cables from the printer including the electricity connection, data connection, Lan connection, etc, and turn off your computer for 60 seconds. Now, plugged all the cables and start your printer.
Method 4: Check the printer problem through the Printer manufacturer's app.
Almost all printer manufacturers provide an application for managing their printers. These applications are very useful in terms of analyzing your printer configuration, status, problems, ink levels, and other printers' health issues.
Launch the printer application and see the warning, notification, and other messages thoroughly. Also check the cartridge, paper, ink level, etc and if found any suggestions, apply them.
Method 5: Update/Re-install Printer's driver
Sometimes, the driver creates a big problem if it gets inaccessible, corrupted, or outdated. You must take care of Printer's driver health in order to fix the Printer state error.
Step 1: Open Device Manager. Right-click on the start menu and select Device manager.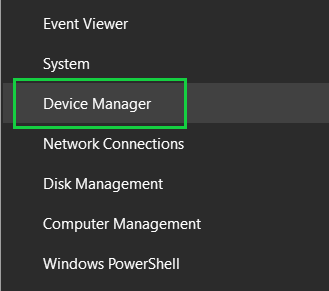 Step 2: Expand the Print queues and do right-click on your printer and select Update driver.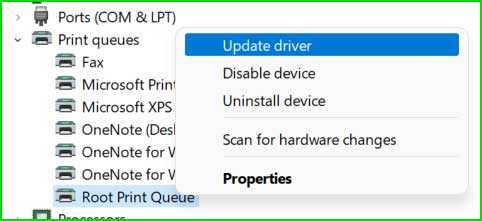 Step 3: Select "Browse my computer for drivers"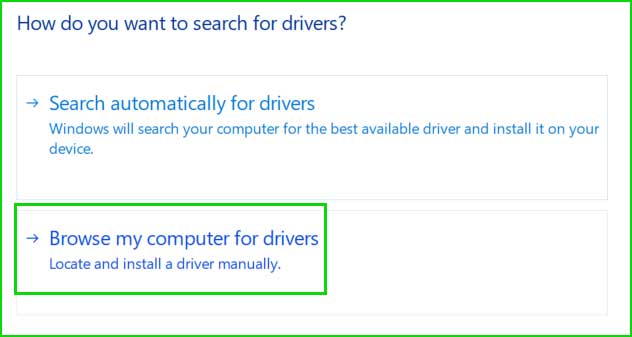 Step 4: Click on the "Let me pick from a list…" option.

Step 5: Click on the "Have disk" option.

Step 6: Browse the downloaded driver and click OK. It will start installing the driver for that printer.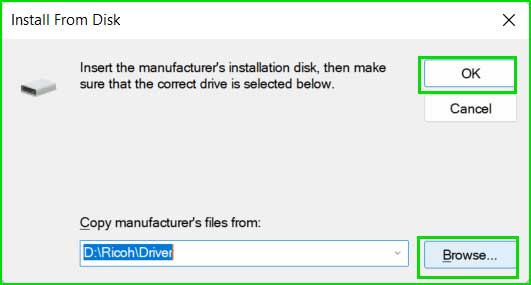 Method 6: Enable/Start/Reset Print Spooler service.
The printer spooler service plays a major role in printing documents. You must Reset the spooler services as follows:
Step 1: Go to the following location and cut all the content from here and save it to another folder on the desktop.
Location: C:\Windows\System32\spool\drivers\x64\3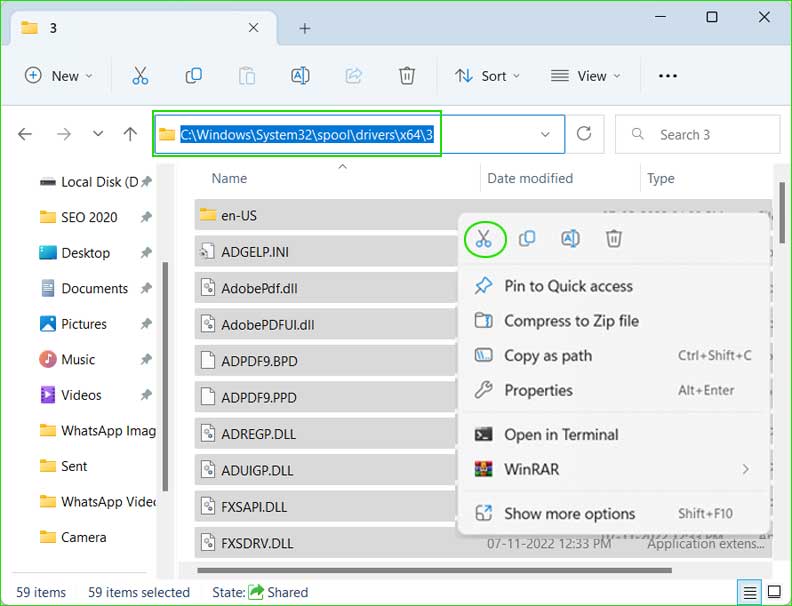 Step 2: Open the Run command and type services.msc and open the service window.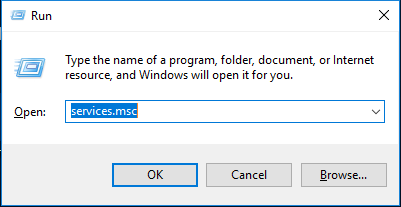 Step 3: Find the Print Spooler service and restart it.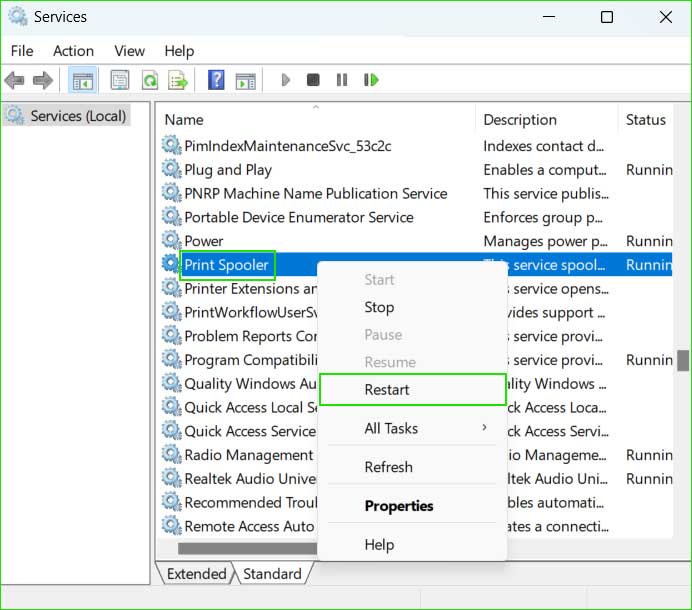 Step 4: Now, Uninstall the Printer from the Control Panel > Uninstall Program.
Step 5: After that Install the Printer manually and you will not face any trouble like 0x0000007c.
Summary:
If your printer is showing an error as "Printer in Error State", you need to fix some areas in your computer as well as your printer. There are certain steps, that will help you to resolve printer issues in Windows 8, 10, 11, and Windows server.