The Chrome browser does not need any introduction. It is one of the best, most popular, and widely accepted web browsers that run on Windows, Android, and other platforms.
Chrome is resource hungry application, and it consumes too much system memory and CPU. But these days, the computer comes with a larger memory size (4GB/8GB/16GB etc) so, it doesn't make a serious effect on system performance.
There are several reasons, due to the Chrome browser starting hanging, lagging, and responding very slow. In this article, you will get some useful tips, by which you can fix the chrome hangs issues and speed up chrome.
Solution
Method 1: Use Advanced System Repair Tool to Speedup Chrome
If your computer has missing system files, outdated drivers, pending updates, registry bugs, incorrect system configuration settings, etc, then your computer may start strangely and you will face various application hanging and lagging issues.
You must fix common glitches in your computer and optimize it for a better and smooth experience using the Advanced System Repair Tool.
Method 2: Update Chrome
When you feel that the Chrome browser is running slow, the first step, which you should take is, to update the chrome browser. An update of any application installs security patches, fixes bugs, and makes the application more compatible with your hardware.
Step 1: Open Chrome. Click on the three dots (⠇) at the top-right corner ➜ Help ➜ About Google chrome.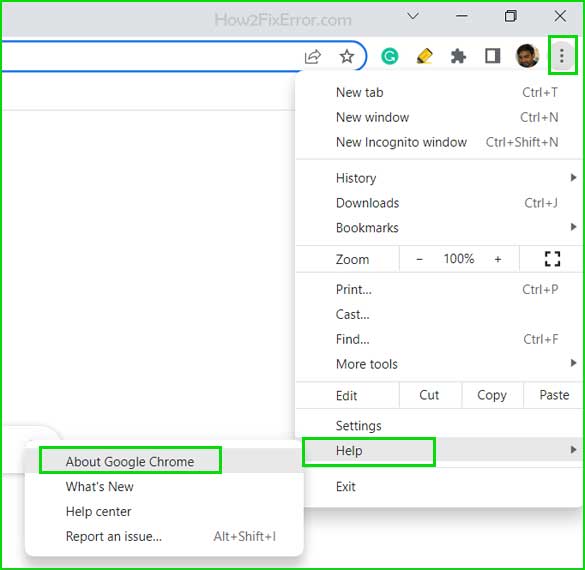 Step 2: Chrome will start checking for updates.

Method 3: Clear Cookie, Cache, History, and Browsing Data
If you are using google chrome for a long time, it stores lots of files, pieces of information, and other unnecessary data to chrome. These chunks of files start scanning chrome pages, consuming resources, and slowing down the browser.
However, the Browsing History items like cache images, passwords data, autofill form data, site settings, etc. provide a better chrome experience and automated most of the tasks but in exchange, it consumes too many system resources and slows down the chrome browser.
If you want to speed up the chrome browser and want to make chrome browser more secure, you must remove browsing details regularly. Either you can do it manually each time, or you can use automate it using the Advanced System Repair Tool.
Step 1: Open Chrome Browser and press CTRL + H to open the Browsing History page. Click on the Clear browsing data on the left menu.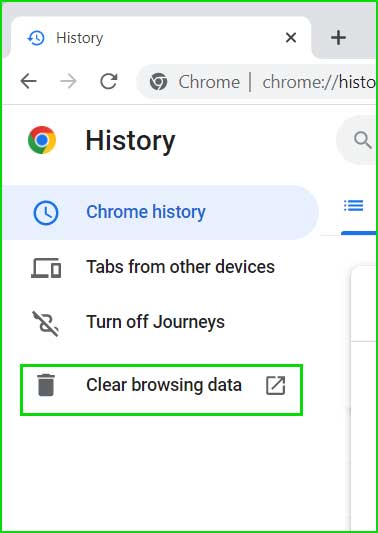 Step 2: Select everything, except Passwords and other sign-in data, and then click on the clear data button.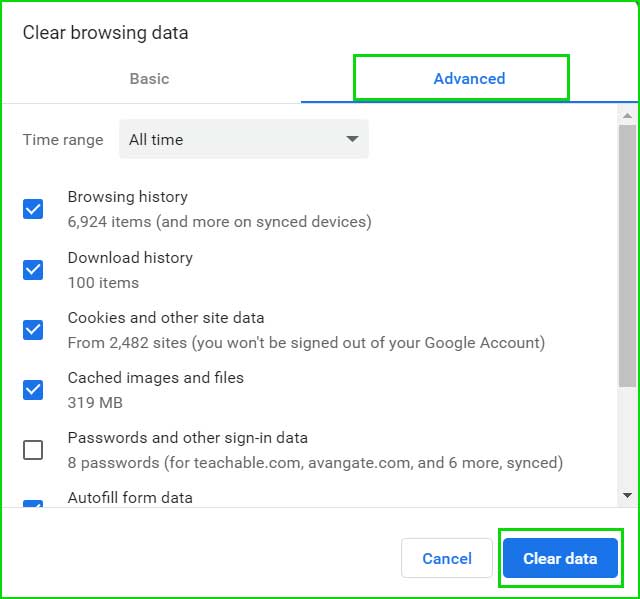 Method 4: Disable unused Extension, Apps, and Themes.
Remove Extensions
The extension is used in chrome to provide additional benefits and features. Sometimes, we install the extension for getting assistance in a specific task, and upon completion of the task, we forget to remove that extension.
It is necessary to remove the unused extensions from the chrome browser. These extensions keep running in the background and share chrome resources.
Step 1: Go to the top-right corner of the browser and then click on the three dots (⠇) to open the menu. Select More tools ➜ Extensions.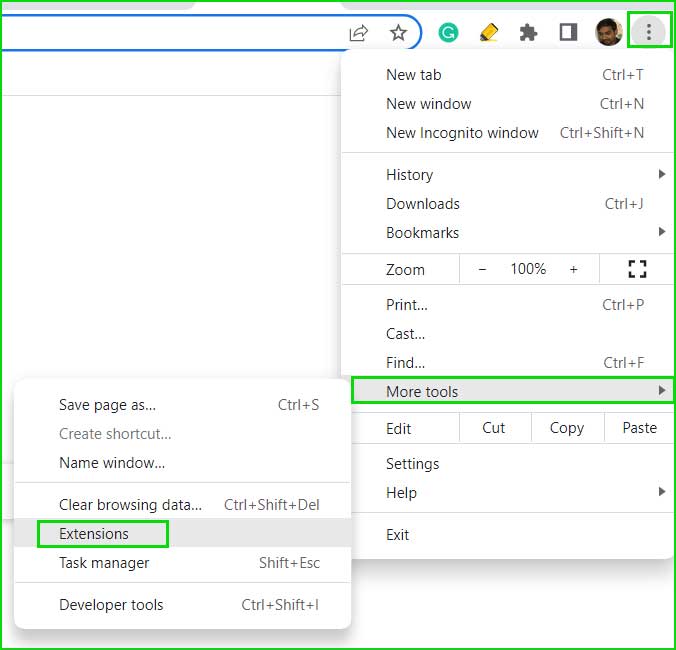 Step 2: It will open the Extension manager. Find the unused extension and click on the Remove button to delete it from chrome.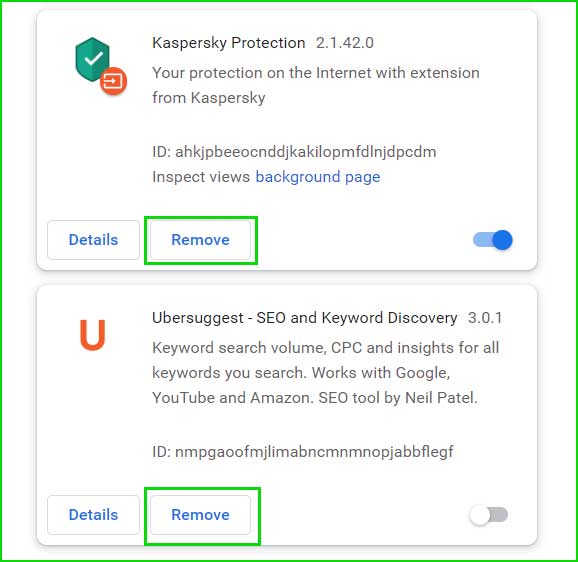 Remove Apps
Step 1: Paste the following URL in the chrome search bar and press Enter to open it.
chrome://apps/
Step 2: Right-click on the apps that you don't use and select Remove apps.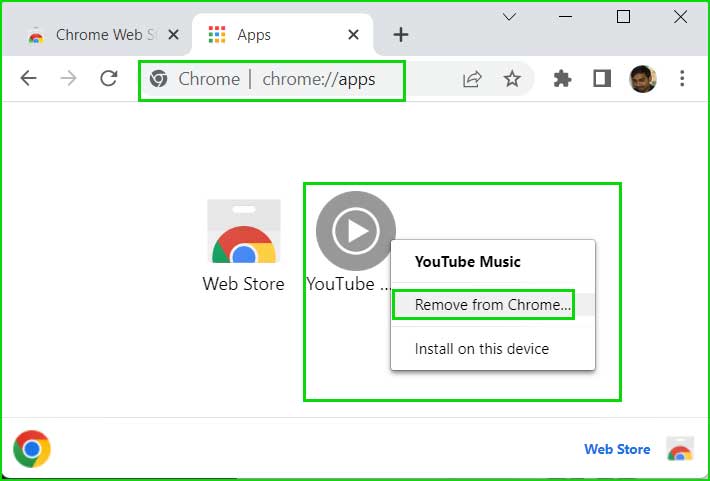 Remove Themes
Step 1: Open the Chrome menu by clicking on the 3 dots (⠇) at the top-right corner and click on Settings.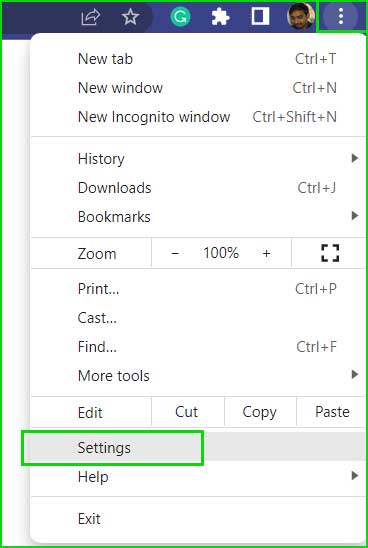 Step 2: Select Appearance in the left menu, and select the Reset to default button, next to Theme.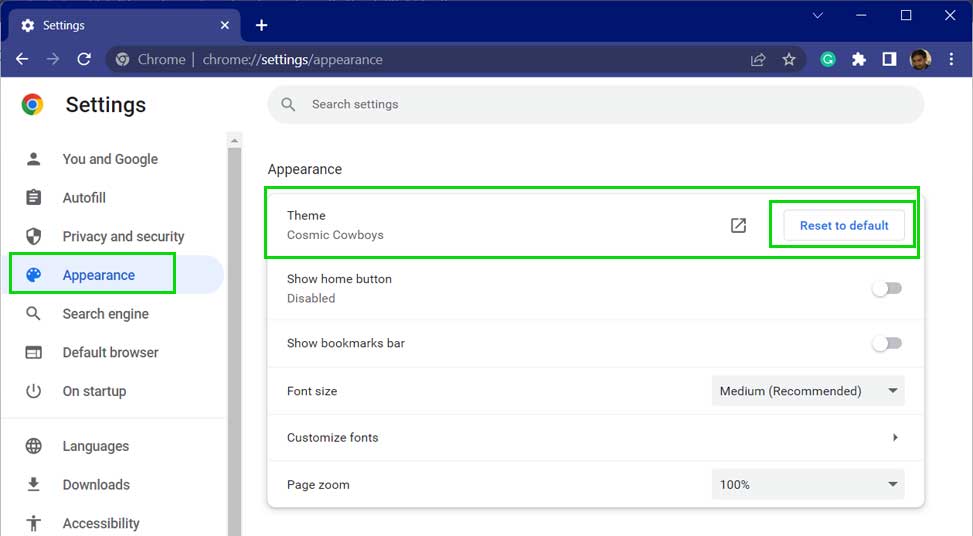 Method 5: Kill unresponsive tabs and resource-hungry processes using chrome task manager
Chrome allows you to open and use multiple tabs in a single window. Each tab is equal to the complete chrome browser, in terms of using system resources. Sometimes, some of the open unused tabs get unresponsive and negatively affect the total browsing experience.
You can find and kill the unresponsive tabs and processes in the Chrome Task Manager.
Step 1: Open chrome task manager. Press Shift + Esc to open chrome task manager. Alternatively, go to the chrome menu (three dots ⠇) ➜ More tools ➜ Task manager.
Step 2: Select the tabs which is using high memory and click on the End Process button.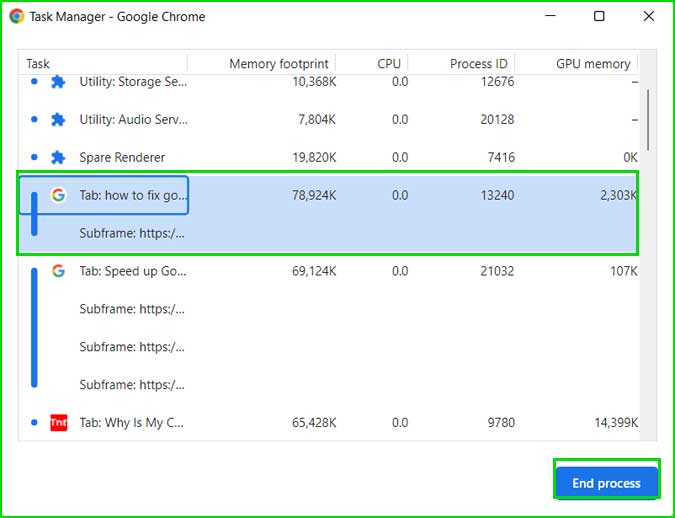 Method 6: Reset the Chrome Browser
Resetting the chrome browser automatically restores the Chrome browser to default settings. Bookmarks, History, and saved passwords won't be affected.
Step 1: Open chrome menu (three dots (⠇)) ➜ Settings ➜ Reset and clean up ➜ Restore settings to their original defaults.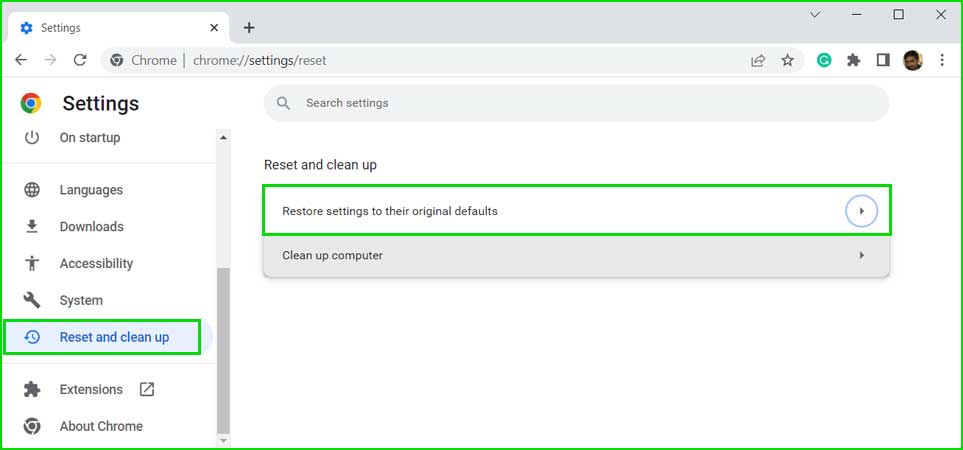 Step 2: Click on Reset settings to reset the Chrome settings.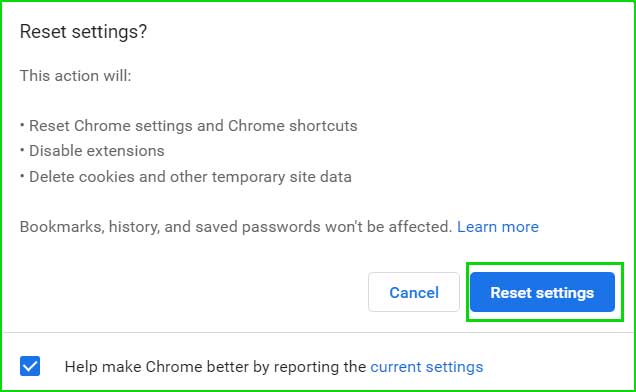 Method 7: Setting up Hardware Acceleration feature.
The hardware acceleration feature in chrome, adds extra functionality to share resources between CPU and GPU. But, It depends on how powerful your computer is.
If your computer is powerful enough and has a dedicated graphics card installed, then you must enable the Hardware Acceleration feature in chrome.
If you have an old computer without a dedicated graphics card, disable this feature.
Step 1: Open the Chrome menu by clicking on the three dots(⠇). Go to Settings ➜ System.
Step 2: Enable or Disable the "Use hardware acceleration when available" feature based on your computer configuration.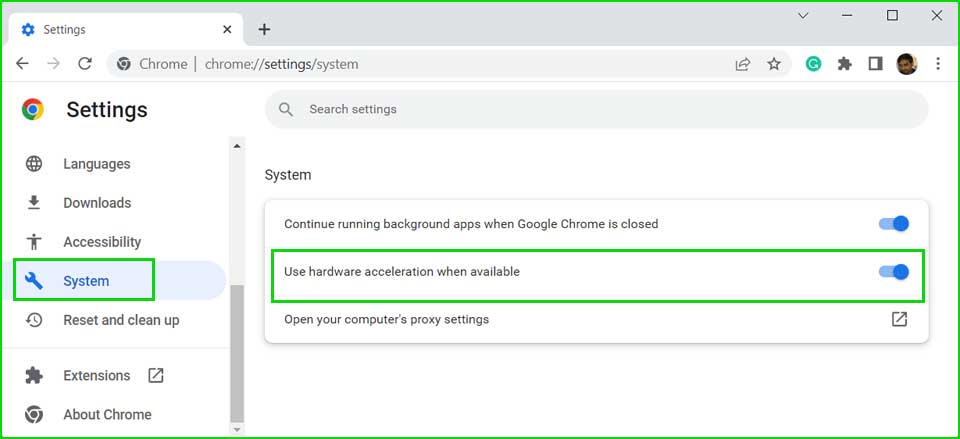 Method 8: Check Internet speed
Your internet speed is the main key, that decides how much smoother experience you will get. If you do not have a faster internet connection, then opening many tabs will kill the overall chrome performance.
Either upgrade your Internet plan to higher speed or, open minimum tabs.
Method 9: Install Text mode Extension
If you have a slower internet speed, install the Text mode extension in chrome.
Text mode extension rejects the Images, videos, flash, and 99% of ads from loading and you will get text-only results. It improves the speed of the page load.
Step 1: Open chrome web store.
https://chrome.google.com/webstore/category/extensions
Step 2: Search for Text mode and install this extension.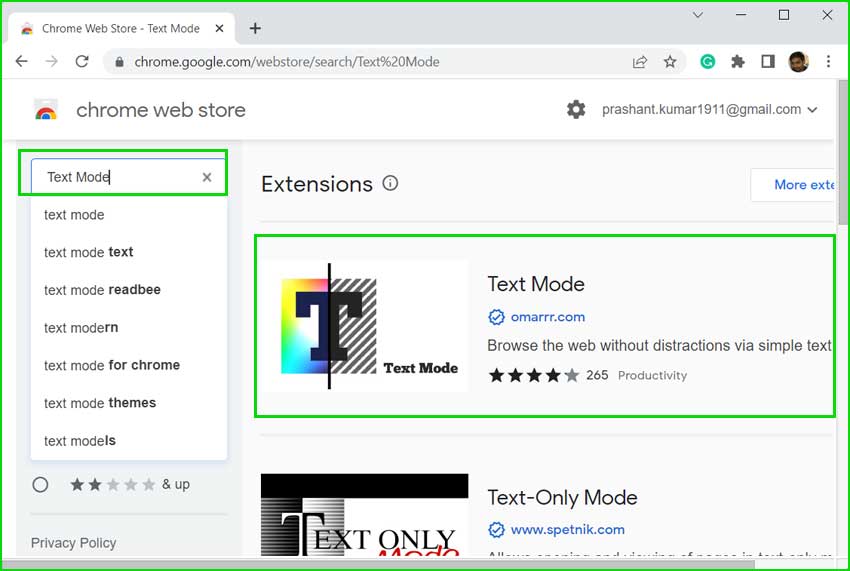 Step 3: Now, when you search anything on the chrome browser, you will get text-based results only. No images, videos, flashes, or colors will appear.
Method 10: Restart the Windows Graphics
Sometimes, Windows graphics don't work properly, hence Chrome is unable to load various parts of the page and gets unresponsive. In order to fasten the chrome, you must restart the Windows Graphics.
Step 1: Go to the Desktop by pressing the Windows Key + D.
Step 2:: Press Windows Key + CTRL + Shift + B together. It will restart the Graphics driver.
Method 11: Restart Windows Explorer.
After waking PC from the Sleep, chrome stops loading its contents and icons properly. You will start getting disappearing icons, text, images, etc.
Restarting Windows Explorer will fix the issue and will load the existing opened chrome freshly.
Step 1: Open Task manager. Right-click on the Start menu and select Task manager.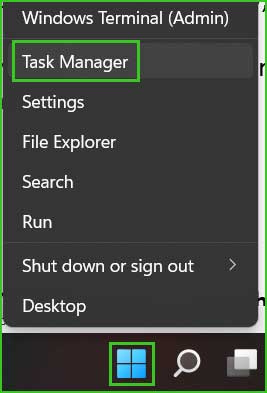 Step 2: Finds Windows explorer ➜ Right click ➜ Restart.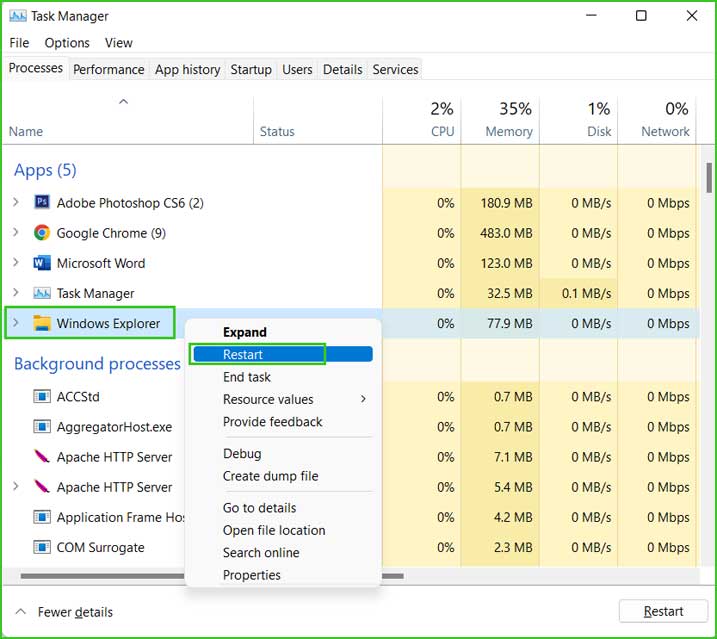 Summary
If you are getting issues in the Chrome browser, like chrome hangs, Chrome lags or chrome gets unresponsive, then this article will help you a lot to fasten or speed up google chrome.