Microsoft releases updates regularly for their operating system and this update makes OS secure, bug-free, smooth, and adds several new functionalities in the installed operating system. Microsoft provides a dedicated settings page to download and install updates for Windows 10, Windows 11, Windows 8, and Windows Server, as well as all other versions, and also provides an online catalog page to download updates. Here, in this article, we will know how to download updates files when an automatic update fails.
Fix Update Fails Issues using Advanced System Repair Tool
If you are unable to install updates using the windows update service and get some error messages, then you can use Advanced System Repair Tool to install all your updates, drivers, and software. This tool fixes bugs and errors and does an excellent job in term of fixing errors.
When does Microsoft Releases Patches and Updates?
There are some interesting facts about releasing patches and updates by Microsoft. Microsoft often releases patches and updates on Tuesday of each month.
1st Tuesday: This is the day of releasing non-security updates and patches.
2nd Tuesday: On this day, Microsoft releases patches to fix security and vulnerability issues.
3rd Tuesday: On this day, Microsoft releases firmware updates for devices.
So, these Tuesdays are known as Patch Tuesday or Update Tuesday, some people refer next day as crash Wednesday. This is because after installing patches and updates, sometimes the windows operating system starts creating troubles and crashes too so, the people refer next day as crash Wednesday.
What is service stack update, cumulative update, feature update, and security patches?
Service Stack Update
The service stack update fixes the issues in the windows update component. This component is responsible for installing the latest windows update. If your machine has not installed the latest Service Stack Update, then your machine will not be able to install the latest cumulative update and you may face an update fails error.

Security Patches
The security patches are the important tiny update file that fixes vulnerabilities in the installed apps and operating system. These patches improve system security and stop attackers to exploit system weaknesses. If there is a weakness in installed apps or in the operating system, this is called vulnerability and an attacker may take advantage of these weaknesses to gain access to your system. The security patches fix this weakness, improve system security, and stop attackers to access your system.

Cumulative Update
A cumulative update is also known as a quality update, and it is a bundle of all the security patches and hotfixes. If you install the latest cumulative update, it will install all the security patches and updates automatically. If you are not using the Windows Update Service, or you are on a meter connection, then just install the latest cumulative update only and it will install all the previous updates.

Feature Update
Every 6 months, Microsoft releases updates for adding several new functionalities to the operating system and it is called feature update. This feature update adds a new feature to OS, changes some styling, adds themes, etc that make windows OS cooler & more attractive.
How to know which Recent Windows Update is Installed?
If you want to know which recent windows update is installed on your OS, you can either check update history or use the command line to know that.

Method 1: Using Settings
Step 1: Go to Start Menu > Settings > Windows Update.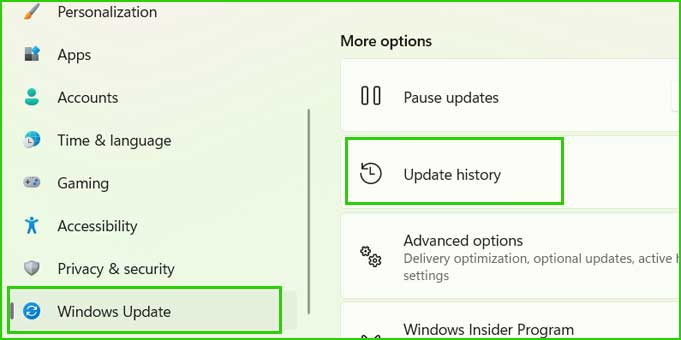 Step 2: Click on Update History. Here, you can see the last installed updates on your system.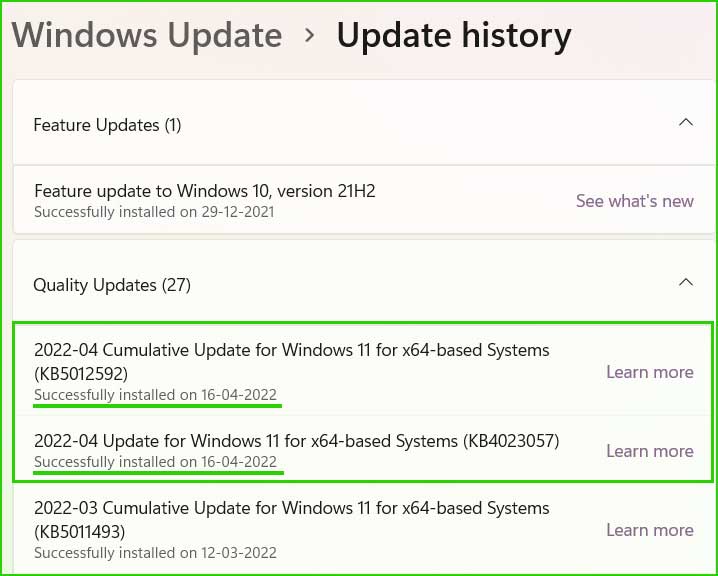 Method 2: Using Powershell or Windows Terminal
Step 1: Open Windows Terminal (Admin). Right-click on the Start menu and click on Windows Terminal (Admin).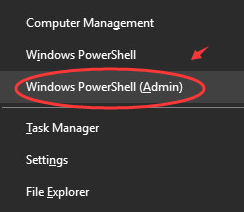 Step 2: Paste the following command and hit Enter to execute.
gwmi win32_quickfixengineering |sort installedon -desc
Step 3: You can see the last 5 installed windows update here.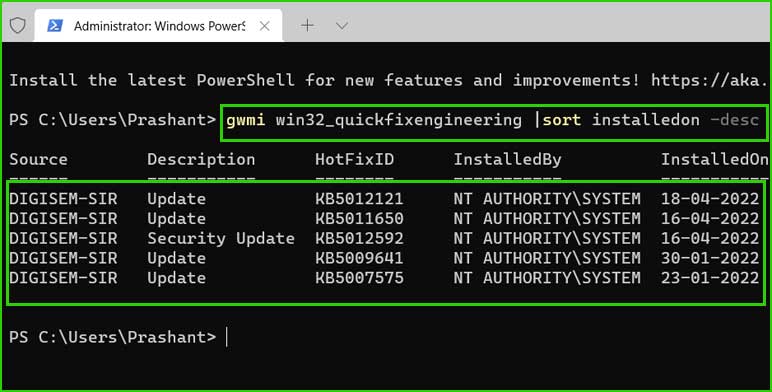 Step 4: You can also find the build number and windows version of your OS using the following command.
Get-ComputerInfo | select WindowsProductName, WindowsVersion, OsHardwareAbstractionLayer, OsArchitecture



Method 1: Update Windows using Windows Update Service Page
Windows OS provides a settings page to download and install updates automatically and this setting works excellent in most cases. However, sometimes windows update fails to install and, in this case, you need to run several commands to fix this issue.
Step 1: Go to Start Menu > Settings > Windows Update.
Step 2: Click on Check for updates to find and download the latest updates.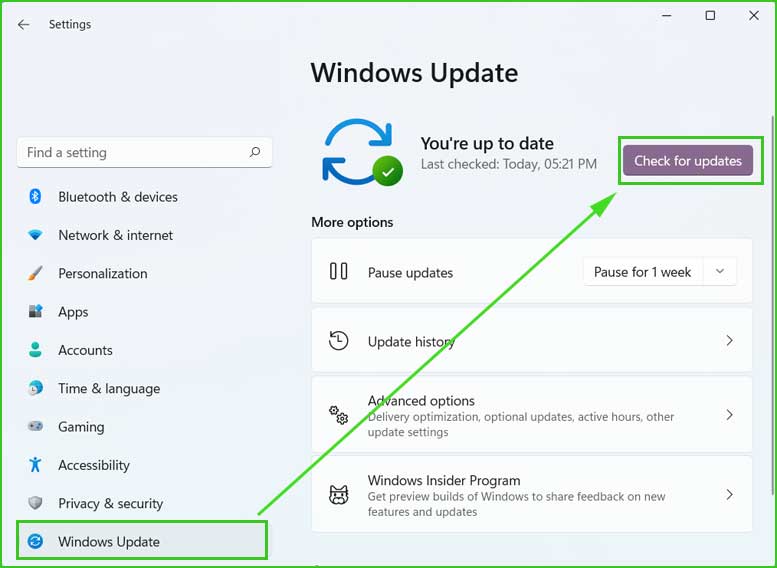 Method 2: Download Update Manually
If somehow, an automatic update fails to install, you may move towards installing updates manually. However, it is not tough to download and install the updated files manually but finding the right installation package is a bit tricky. Just follow the steps below and install updates manually.
Step 1: Find the build number and version number of your Windows operating system. It is necessary to have the right build number when searching for updated packages. Open the Run dialog box and type winver and press OK.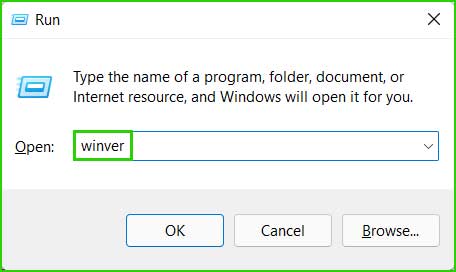 Step 2: Here, you can find the version and os build number. Right down the version number somewhere, it will be used in finding the right cumulative update file later.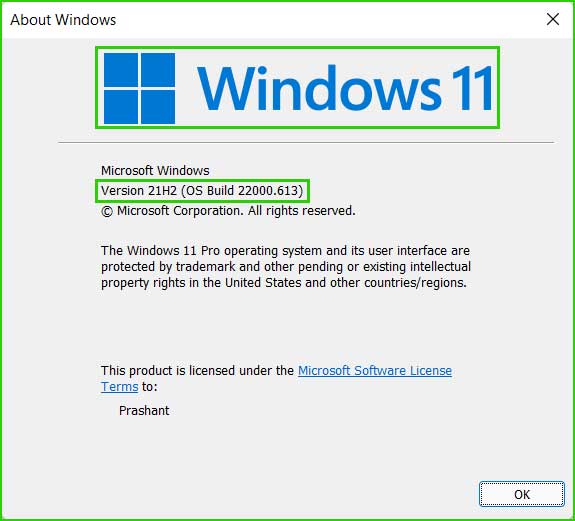 Step 3: Go to Microsoft Update Catalog Page.
https://www.catalog.update.microsoft.com/Home.aspx
Step 4: Find the latest cumulative update file according to your OS version. To do that follow these small tips.
Use wild characters to filter the updates file.
windows 10 21h2 x64 4/%/2022
Here, windows 10 21h2 is the version number of OS, x64 is the type of the windows, and 4/%/2022 is the date. We have used % at the place of the day so, it will return updates file of the complete month.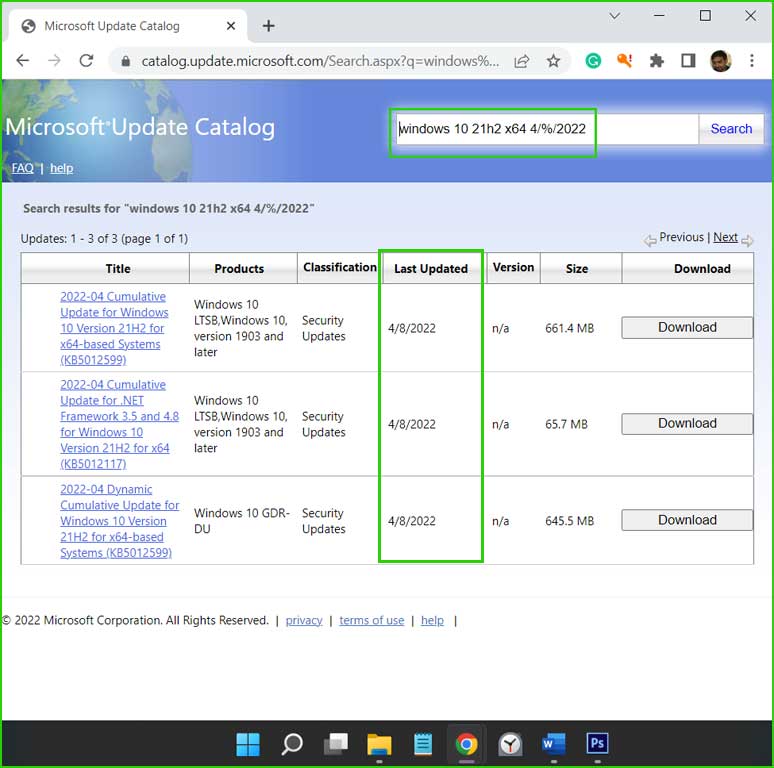 Step 5: Click on the Cumulative Update of higher size and then go to the Package Details tab.
If you see n/a value in the column of "This update has been replaced by the following updates", it means it is the latest updates and no updates are there that replace this file.
You will also notice which updates will be replaced after installing this update in the "This update replaces the following updates:" column.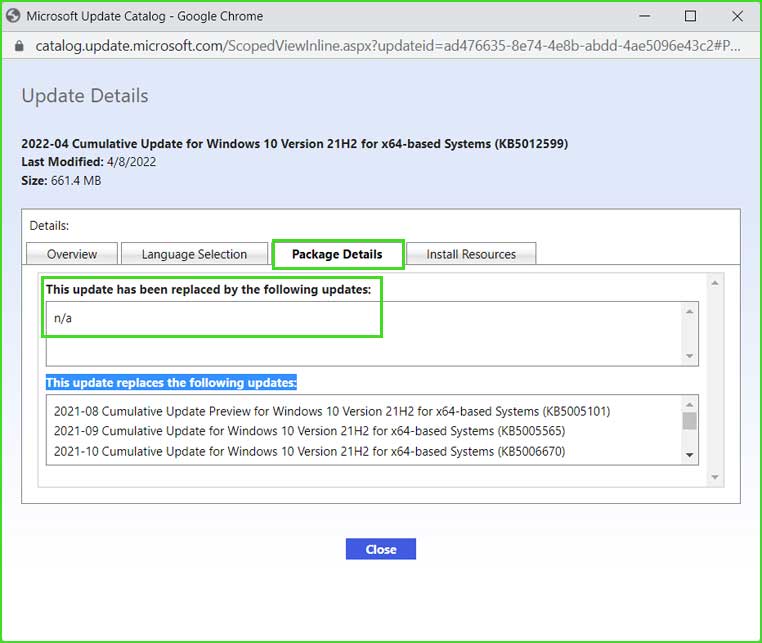 Step 6: Download this update file by clicking on the Download button.

Step 7: Click on the link to start downloading.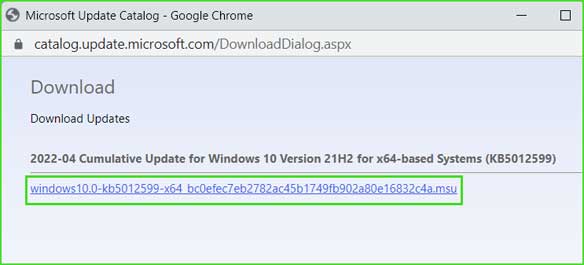 Step 8: After finishing the download, go to the Download folder or the location where it has been saved. Double click on it to start the installation process.
What if Windows Update fails to Install?
If your system has some software issues, misconfigured settings, corrupted registry files, outdated and incompatible drivers installed, malware/trojan issues then you might face update fails issues in Windows 10 and Windows 11. In this situation, go through the following article to fix Windows 10 & 11 Update-related problems.
Summary
In this article, I have described in detail how to install updates in Windows 10, 11, 8, and all its version. You also knew how to install updates manually if automatic updates fail. Searching for the right update file is necessary when downloading the update file.