Are you looking for a solution to the following error message?
Windows 7 Updates Fail with error 0x80070057
"Windows update cannot currently check for updates because the service is not running."
"Problems installing recent updates"
"windows update error 0x80070057"
Microsoft Office Error Code 0x80070057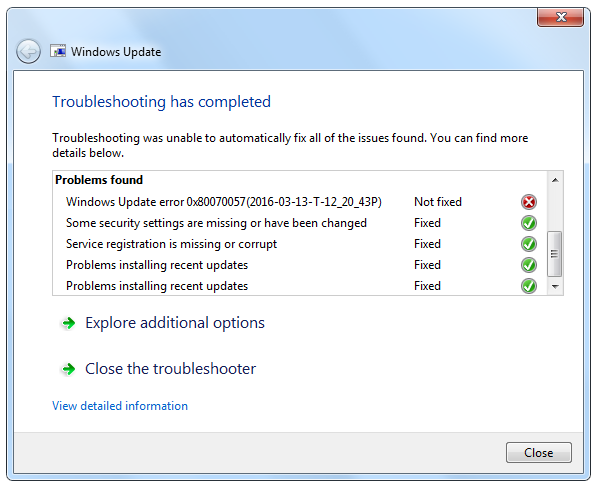 This error code is not exclusively bounded with one issue and you may get this error on various places in windows; however, most commonly this problem appears when you install updates in Windows 7/8 and Windows 10. Here, in this article, I will discuss the reason behind this issue and most important the tested solution to fix this error.
Cause
This error mostly occurs when you try to install updates for Microsoft Security Essentials in Windows 7 and 10. The main reasons behind this error are listed below:
1. The Windows Update Database is Corrupted
2. Antivirus software is scanning Software Distribution folder and mark them suspicious and blocked the execution.
3. BITS (Background Intelligent Transfer Service) is not responding or stopped
4. A Required System File has missing or invalid Registry Entries.
5. Some important system files are missing
How to Fix Windows Update Failed Error 0x80070057
Here, are few tested methods are explained that would surely help you to fix this problem.
Method 1: Fix Using Advanced System Repair Tool
The most of the common reason behind windows update failed is corrupted or damaged system files like DLL files, EXE files, sys files etc. There are thousands of tiny system files are there that work specific task. If one of the files gets replaced, deleted or damaged then you may get windows update error 0x80070057.

Download and Install Advanced System Repair Tool and scan your PC. It has the large database with 25 million of files. It will find all the damaged or deleted system files and reinstall them with the fresh one. After, optimizing with Advanced System Repair Tool, try to install windows update again.
Method 2: Reset Windows Update
Resetting Windows Update; flushes all the misconfigured entries and reset to its default value. Most of the time, resetting windows update fix the problem.
Step 1: Download Windows Reset File from Microsoft. Here is the link:
https://gallery.technet.microsoft.com/scriptcenter/Reset-Windows-Update-Agent-d824badc
Step 2: Extract the WuReset.bat file and double click on it open. If it asks administrative permission, click yes.
Step 3: You will see that a command window is opened and automatically executed some command line statements.
Step 4: When the process completed, try to install the update again and I think you won't get the same error again.
Method 3: Disable Antivirus and Firewall
As I mentioned above that most of the time Antivirus and Firewall blocks the incoming connection and cause update fail issue. Gently disable antivirus and firewall for sometimes and try to update again.
Method 4: Try Windows Update Troubleshooter
Windows Update Troubleshooter is a great tool to fix Update related issues. Here, is the steps to run Windows Update troubleshooter.
Step a: Open Control Panel and Type Troubleshooting in the search box.
Step b: Under System and Security, click Fix Problems with Windows Update.
Step c: Click Next to start troubleshooter. Wait for sometimes until troubleshooter diagnosis the problems.
Step d: After, finishing the process, you will notice that the error 0x80070057 is gone.
Summary:
In this article, I have tried to tell you some useful methods to remove windows update error 0x80070057. However, there might be various ways to fix this error but I strongly recommended you to use Advanced System Repair Tool to fix this error. This tool works great and fixes all the bugs that cause Windows 10 Update Fail Error 0x80070057.