1. Are you unable to Update Windows 10 and get 0x80070422 error code?
2. Does Windows 10 not install updates Error 0x80070422?
3. Do you want to fix Windows 10 Update Error 0x80070422?
If one of the situations matches your condition then you are a right place. In this article, I will explain to you methods to fix this error. You may get the following message when you go for the update.
"There were some problems installing updates, but we'll try again later. If you keep seeing this and want to search the web or contact support for information, this may help (0x80070422)"
Or,
"0x80070422" error message when you try to enable Windows Firewall
Reason
The main reason behind this error is missing system files. When you install Windows 10, it requires various system files to run properly but unfortunately due to various reasons this file gets damaged or deleted.
Solution 1: Fix Using Advanced System Repair Tool
The most of the common reason behind windows update failed is corrupted or damaged system files like DLL files, EXE files, SYS files etc. There are thousands of tiny system files are there that work specific task. If one of the files gets replaced, deleted or damaged then you may get windows update error 0x80070422.

Download and Install Advanced System Repair Tool and scan your PC. It has the large database with
25 million of files
. It will find all the damaged or deleted system files and reinstall them with the fresh one. After, optimizing with Advanced System Repair Tool, try to install windows update again.
Solution 2: Fix Yourself
If you have basic administrative knowledge of Windows OS then you can fix 0x80070422 yourself. Here is the detailed guide of fixing windows update error.
1. Log in as Administrator.
2. Press Windows Key + R to open run dialog box. Type services.msc and click OK button. It will open Windows Services Window.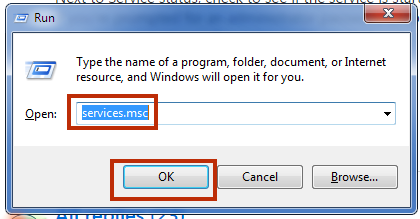 3. Search for Windows Update. Right click on it and select Properties.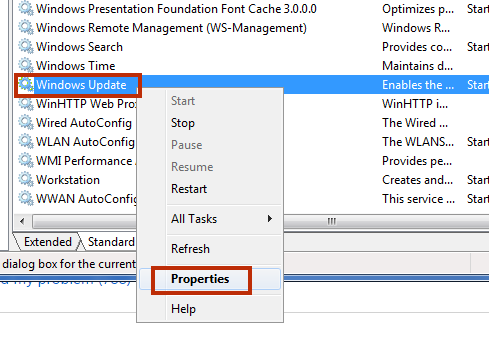 4. Change Startup Type to Automatic and select Recovery Tab.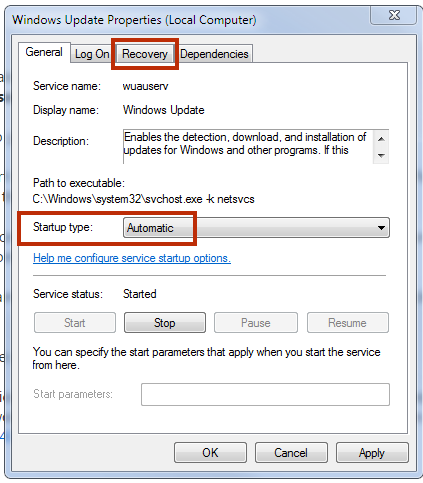 5. In Recovery Tab select "Restart the Services" in the First failure.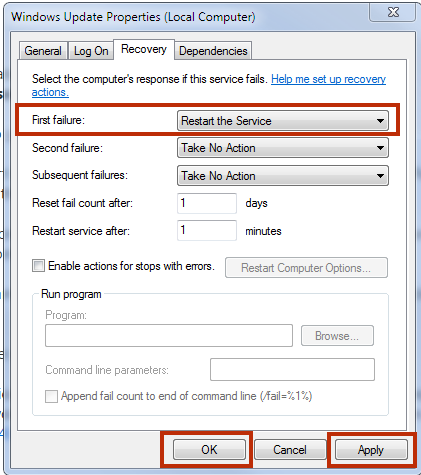 6. Click Apply and OK.
Now, try to Windows Update again and hope this time you will not get Windows 10 Update Fails issue or Windows 10 Update Error 0x80070422.
Fix 0x80070422 when Turning On Firewall
If you are getting the same error when turning on Firewall then no doubt there is malware running on your PC. You must run malware scanner or scan your PC with a good antivirus program. After removing malicious files you must repair damages using Advanced System Repair Tool. Advanced System Repair fixes the damages, generated by malware or spyware or viruses.