Error codes can be frustrating for computer users as they often indicate issues that need to be resolved. One such error that Windows users may encounter is 0x80240017. This error code typically occurs when attempting to update or install software on a Windows-based system. In this article, we will delve into the meaning of 0x80240017, its possible causes, and various troubleshooting steps to resolve it.
Error Message:
Setup Failed

One or more issues caused the setup to fail. Please fix the issues and then retry setup. For more information see the log file.

0x80240017 – Unspecified error
How to Troubleshoot Microsoft Visual C++ Installer Error 0x80240017
This error mostly occurs when using Microsoft Visual C++ Installer to install software on the PC. However, some users reported that they got this error when using Microsoft Store to install or update apps. Try the following solutions step by step and observe if the problem has been fixed.
Solution 1: Fix common PC bugs, Repair missing files issue, and Optimize your computer.
Over time, when using Windows OS extensively, you might encounter a plethora of issues. These can range from the accumulation of junk files to outdated or corrupted system drivers, missing system files, remnants of virus damage, and a heap of unused and residual registry entries. To overcome these problems and ensure the smooth functioning of your system, it is highly recommended to utilize a reliable PC Optimizer tool designed to repair and optimize your Windows OS.

3 Steps to Fix this Error
Solution 2: Run Program Compatibility Troubleshooter
The Program Compatibility Troubleshooter is a built-in tool in Windows operating systems designed to help users resolve compatibility issues with older software programs. When you encounter problems installing a program, especially one that was designed for an earlier version of Windows, the Program Compatibility Troubleshooter can be a handy tool to try to make the program work correctly.
Run Program Compatibility Troubleshooter - Step by Step

Step 1: Right-click on the Start menu and open Settings.

Step 2: Go to the System → Troubleshoot → Other Trouble-shooters → Program Compatibility Troubleshooter. Click on the Run button to Start Troubleshooter.

Step 3: Choose the program that is giving the problem.

Step 4: Click on Try recommended settings and go with Troubleshooter.
Solution 3: Restart the Windows Update service.
To restart the Windows update service, Here are the instructions.
Restart Windows Update Service

Sometimes, restarting the Windows Update services can resolve update-related errors. Here's how to do it:

Step 1: Press the Windows Key + R to open the Run dialog box. Type services.msc and press Enter.

Step 2: In the Services window, locate the following services:

Background Intelligent Transfer Service (BITS), Cryptographic Services, and Windows Update.
Right-click on each service, select Properties, and ensure that their Startup Type is set to Automatic.

Step 3: If any of the services are not running, right-click on them and select Start.

Step 4: Restart your computer and try running Windows Update again.
Solution 4: Enable/Restart Windows Installer Service.
To enable or restart the Windows Installer services, follow the steps below:
Step 1: Open the Service Dialog box. Type services.msc in the Run window and press Enter.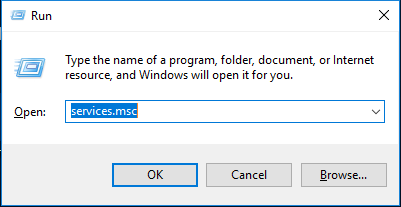 Step 2: Scroll to locate the Windows Installer → Right-click → Start.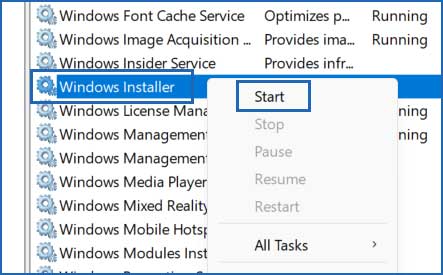 Solution 5: Run the System File Checker tool.
There might be missing or corrupted system files in your Windows 11/10 that is causing the installer error 0x80240017. To fix the issue, run the system file checker tool as follows.
System File Checker Tool - Step by Step
Solution 6: Run the DISM command
The DISM command is also known as System Update Readiness Tool and it is used to repair corrupted system images. To run the DISM command, follow the steps below:
DISM Command - Step by Step
Solution 7: Try Safe Mode to install the program.
You can also restart your computer and try to install a program in safe mode. Sometimes other drivers conflicts with your current program and cause the Microsoft Visual C++ Installer error 0x80240017. You can start your computer in safe mode as follows:
Open PC in Safe Boot Mode

Step 2: Go to Troubleshoot

Step 3: Select Advanced options

Step 4: Select Startup Settings

Step 5: Click on Restart button to enable safe mode.

Step 6: Once you boot your computer in Safe mode, uninstall the recently added games, drivers, and softwares.
Summary:
To fix the Windows Installer error 0x80240017, you need to run a troubleshooter, restart Windows installer services, repair corrupted system files, etc.