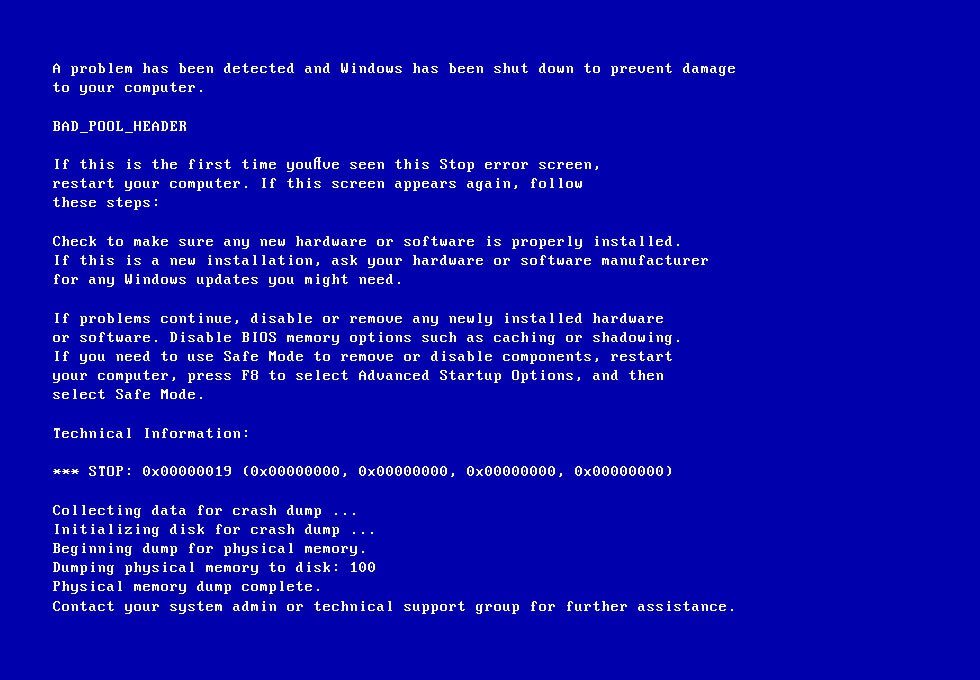 BAD_POOL_HEADER is listed into a critical error section and if you are facing this problem then your PC is under big risk. Before doing anything, try to back up all your valuable data anyhow if you are somehow able to boot PC. However, most of the time users are able to boot PC in SAFE MODE so, you must try to boot PC in Safe Mode.
Error Message:
A problem has been detected and Windows has been shut down to prevent damage
to your computer.

BAD_POOL_HEADER

Technical Information:

*** STOP: 0x00000019 (0x00000000, 0x00000000, 0x00000000, 0x00000000)
Cause
The BSOD error BAD_POOL_HEADER mostly occurs due to faulty hardware. This error is mostly associated with faulty RAM and memory allocation problem. On the other hand, outdated or incompatible driver, missing system files, corrupted or damaged registry files, and virus or malware infection is also a major cause of this error.
How to Fix BAD_POOL_HEADER Error in Windows 10/8/7/Server and XP?
Here, I am listing some effective methods to fix this error. You try them one by one and hopefully, at the end you will be able to remove this error completely from your PC.
1. Fix using Advanced System Repair Tool
Mostly this error occurs due to missing system files like dll file, sys file, ocx file etc. Corrupted or damaged registry file, outdated drivers, incompatible drivers are also a cause of this error. So, start your PC in Safe Mode then install Advanced System Repair Tool. This tool automatically scans entire PC and fix all the software and driver related issues.

Download and Install Advanced System Repair Tool and scan your PC. It has the large database with 25 million files. It will find all the damaged or deleted system files and reinstall them with the fresh one. After, optimizing with Advanced System Repair Tool, you will not get BAD_POOL_HEADER error.
2. Remove and Reinsert RAM
If you are unable to boot your PC then shut down your PC and then open back cover of your laptop or CPU and remove RAM safely. Clean it with soft cotton cloth and reinsert in PC. The same process applies with hard disk too. After doing all the task, start your PC.
3. Remove all the external device
Remove all the attached external device like portable hard drive, USB peripheral, Bluetooth device, printers, network adapter, gaming console etc. Sometimes faulty external device also causes the BAD_POOL_HEADER error.
4. Restore PC
If you are able to boot PC in safe mode, then restore your PC with the earlier restore point. After that remove all the recently installed driver, games and hardware. Some incompatible driver replaces necessary system files with their files and causes severe system problems and BSOD Errors.
Summary:
BAD_POO_HEADER Error is another kind of BSOD Error that stops the user from booting their PC. However, after few attempts, you might be boot PC randomly. If this problem is causing a problem then you must follow this article in order to fix this problem.