After installing windows update, you may suddenly start getting error code 0xc0000142. This error can stop you from launching several applications, you may get program not responding error message or cmd.exe application error. Here, in this article, I will explain all the possible causes and their effective solutions. You may get one of the following error messages:
cmd.exe – Application Error. The application was unable to start correctly (0xc0000142). Click OK to close the application.

How to Fix Windows Error 0xc0000142
Method 1: Fix Using Advanced System Repair Tool
The most of the common reason behind application error 0xc0000142 is corrupted or damaged system files like DLL files, EXE files, sys files etc. There are thousands of tiny system files are there that work specific task. If one of the files gets replaced, deleted or damaged then you may get error 0xc0000142.
Download and Install Advanced System Repair Tool and scan your PC. It has the large database with 25 million of files. It will find all the damaged or deleted system files and reinstall them with the fresh one. After, optimizing with Advanced System Repair Tool, try to launch the program.
Method 2: Run System File Checker Tool
The topmost reason behind 0xc0000142 is corrupted or missing system files. System files may be sys file, ocx file, dll file, exe file, inf file and other types of files. If some of these files gets damaged, corrupted or replaced by other third party software, then system starts crashing frequently and sending application error. You can run System File checker tool as follows:
1. Open Command Prompt as Administrator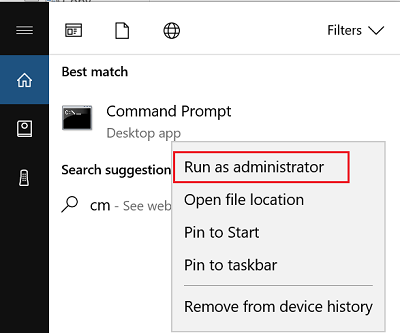 2. Run following commands in command prompt
sfc /scannow
3. Close the command windows and try to launch the software again.
Method 3: Corrupted Registry File
Registry File is the very important component in Windows OS that keeps information and configuration of all the installed software, hardware and driver. If this file has some corrupted or incorrect entries then this file may behave troublesomely. In order to fix this issue, you can restore registry file from registry backup. If you haven't created a registry backup before, then use Advanced System Repair Tool to repair registry problems. It scans whole registry entries in few minutes and repairs the entries.
Changes Registry Entries Manually (Not Recommended)
However, this method is not recommended but if you feel confident in editing registry entries, then you can try this method. It is strongly recommended keeping a backup of registry file before applying this method.
1. Open Run windows by pressing Windows Key + R. Type regedit.exe and press Enter.
2. Go to the following location:
HKLM\SOFTWARE\Microsoft\Windows NT\CurrentVersion\Windows\AppInit_Dlls
3. Right click on it and select Edit
4. Now double click on LoadAppInit_DLLs and change the DWORD value from 1 to 0.
5. Close Registry Editor and Make a Restart.
6. Now try to launch the application or install updates. You will not get 0xc0000142 error again.
Method 4: Try Clean Boot Mode.
Clean boot mode disables all the third party application and services and allows you to run the program in a clean environment. You can start your PC In clean boot mode in following detailed article.
Step by Step Guide to Start Windows in Clean Boot Mode
Method 5: Fix compatibility issues of application
There might be chances that your PC is not fulfilling the minimum requirement of the installed application. The application which you are trying to run and getting an error message must check the minimum system requirement of the application. Check the 32-bit and 64-bit compatibility issues, memory issues, graphic memories issues, Disk free space issues etc.
Method 6: Restore Operating System
As I mentioned above that this error is strongly associated with a corrupted system file, A simple system restore may fix 0xc0000142 easily.
1. Go to Start > All Programs > Accessories > System Tools and then click System Restore.
2. In the next window select "Restore my computer to an earlier time" option and click next.
3. Select the latest backup and restore.
4. Reboot your PC and if you are lucky then you have fixed 0xc0000142.
Summary
The error "cmd.exe – Application Error. The application was unable to start correctly (0xc0000142). Click OK to close the application." occurs due to corrupted system files, damaged registry files, missing dll files etc. If you have a good system optimizer tool like Advanced System Repair Tool, then you can fix error 0xc0000142 yourself.