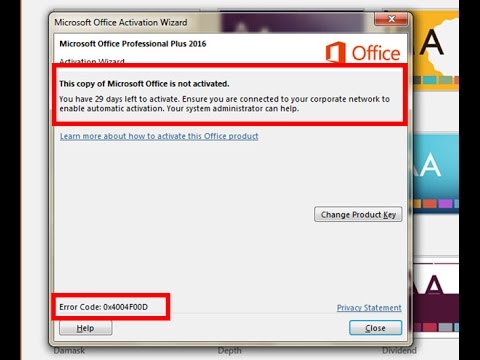 You may receive MS Office Activation Error 0x4004f00d each time when you open any office product like MS Word, Excel, Powerpoint, Access, Outlook etc. No matter, how many times you enter the product key, the error will remain the same. This error is associated with MS Office 2010, 2013, 2016, 2019, Office 365, Professional Plus Edition, Publisher Edition, and Home Edition.
The copy of Microsoft Office is not Activated.
You have XX days left to activate. Ensure you are connected to your corporate network to enable automatic activation. Your system administrator can help.
Error: 0x4004f00d
How to remove office error 0x4004f00d?
In order to remove office activation error 0x4004f00d, you need to follow this article till the end. There are several steps that you need to follow to recover from this problem.
Method 1: Fix using Outbyte PC Repair Tool
Error 0x4004f00d is mostly caused when the source file is corrupted, missing DLL files and other system files, invalid or corrupted registry entries, outdated system software, drivers and operating system, etc. If your PC has recovered from the serious virus or malware attack then there might be a chance to get the same error. Outbyte PC Repair Tool is all in one repair tool for Windows PC that takes care of all PC problems and fixes them using a single button.
Method 2: Activate Office as Administrator
Another effective way to remove this error is activating office with administrative privilege. Follow the steps below and try to activate your office as an administrator.
Step 1:
Go to the following location:
For 64 bit: C:\Program Files\Microsoft Office 15\Office15
For 32 bit: C:\Program Files (x86) \Microsoft Office 15\Office15
Step 2:
Right-click on
Winword.exe
and select
Run as Administrator.
Step 3:
If asking product key, enter the
product key
and click
OK
.
Method 3: Try this license key with another version of MS Office
Downgrade MS Office to Office 2007 and then activate it using the previous license key and it will work like a charm. This is because your license key is not genuine for MS Office 2010, 2013, 2016, 2019 or Office 365. Try to obtain a genuine license key for the office product. Most of the time the reseller gives you a volume license key that gets expired after a few weeks of months. You must enter your license key at the following location and obtain a new license key.
Summary
In this article, I have explained why Office Activation Error 0x4004f00d occurs and how can you fix it effectively. There are several methods are explained in this article, you must follow each method to fix your problem.