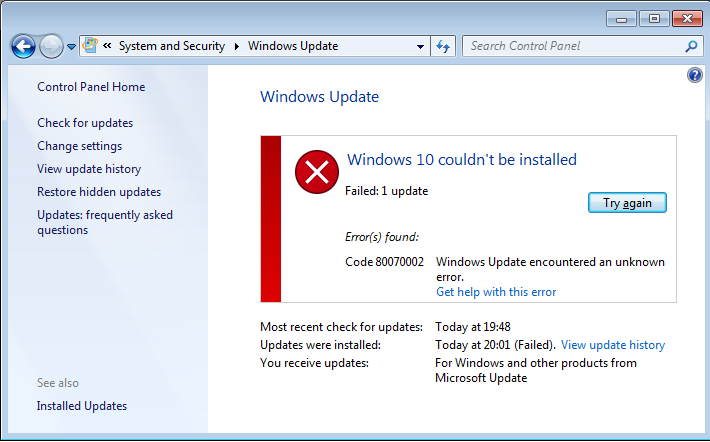 Windows OS continuously gets updated with the latest patch from the Microsoft server. These security patches help your system to run smoothly and secured against the malicious attacker. However, the updating process is automatic and very smooth but in one bad day, you may encounter following error messages on your screen.
Windows could not search for new updates. An error occurred while checking for new updates for your computer. Error(s) found: code 80070002 or 80070003. Windows update encountered an unknown error.
There were some problems installing updates, but we'll try again later. If you keep seeing this and want to search the web or contact support for information, this may help (0x80070002)
0x80070002: ERROR_FILE_NOT_FOUND – The system cannot find the file specified.
Mostly, this situation occurs when you hit the Update button for updating windows or when installing windows 10 updates KB3200970 or similar KB updates.
So, the question is if you encounter this issue, how you can fix it yourself. Here is the detailed and step by step guide that will help you in troubleshooting this problem.
Method 1: Fix using Advanced System Repair Tool.
The most of the common reason behind windows update failed is corrupted or damaged system files like DLL files, EXE files, sys files etc. There are thousands of tiny system files are there that work specific task. If one of the files gets replaced, deleted or damaged then you may get windows update error 0x80070002/0x80070003.
Download and Install Advanced System Repair Tool and scan your PC. It has the large database with 25 million of files. It will find all the damaged or deleted system files and reinstall them with the fresh one. After, optimizing with Advanced System Repair Tool, try to install windows update again.
Method 2: Synchronize Date and Time with Internet Time Server.
If Date and Time are not synchronized with an Internet Time Server, you are likely to get Windows Update Error 0x80070002 or 0x80070003. Here, is the pictorial guide to do this easily.
Windows 10:
Step 1: Click on Time displayed in your notification area and then click on Date and Time Settings.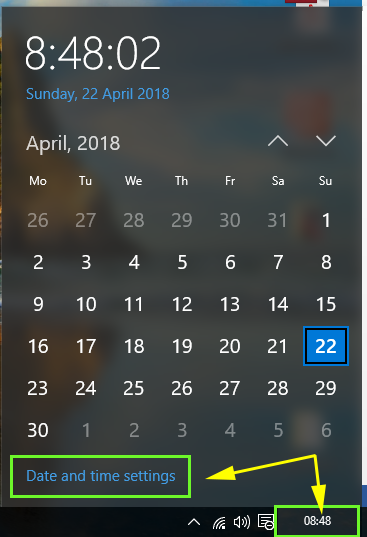 Step 2: Turn on Set time automatically option and select your current time zone.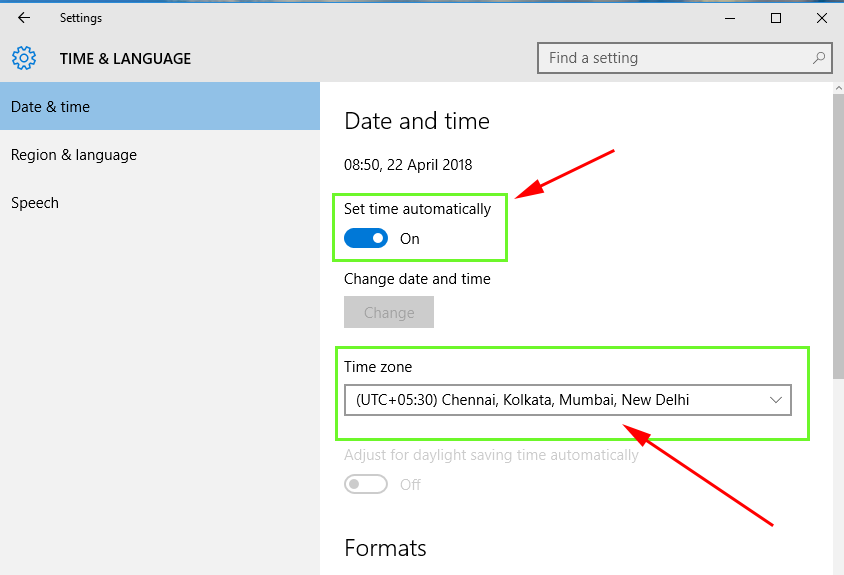 Windows 7:
Step 1: Open Control Panel > Date and Time and click on Change date and time
Step 2: Select your Time zone and then click on Internet Tab.
Step 3: Check "Synchronize with an Internet time server" and press Update Now button.
Step 4: Press OK to save all settings and exit the settings.
After synchronizing date and time settings; again try to install updates and hopefully you won't get the same error again.
Method 3: Scan and Fix Corrupted System Files
In Windows OS, thousands of things running in the background and their essential work is keeping your Windows Experience smooth and hassle-free. However, not all processes are running for your help and some of them are run by a third-party application. This causes numbers of system files corruption and when you try to install updates, it comes in action and causes an error. Thankfully, Microsoft itself provides repair tool to fix corrupted system file issue.
Step 1: Open command prompt as administrator. Click on Start Menu and find Command Prompt. Right click on it and select "Run as Administrator" option.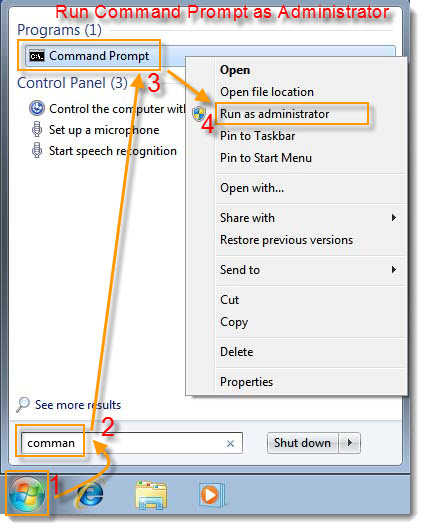 Step 2: Type sfc /scannow and hit enter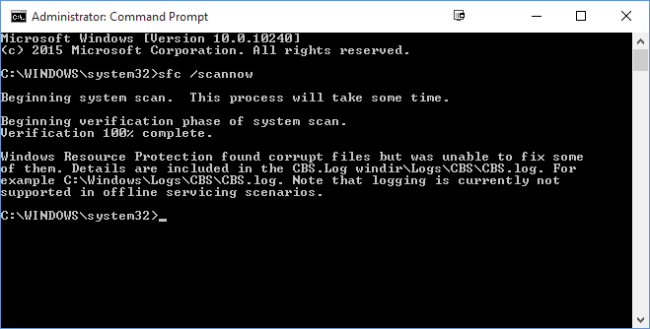 Step 3: Now, wait until this process complete.
Method 4: Reset Software Distribution Folder
This method is tested so many times and gives good result each time. You should also apply this method in order to fix Windows Update Error 0x80070002 or 0x80070003.
Step 1: Go to C:\Windows Folder. Find the folder Software Distribution.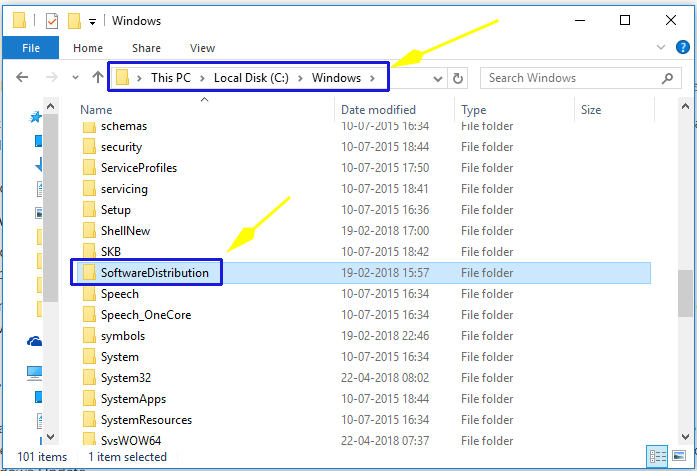 Step 2: Now rename this folder to SoftwareDistribution_old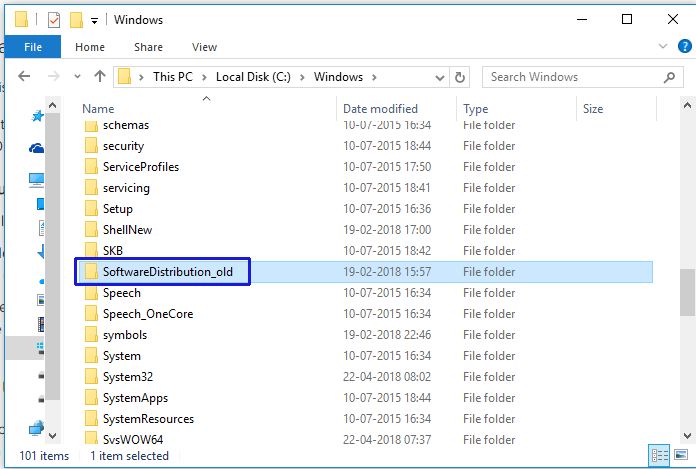 Step 3: Now, bookmark this article and Restart your computer.
This process resets software distribution folder and allows Windows to download a fresh copy of update files. After that most probably you will not face 0x80070002 error.
Method 5: Run Windows Update Trouble-shooter
Most of the time this option works like charm. You can run Windows Update Trouble-Shooter in following ways.
a.
Go to
start >
menu and search for
troubleshooting
.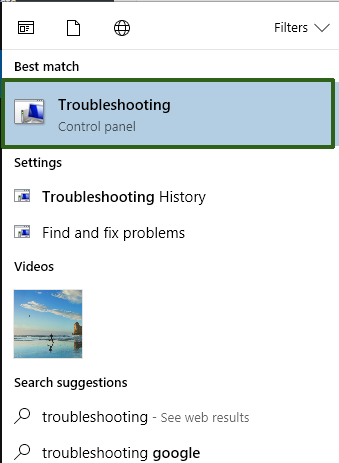 b.
Click on
"Fix Problems with Windows Update"
under
System and Security
.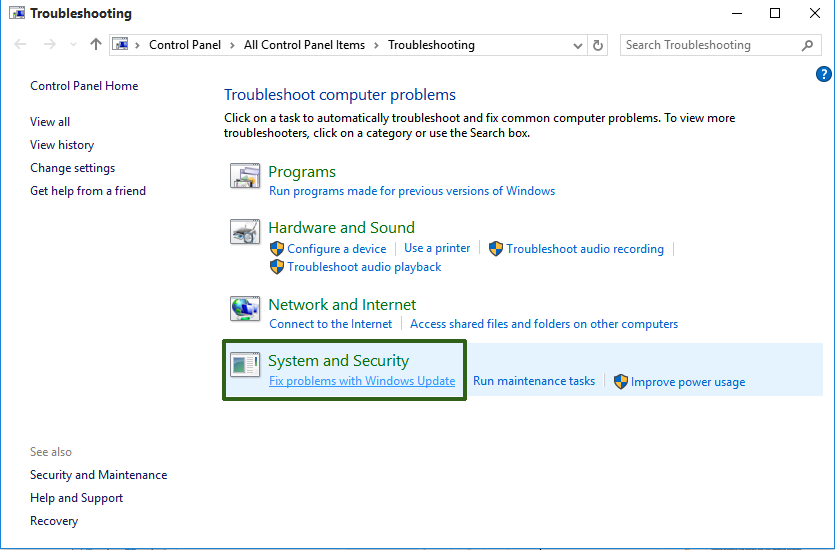 c.
Troubleshoot
windows will open. Now click Next to start Troubleshooting Process.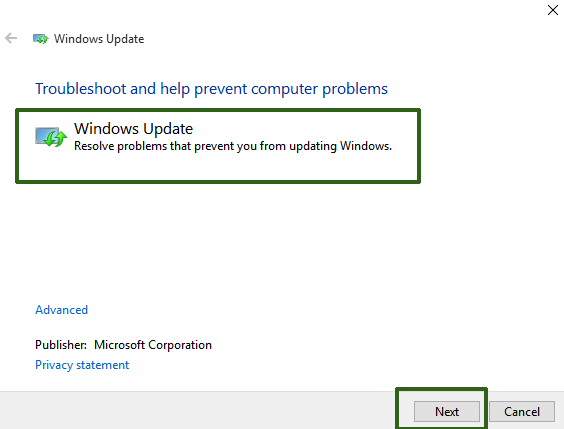 Summary:
This article contains all the information about Windows Update Error 0x80070002 and 0x80070003. You can fix these Windows 10/8/7 Update Error by applying the methods that are explained in this article. If you found more ways to fix this problem please share your experience in the comment section.