Sometimes you may end with Windows Anniversary Updates Error 0xc1900204 when you try to update Windows 10. In this article, I will assist you in fixing of this anniversary update error. Here, is the complete info about this error including the solution.
You may get the following error message during the windows update process:
Windows 10 couldn't be installed
Error(s) found: Code C1900204 Windows Update ran into a problem.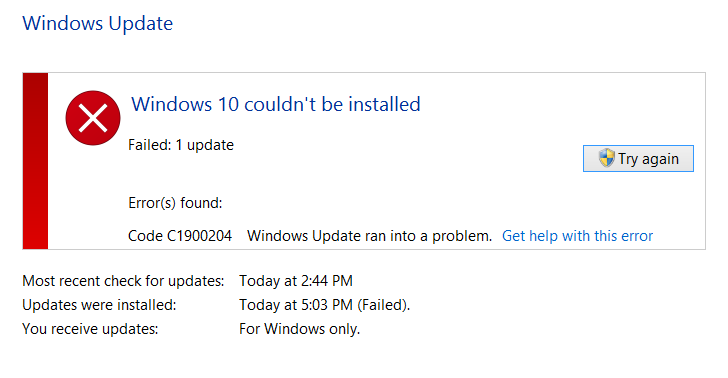 How to Fix Windows Update Error 0xc1900204 like a pro
There are several ways you may find over the internet to fix this error but I am listing only effective and trusted solution to fix it. You must follow and try each method to fix yourself.
Method 1: Fix using Advanced System Repair Tool
The most of the common reason behind windows update failed is corrupted or damaged system files like DLL files, EXE files, sys files etc. There are thousands of tiny system files are there that work specific task. If one of the files gets replaced, deleted or damaged then you may get windows update error 0xc1900204.
Download and Install Advanced System Repair Tool and scan your PC. It has the large database with 25 million of files. It will find all the damaged or deleted system files and reinstall them with the fresh one. After, optimizing with Advanced System Repair Tool, try to install windows update again.
Method 2: Change default install location in registry file.
Your update installation location must point to C:\Program Files Directory. You can see and change default install location in registry file at following location.
Step 1: Open Registry Editor. Press Windows Key + R to open Run Windows and type regedit.exe and press enter. It will open Registry Editor.
Step 2. Locate the following location:
HKEY_LOCAL_MACHINE\SOFTWARE\Microsoft\Windows\CurrentVersion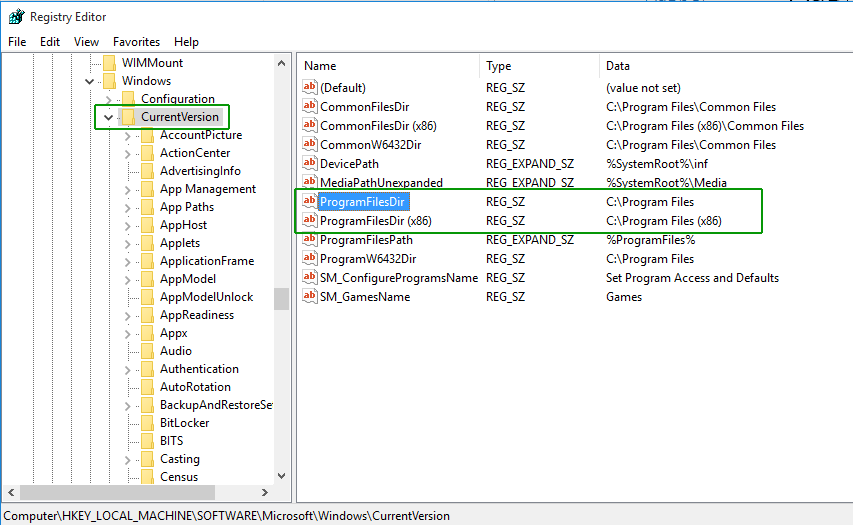 Step 3. Analyse the value of ProgramFilesDir. If it is pointed to another drive instead of C:\Program Files then change it to C:\Program Files and save and exit.
Step 4. Reboot your PC to take effect of registry file and start windows update again.
Method 3: Fresh Installation of Windows Update
If the default install location is already correct then you may go for reset Windows Update to the default state and start a fresh installation of update again. However, it may cost you additional Wi-Fi data because all the previous installation and updates get deleted and windows start downloading a fresh and new copy of updates. This method works great in almost all the update issues. Here is the detailed guide about how to Reset Windows Updates Process.
Summary
It is not critical to fix Windows Anniversary Update Error 0xc1900204 and sometimes it gets fixed using simple PC restart. There might be dozens of fixes that may cure this error and it all depends on your luck that which method works for you. If you found any additional method to repair this issue please share your research in comments so other users can be benefited from your knowledge.