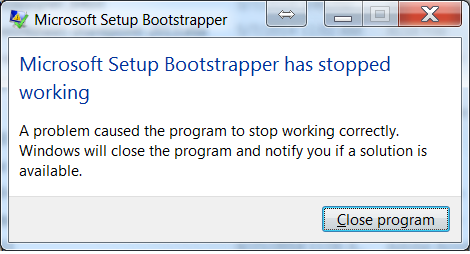 While Installing Microsoft Office 2013, 2016 or 2019; you may receive the following installation error:
Microsoft Setup Bootstrapper has stopped working
A problem caused the program to stop working correctly. Windows will close this program and notify you if a solution is available.
What is Bootstrapper Error in MS Office Installation
Earlier, you got the whole package of the executable file to install MS Office. But since MS Office 2013, Microsoft had used the latest bootstrapper technology to install software in your PC. Bootstrapper is responsible for initializing of an application built using the Composite Application Library. However, sometimes installing software using this technology you may get Bootstrapper has stopped working error.

How to Fix Bootstrapper Error?
Fixing bootstrapper error manually might be tricky and you must need the basic pro knowledge of Operating System. Here, I am mentioning some easy way to fix this error.
Method 1: Fix using Outbyte PC Repair Tool
Mostly this error occurs when there are missing system files, corrupted registry entries, outdated drivers and software, and if there is any malware in your PC.
Solution: You must use Outbyte PC Repair Tool to fix all these areas in one click. By cleaning and boosting PC Speed using the System Optimizer tool, most probably you will not face any problems when installing MS Office.
Method 2: Modify Registry Key
This is one of the best solutions if you are getting bootstrapper has stopped working error when installing MS Office. However, you must take a backup of registry file before operating this solution. Modify registry file manually might be dangerous if you make any mistake so, in this situation the backup registry file might be a life savior.
1.
Open
Run Window
by pressing
Windows Key + R
. Type
regedit
and click
OK
to open Registry Editor.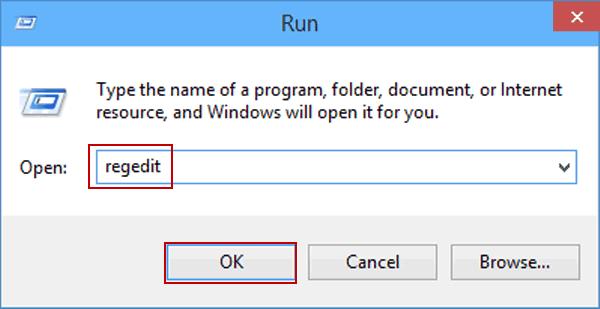 2.
Navigate to the following location:
HKEY_LOCAL_MACHINE> SOFTWARE> Microsoft> Windows NT> CurrentVersion> AppCompatFlags
3.
Right click on
AppCompactFlags
and click on
Export
to make a backup of this registry key.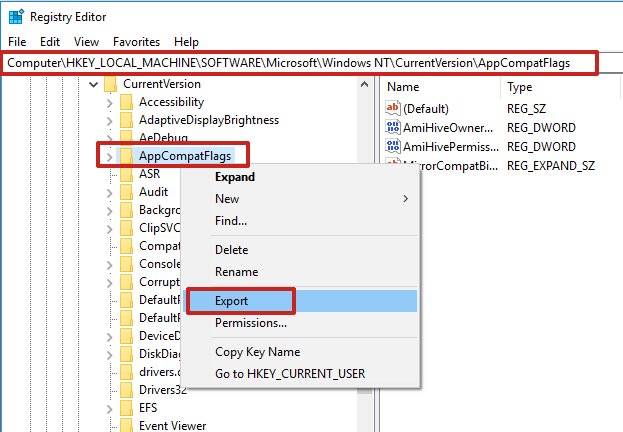 4.
After exporting this file,
Delete
this key.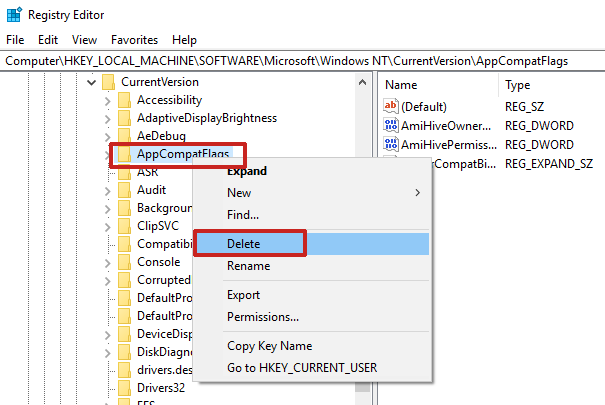 5.
Reboot PC. After modifying the registry key, it is necessary to reboot the PC.
Method 3: Remove older version of MS Office using Microsoft Fixit Tool
You must remove the prior version of the MS Office before installing MS Office 2013 or 2016. However, it is not necessary to remove the older version of office always but if you are getting Bootstrapper has stopped working error, then you need to remove it. Download the Microsoft Easy Fix Tool and remove office completely.
https://support.office.com/en-us/article/uninstall-office-from-a-pc-9dd49b83-264a-477a-8fcc-2fdf5dbf61d8?ui=en-US&rs=en-US&ad=US
Method 4: Start PC in Clean Boot Mode
Clean Boot Mode is always the best solution if you have trouble in installing software. This mode eliminates the chances of driver confliction. In order to start PC in Clean Boot Mode, follow the given article.
https://www.how2fixerror.com/clean-boot-startup-windows-7-8-10-step-step/
Summary
Microsoft Setup Bootstrap has stopped working error mostly occurs when you try to install MS Office 2013, 2016 or 2019. In order to fix this error, you must follow the methods described in this article.