While upgrading Windows 10 or downloading and installing the latest version of windows update, you might encounter the error code 0x8007007e. This error code simply breaks the current upgrading or updating process and stops you from installing the latest update patch. The error might look like as follows:

Reason
There may be dozens of the reasons that can cause this error but mostly the following reasons are far responsible for throwing this problem.
Antivirus, Windows Defender or Windows Firewall is blocking the connection so the updates get failed with error code 0x8007007e.
There are corrupted windows file like dll file, ocx file, inf file, exe file etc that is stopping the windows from downloading and installing updates.
Required version of .Net Framework is not installed.
invalid configuration settings in registry file etc.
How to Fix Windows 10/8/7 Update Error 0x8007007e
Here, I will discuss some great and useful methods to fix this error code. You can perform all the steps yourself. If you don't have much time to fix it manually or you want a tool that can fix this problem for you then you must go with Method 1.
Method 1: Fix using Advanced System Repair Tool
This tool is designed to scan and fix any Windows problem just with few easy clicks. It scans whole PC and list out all the problems having in the PC and gives you button to fix all problems with single click. It repairs corrupted system files, fix registry problems, remove malware, delete privacy data, update all the outdated software and drivers and boost PC speed.
Method 2: Remove Antivirus and Disable Firewall
Most of the time, only disabling antivirus wont work. Just remove completely antivirus or malware scanner and then disable firewall. After that try to upgrade or update Windows machine. Most probably you won't get any error code. After successful installation of updates you must install antivirus program again and enable windows firewall.
Method 3: Reset Windows Update Components
Resetting Windows Update Components will provide clean and error free environment for Windows to download and install updates. You can easily reset windows update components using the following steps.
Step 1: Open Administrative Command Prompt. Type command in start menu and then right click on command prompt and select run as administrator.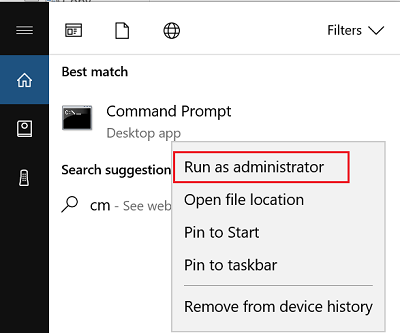 Step 2: Now, run the following command one by one in the command window.
Type net stop wuauserv and press Enter
Type net stop cryptSvc and press Enter
Type net stop bits and press Enter
Type net stop msiserver and press Enter
Type ren C:\Windows\SoftwareDistribution SoftwareDistribution.old and press Enter
Type ren C:\Windows\System32\catroot2 Catroot2.old and press Enter
Type net start wuauserv and press Enter
Type net start cryptSvc and press Enter
Type net start bits and press Enter
Type net start msiserver and press Enter
Close the Command Prompt
Step 3: Try to Update Windows and most probably you will not get the error code 0x8007007e again.
Method 4: Apply Updates in Clean Boot Mode
In clean boot mode, windows gets start using with minimal drivers. So, if there is any outdated drivers or software that is conflicting with windows update and raising the problem, will gets avoided automatically and you will be able to install updates easily. Here is the detailed guide to start windows in Clean Boot mode.
Method 5: Run Windows Update Troubleshooter
This is the most easiest and effective ways to fix any windows update related issues. You can run windows update troubleshooter using the following ways.
How to Open and Use Windows Update Troubleshooter in Windows 10/8/7/Vista/XP
Summary
This article explains how can you fix 0x8007007e update error in windows 10/8/7 easily. There are some unique methods are described in this article, that will help you to fix this problem.