Microsoft Released its seventh major Windows Update Version 1903 (19H1) in April 2019. It has some major cosmetic changes as well as fixes security bugs. You can expect the following changes in your Windows Operating System:
Sleek and Simplified Start Menu
Easy install and Uninstall pre-install apps.
Better and smooth start menu animation
Offers Light Desktop Mode.
Cortana is separated from the Search menu and offers a dedicated icon in the taskbar to launch it, etc.
As you all know that Windows 10 has the largest market share and is a leading operating system in the market still it is not completely free from bugs and errors. The same problem appears when users try to download and install Windows 10 April 2019 Update Version 1903 (19H1). The users may face the following error message on the screen:
Error Encountered: Updates Failed
There was some problem installing updates, but we will try again later. Error Code : 0xXXXXXXXX
In this article, I will explain how can you fix this error and install Windows 10 April 2019 Update without facing any problems.
How to Fix Windows 10 April 2019 Version 1903 (19H1) Update Problem
Method 1: Fix using Outbyte PC Repair Tool
There are too many reasons that may cause Windows 10 Update Failed issues. Usually, this problem occurs because of corrupted windows update components, invalid registry keys, missing system files like dll files, exe files, sys files, etc, broken file systems etc. So in order to fix all these corners installs Outbyte PC Repair Tool on your PC and scan, fix, and optimize PC health.
Method 2: Reset Windows Updates Components
Resetting Windows Update Components may fix any Windows Updates Problems. It is usually a method of resetting Windows services and the Windows Updates folder. Due to several unknown reasons, Windows starts denying downloading updates in the software distribution folder. But when you reset windows updates services and software distribution folder this problem gets fixed automatically. You can reset windows update components as follows:
Automatic Reset Windows Update Components:
Manual Reset Windows Update Components:
Method 3: Fix Corrupted System Files
Thankfully, Microsoft has included a free system file checker tool that scans and fixes windows files. If there are any missing or corrupted windows files then the system file checker tool repair or reinstall them in order to fix file corruption. You can use the system file checker tool as follows:
Step 1: Open command prompt as administrator. Go to Start Menu and search for the command. Right-click on Command Prompt and select Run as Administrator.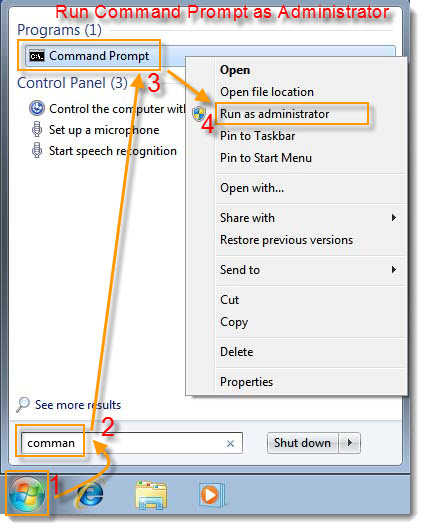 Step 2: Now type the following command and press Enter.
sfc /scannow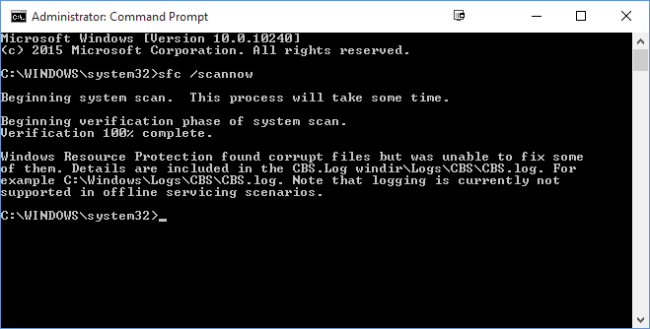 Method 4: Run Windows Update Troubleshooter
Windows Update Troubleshooter is a handy tool for fixing update-related issues. You may use Windows Update Troubleshooter if you are facing continuous failure of Windows 10 April 2019 Updates. Here, is the steps for using Troubleshooter:
Windows Update Troubleshooter scans and diagnose problems in Windows Update Folder and network. If it finds any issues then it fixes them easily. It is one of the easiest ways to fix 0x800f081f update error.
Step 1: Click on Start menu and Go to Settings > Update & Security > Troubleshoot > Windows Update and click on Run the Troubleshooter.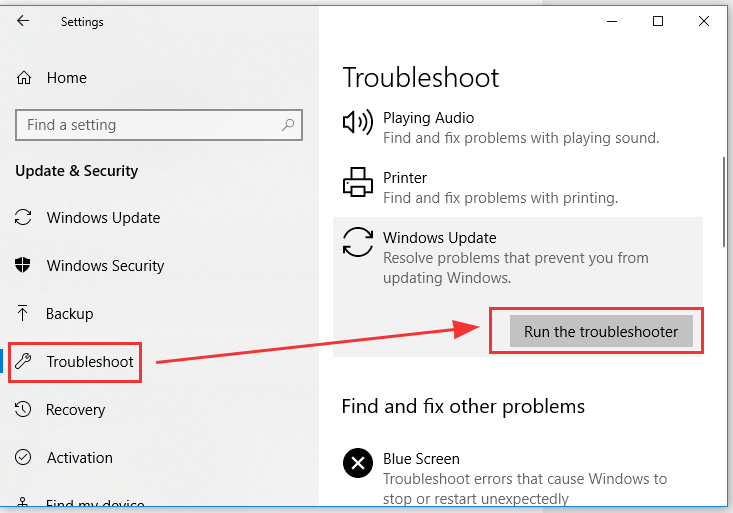 Step 2: It will start Windows Update Troubleshooter. Go with the troubleshooting steps and finish the process.
If you are unable to find the troubleshooting option then go to the following link and download Windows Update Troubleshooter.
How to Open and Use Windows Update Troubleshooter in Windows 10/8/7/Vista/XP
Summary
In this article, I tried to explain what are Windows 10 April 2019 version 1903 (19H1) updates and how can you fix the problem if you are getting continuous failures of installing these updates.