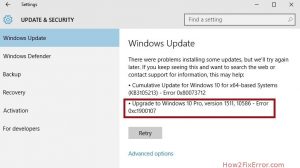 Are you getting Windows 10 Update Error 0xc1900107 when you try to install Windows 10 Anniversary Update? The error message may look like this:
Something went wrong. You can contact Microsoft support for help with this error. Here is the error code 0xc1900107
or
Setup couldn't start properly. Please reboot your PC and try running Windows 10 Setup again.
If you are facing above problems, then don't get panic. Here, in this article, I will try to assist you well and tell you some awesome tricks to fix this update fail issue.
1. Fix using Advanced System Repair Tool
The most of the common reason behind windows update failed is corrupted or damaged system files like dll files, exe files, sys files etc. There are thousands of tiny system files are there that work specific task. If one of the files gets replaced, deleted or damaged then you may get windows update error 0xc1900107.

Download and Install Advanced System Repair Tool and scan your PC. It has the large database with 25 million of files. It will find all the damaged or deleted system files and reinstall them with a fresh one. After, optimizing with Advanced System Repair Tool, try to install windows update again.
2. Download Windows Update Troubleshooter
Another method is Download Windows Update Troubleshooter and scans your PC using this tool. You can directly download it from Microsoft site. Here is the reference link:
https://support.microsoft.com/en-sg/instantanswers/512a5183-ffab-40c5-8a68-021e32467565/windows-update-troubleshooter
3. Update installed Drivers and Software
You must check whether there are pending updates or not. If some prior updates are pending then try to update them first. You also update all the device drivers and try to install Windows Anniversary Update.
4. Switch Off Antivirus and Windows Defender
You must disable Antivirus, Windows Defender, and third party firewall. Most of the time these services block incoming connections and that cause update error.
5. Rename Windows.~BT folder
1.
Show all the hidden files.
2.
Go to C Drive and find a hidden folder named
WINDOWS.~BT
3.
Rename
this folder to WINDOWS.~BT_Old
4.
Now try to install windows update again.
This method is tested too many times and most of the time it worked well.
Summary
In this article, I have tried to tell you how to install Windows Anniversary Update without getting update error 0xc1900107.
More Error Fixes